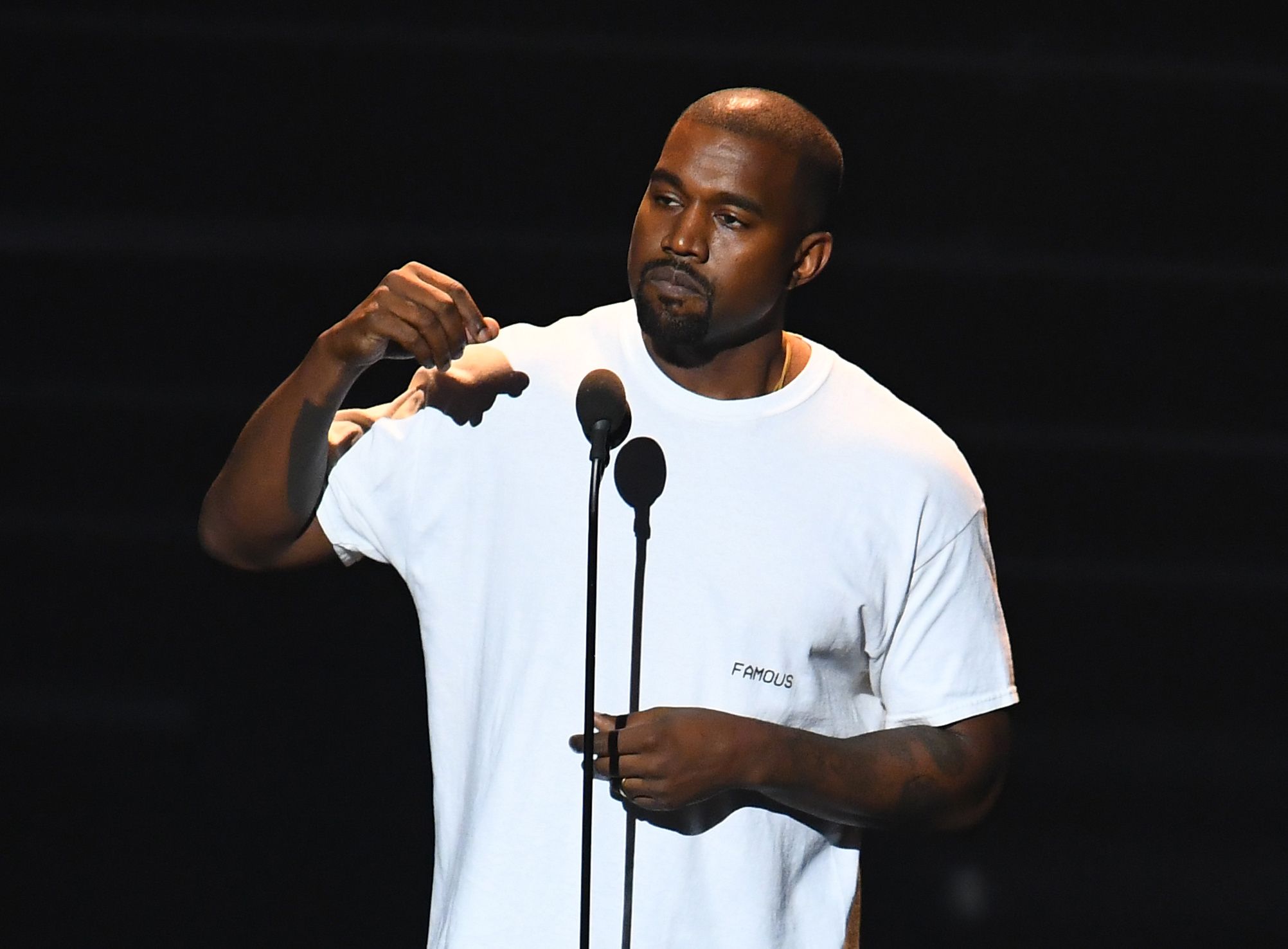 A lot of descriptions could apply to Kanye West—rapper, producer, fashion icon, shit-stirrer, iconoclast, raconteur (and other big words I don't know). Maybe it's time to add another title to the list: therapist.
Or motivational speaker? Or hype man? Something like that.
Memphis Grizzlies star Mike Conley told a funny story to reporters this week about Kanye calling late at night, out of the blue, to pump him up. (Hat tip to WMC Action 5's Sudu Upadhyay for uploading video of the story.)
"12:30 at night and I was just like, 'Hello.' And he was like, 'Yeah, this is 'Ye. And I was like, 'Who?' I kinda just kept trying to put it together. Long story short: He was just like, 'Man, come out to L.A. whenever you're out in L.A. and we'll get together.'

"[He said] 'I just want to let you know that I admire you. I really like what you do. I hate to see that you're underrated.' Just going all through these things, like he actually watches me play. That's what I was thinking in my head: He knows a lot about me.' He wasn't reading off a paper or anything. He was just going, like, 'Man, I just think that you can be up here, and they just don't see you like that.' I'm just, like, 'Man, I 100 percent—I'm with you. I understand. What can we do? Help me."
Kanye is almost being...sweet in this phone call, rattling off affirmations of Conley's talent—by the way, the point guard probably is underrated—while offering his services (what those services are, exactly, are a bit undefined).
It got me thinking: Should Kanye get into the therapy/motivation/12:30 a.m.-personalized-pep-talk business, who could be some of his first clients? Here are some ideas:
Carmelo Anthony: Since Kanye already has a foothold in the NBA, let's start there. Times of change can be rough, and in those times, folks often seek outside help to adjust to their new life. Anthony just got traded from his longtime New York Knicks to the Oklahoma City Thunder. New city, new teammates, big expectations for the team—it could prove to be a lot. It helps there's already some familiarity between Kanye and Carmelo, so they could hit the ground running.
I imagine Kanye hyping the NBA star up ("Hey, it's 'Ye. Yeah, 'Ye.... Keep shooting man, just, like, fire 'em up, yep all day, all day, shoot from half-court, I don't care). And Carmelo—already soaring from the Summer of Hoodie Melo—playing out of his mind.
President Donald Trump: I mean, the two obviously know one another—recall Kanye's infamous Trump Tower trip—and the president seems, let's say...stressed. Maybe Kanye can calm him down. Nothing else has worked.
Kylie Jenner: They are family. He's a (celebrity) father. She's reportedly about to become a (celebrity) mother. Natural fit.
Gordon Hayward: We've already seen Kanye's adeptness at pumping up second-tier NBA stars who maybe don't get enough attention. Hayward was that in Utah before his signing this summer with the Boston Celtics—he was the star!—until bam, a blockbuster trade brought in former Cleveland Cavalier Kyrie Irving, one of the players most popular with young people. Even if Hayward kills it on the court, he's still most likely second fiddle to Irving in terms of attention.
Enter Kanye. If anyone knows how to grab attention, it's 'Ye. The dude stormed a stage to get angry on someone else's behalf. Even when Kanye disappears from the public eye for a bit, he always matters. He could boost Hayward up—call him at 1:30 a.m. and walk him through some absolutely outlandish tweets to send out. And just like that we've got a superstar on our hands.
Me: Just saying. If Kanye (or Kanye's publicist, who has Google alerts to skim articles about him) wants to call me up after midnight and offer unsolicited compliments, I'm all ears.