If Kanye West Actually Runs for President, Will He Hurt Biden or Trump?
If Kanye West makes a serious bid for the White House, his fame and fortune could benefit him but it's unlikely it'll be enough to overcome the disadvantage of a late start in order to have a significant impact on the election.
West, who floated the possibility he'd make a bid for the White House at least twice before, posted to Twitter on Saturday that he is running for president. Though the rapper is known for teasing song and album releases with political statements, he hasn't yet filed any of the paperwork required to formally enter the race.
By the time West announced his intentions, the deadline to file to appear on the ballot as an independent passed in Montana, Nevada, New Hampshire, New Mexico, North Carolina and Texas, according to the Federal Election Commission. Those six states account for 71 of the 270 electoral college votes needed to win the presidency. By July 16, filing deadlines will have passed in seven more states, accounting for an additional 97 electoral votes. If West doesn't get on any ballots with July deadlines, he will have forfeited 255 electoral college votes, putting him at a significant disadvantage.
That said, West has the money to put together a campaign without relying on fundraising efforts. But he's also going up against the COVID-19 era when it's difficult to organize, Barry Burden, director of the Elections Research Center at the University of Wisconsin-Madison told Newsweek.
An election victory is "very unlikely," Burden predicted, but he could "have an effect in any state that's close."
"I think he has little chance to win the popular vote anywhere but if there's a close divide in a state like Michigan, maybe Kanye could play the role of the decider," Burden said. "Minor parties often end up playing that role."
Ralph Nader's 2000 campaign for the White House is one such example. Running against Democratic candidate Al Gore and Republican candidate George W. Bush, the Green Party candidate garnered about three percent of the nationwide vote. Bush won Florida by 537 votes and analysts noted at the time that if a small percentage of Nader's 100,000 Florida supporters voted for Gore instead, he would have ended up in the White House.
If West doesn't make the deadline to appear as an independent on the ballot, people can still vote for him as a candidate in states where write-ins are accepted. Although, that would likely decrease the number of votes he receives even more.
Lara Brown, director of the Graduate School of Political Management at George Washington University, told Newsweek most people view the upcoming election as a referendum on President Donald Trump. The question at hand being: do you think Trump should have four more years or not? With those answering "no" casting their ballot for presumptive Democratic nominee Joe Biden in a head-to-head matchup.
Most national polls currently place Biden ahead of Trump, but West would give them another choice and could siphon off support for Biden. However, many people might not be keen on voting for a third-party or independent candidate because they don't want to "waste their vote," Brown said.
"I say that because when you look at 2016, most Americans believed Hillary Clinton would win the election so there was no cost to voting for a third party," Brown told Newsweek.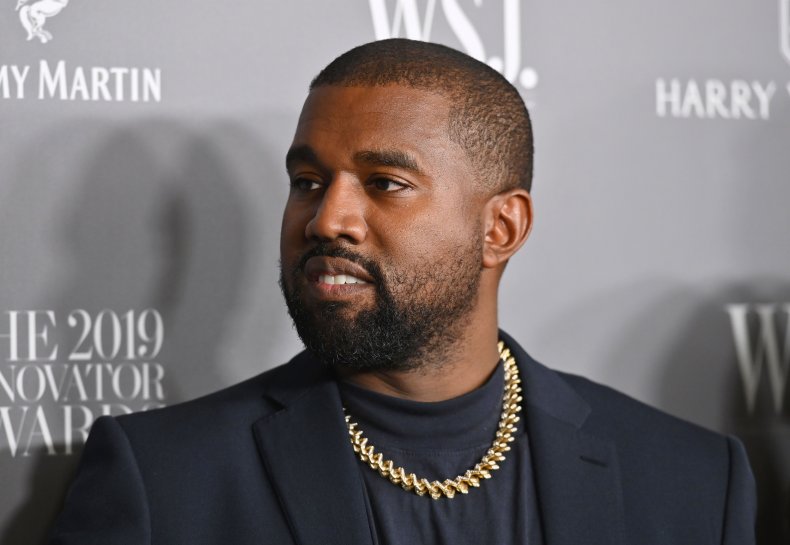 At the time, some people voted for a third party to signal they weren't pleased with either of the candidates put forward by Democrats and Republicans, a "completely reasonable" justification, according to Brown. A similar reaction was a "big part" of Nader's support in 2000, Brown said.
Four years later, Nader received less than one percent of the national vote because, Brown said, it was now a referendum on Bush. She predicted a similar outcome in November if West is a candidate. However, if he is able to get three or four percent of the vote, as Libertarian candidate Gary Johnson and the Green Party's Jill Stein did collectively in 2016, it's possible Trump could replicate his election victory.
While West gives voters who aren't going to cast their ballot for Trump another option, it's possible he could hurt the president, as well. A YouGov/Huff Post poll taken in 2018 after West praised Trump found only 13 percent of Democrats had a favorable view of the rapper and 34 percent of Republicans did.
The only insight West gave into his potential platform was in his tweet that said, "We must now realize the promise of America by trusting God, unifying our vision and building our future." This could be the message of his campaign or a teaser for an upcoming song, as his publicist, Trevian Kutti, posted a 17-second video on his Twitter account of a song where West says, "20/20 imma run the whole election."
Newsweek reached out to Trevian Kutti for comment but did not receive a response in time for publication.
If West decides to make a serious run for Pennsylvania Avenue, his messaging will determine if he can bring Trump supporters along, Burden said. He could also turn out voters who are less clued into politics and are less likely to vote if he wasn't on the ballot.
In the past, West sported a "Make America Great Again" hat, met with Trump at the White House, spoke out against abortion and headlined an evangelical student conference, which Brown said won't pull votes from progressives who are pro-LGBTQ rights. But he may be able to target younger progressive voters, Brown said.
"Could Kanye hurt Biden in Florida? Sure. It's likely that some of the people who would vote for Biden would then vote for Kanye. Then Trump takes Florida," Brown said.
However, to appear on Florida's ballot as an independent candidate, a person must submit a petition signed by 132,781 registered electors by July 15.
Both experts said West may be able to attract support from African-Americans, although his controversial comment about slavery may hinder that. In 2018, West said when you hear about slavery being around for 400 years, "that sounds like a choice." He later clarified that he thought people were "mentally enslaved" because they "stayed in that position even though the numbers were on our side." Some haven't forgotten the comment and spoke out on social media saying it was a deal-breaker with regards to voting for the potential candidate.
An independent candidate has never bested Republican and Democratic challengers to take the White House, and neither Brown nor Burden sees 2020 as the year that will change.
"Is he a threat? Yes. Is he enough of a threat to concern oneself about? No. Could he make things messy? Yes, because he has money, he has celebrity, he has a following," Brown said.
Correction: An earlier version of this story mistakenly said that Alabama, Illinois and New York's filing deadline had already passed.