Despite facing widespread backlash, Kanye West has still not fully apologized for the antisemitic comments he's made in recent weeks.
Among the controversial statements deemed to be antisemitic that West—who legally changed his name to Ye in 2021—has made include writing on Twitter on October 9 that he was "going death con 3 on Jewish people."
On Tuesday, Adidas became the latest business to cut ties with Ye. In a statement provided to Newsweek, the German sportswear company said it "does not tolerate antisemitism and any other sort of hate speech. Ye's recent comments and actions have been unacceptable, hateful and dangerous, and they violate the company's values of diversity and inclusion, mutual respect and fairness."
Forbes reported Ye's Adidas deal accounted for $1.5 billion of his net worth. The company joins fashion house Balenciaga, bank JPMorgan and clothing retailer Gap in cutting business ties with Ye. Creative Artists Agency also dropped Ye as a client, and film production company MRC announced on Monday it is shelving a fully completed documentary on the hip-hop superstar.
Ye did say during an interview with Piers Morgan last week that he was "sorry for the people that I hurt" by his "death con 3" tweet. However, during the talk with Morgan, Ye emphasized that he was "absolutely not" sorry for writing the comment when he was pressed by the British broadcaster.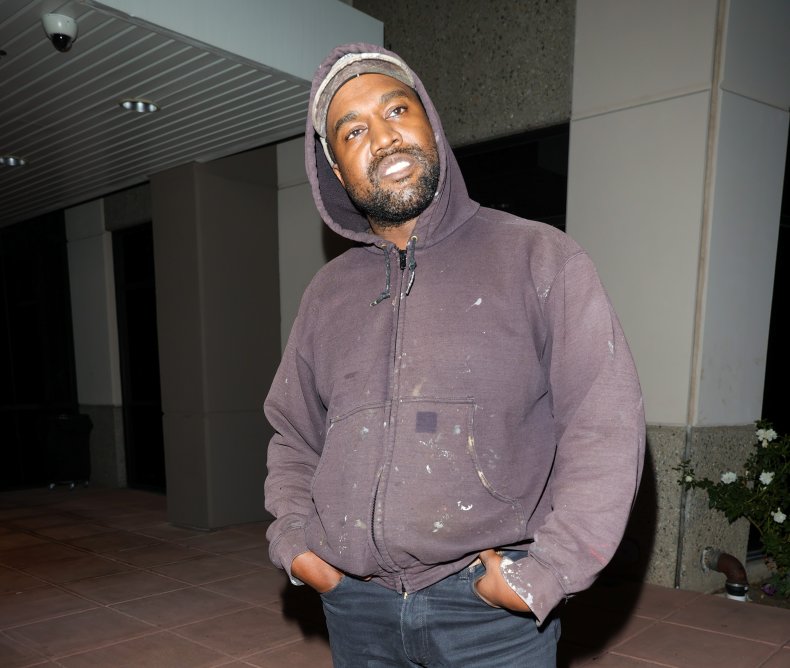 Ye also spoke with Chris Cuomo on NewsNation last week, and he told the host that he doesn't "believe in that term [antisemitic]."
"One thing is, Black people are also Jew [sic]. I classify as Jew also," Ye told Cuomo. "So I actually can't be an antisemite. The term is actually not factual."
Ye made more antisemitic comments when he appeared on the podcast Drink Champs on October 16. During the appearance, he also claimed he "can literally say antisemitic s**t" and Adidas would not drop him from their deal.
Numerous celebrities have spoken out against antisemitism in the wake of Ye's comments, including his ex-wife, Kim Kardashian.
"Hate speech is never OK or excusable," the reality star posted on Twitter Monday. "I stand together with the Jewish community and call on the terrible violence and hateful rhetoric towards them to come to an immediate end."
Newsweek has reached out to a representative of West for comment.