Kanye West Appears on 'The Kardashians' With Ray J Sex Tape Hard Drive
Kanye West brought Kim Kardashian to tears during an appearance on the latest episode of The Kardashians, as it was revealed that he made a deal to secure footage of her amid rumors of a new sex tape.
Back in 2007, a sex tape that Kardashian made with Ray J, who she dated in 2005, was leaked. In September 2021, her past came back to haunt her when there was a talk by Ray J's former manager Wack 100 of a second sex tape.
In the premiere episode of Hulu's The Kardashians, West and Kardashian's 6-year-old son Saint, saw a picture of his mother while playing the online game Roblox and showed it to her. Realizing the image was related to reports of further sex tape footage, a worried Kardashian contacted West.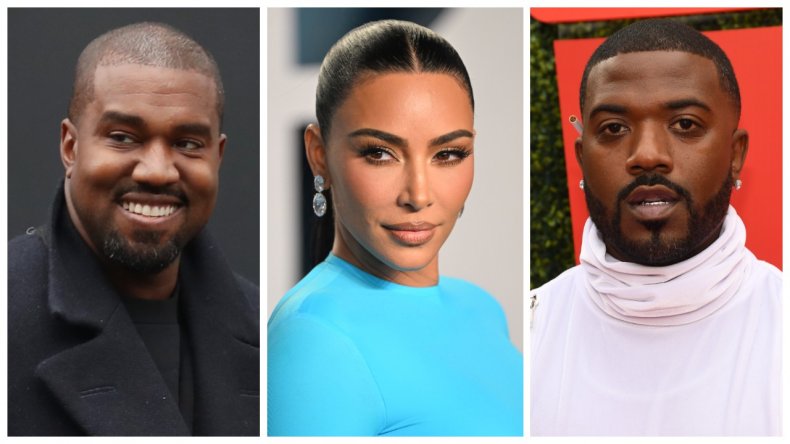 West, who was then in the throes of his divorce from Kardashian, appeared to save the day, when he revealed on the most recent episode of The Kardashians that he had obtained the footage in question, putting her worries at ease.
In scenes shot in October as Kardashian prepared to host Saturday Night Live, West was seen speaking with his former mother-in-law, Kris Jenner, as he revealed that he had just flown over to New York City from Los Angeles, where he got "something for Kim."
The camera then cut to Kardashian, who said to a small group: "I wanted to show you guys because I was just gonna cry... So Kanye flew home last night and he came back this morning. I want to show you guys what he got me."
Unzipping a small suitcase, she said: "He got me all of the sex tape back. He flew home and he got the computer and the hard drive. And [he met] with Ray J at the airport and he got it all back for me."
Speaking in a confessional, Kardashian, who shares four children with West, said: "I know Kanye did this for me, but he also did this for my kids. I want to shield them from this as much as I can.
"And if I have the power to, or if Kanye has the power to, like that is the just the most important thing to me," she said. "I'm just so emotional because of it, and it just means a lot to me."
Showing her gratitude to West, who has legally changed his name to Ye, Jenner said: "Thank you for Kanye and for his unbelievable way he does things and the ability to get something done. And probably a big, fat, huge check, so we're all very grateful."
"Oh, definitely not no check," West responded. "We're not getting extorted ever again."
Amid her fears of what was included in the footage, Kardashian reviewed it, before revealing in her confessional that the stress she felt while preparing to host SNL and take the so-called California "baby bar exam," a test for first-year law students, appeared to have been in vain.
"It was just footage of us at a restaurant, at a nightclub, Nothing sexual, nothing weird," said Kardashian. "So now I can take a deep breath and not worry about this right before SNL, right before the bar, right before like everything."
Kardashian filed for divorce from West in February 2021 after almost seven years of marriage. She was declared legally single in March of this year.