Kanye West's Birthday: His Best 10 Songs Ranked
Today is Kanye West's 42nd birthday. Born on June 8, 1977 in Atlanta, Georgia, the American is famous for being a rapper, producer, songwriter and fashion designer.
The child of a photographer father and a professor mother, West grew up in Chicago and attended Chicago State University. However, he dropped out after one year to take up a career in music. In 1998, he contributed to Jermaine Dupri's album Life in 1472.
He then moved to New York City, where he made his name for his work on rapper Jay-Z's album Blueprint (2001). In 2004, he released his debut solo album The College Dropout. It was massively successful, the song "Jesus Walks" nominated for a best song Grammy in 2005.
His second album, Late Registration (2005), repeated the commercial success of his first with a number of hit singles, including "Diamonds from Sierra Leone" and "Gold Digger". It earned him three more Grammy Awards. He continued to work as a producer with artists such as Nas, Mariah Carey, and Beyoncé, and then founding his own label GOOD Music.
Graduation, his third album, was released in 2007. It produced the hit singles "Good Life" and "Stronger", securing him four more Grammy Awards. In 2008 West released 808s and Heartbreak, an album focused on feelings of personal loss and regret. His next album My Beautiful Dark Twisted Fantasy featured a list of guest performers that included Jay-Z, Rihanna, Kid Cudi, and Chris Rock. It continued West's Grammy success, winning three awards. He followed it with Watch the Throne (2011), a collaboration with Jay-Z that featured singles "Otis," "N****s in Paris," and "No Church in the Wild."
The albums Cruel Summer (2012) and Yeezus (2013) followed. After a quiet period he then released ye in 2018 and Kids See Ghosts, a collaboration with Kid Cudi. Both focused on mental health.
Outside of music, West has gained attention for responses to the federal government and feuds with other artists. In 2005, he commented that President George W. Bush "doesn't care about black people" following a slow response to the Hurricane Katrina disaster in New Orleans. In 2009, West preempted Taylor Swift's acceptance speech for best female video at the MTV Video Music Awards, declaring "Beyoncé had one of the best videos of all time" which caused controversy and backlash for West.
He is married to Kim Kardashian, tying the knot in 2014. They have three children together.
In celebration of his birthday, Newsweek has analyzed data on Billboard to rank his top 10 singles throughout his career.
10. Ni**as in Paris, peaked at No. 5 on January 7, 2012, remained in the charts for 36 weeks
9. FourFiveSeconds, peaked at No. 4 on February 28, 2015, remained in the charts for 20 weeks
8. Love Lockdown, peaked at No. 3 on October 4, 2008, remained in the charts for 23 weeks
7. Knock You Down, peaked at No. 3 on June 20, 2009, remained in the charts for 31 weeks
6. Run This Town, peaked at No. 2 on October 3, 2009, remained in the charts for 23 weeks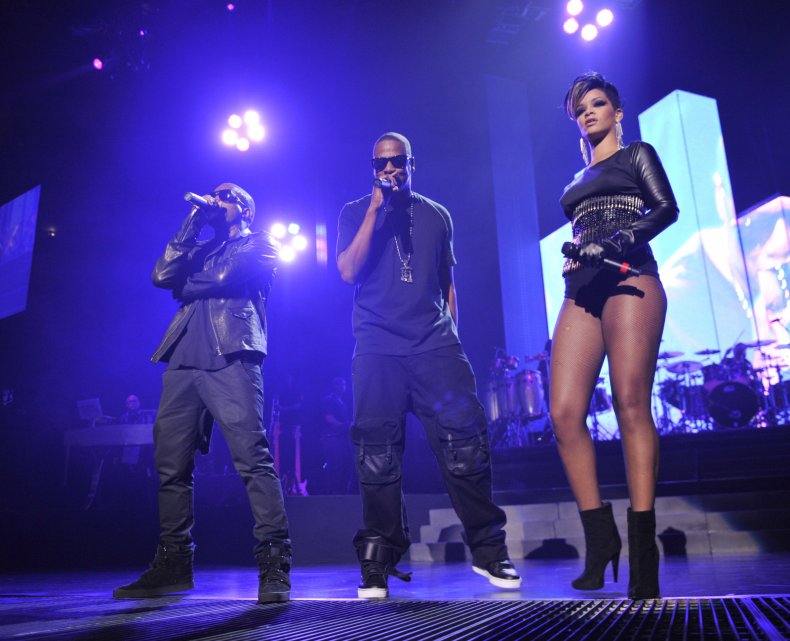 5. Heartless, peaked at No. 2 on February 21, 2009, remained in the charts for 30 weeks
4. Slow Jamz, peaked at No. 1 on February 21, 2004, remained in the charts for 22 weeks
3. Stronger, peaked at No. 1 on September 29, 2007, remained in charts for 27 weeks
2. E.T., peaked at No. 1 on April 8, 2011, remained in the charts for 30 weeks
1. Gold Digger, peaked at No. 1 on September 17, 2005, remained in the charts for 39 weeks