Kanye West Booed by Thousands During Super Bowl While With His Children
Kanye West was booed by thousands of spectators while attending the Super Bowl this year with his children.
The 44-year-old rapper has been making headlines over the past few days for going on multiple rants on Instagram.
His appearance at the NFL event came just hours after an Instagram rant against his ex-wife Kim Kardashian and her current boyfriend, Saturday Night Live comedian Pete Davidson.
The Donda performer was seen attending the Cincinnati Bengals and Los Angeles Rams game at the SoFi Stadium in Los Angeles with his children North and Saint.
Clips of the family appearing on the jumbotron have been circulating widely on Twitter where spectators can be heard booing the performer when he appeared on the big screen throughout the stadium.
The rapper—who has legally changed his name to Ye—was filmed wearing a black mask covering his face when he was featured on screen.
"They booing @kanyewest at the super bowl LMAOO," reads one tweet with a clip that has been viewed more than 64,000 times.
While sports reporter Timothy Parker tweeted: "Kanye West just got booed on the big screen here at @SoFiStadium."
West's Instagram post also saw him take aim at Kid Cudi for being friends with Davidson.
In a now-deleted Instagram post shared on Saturday (February 12), the rapper posted a handwritten note claiming Cudi would no longer be collaborating with him on his upcoming album Donda 2.
"Just so everyone knows Cudi will not be on Donda [2] because he's friends with you know who," West wrote.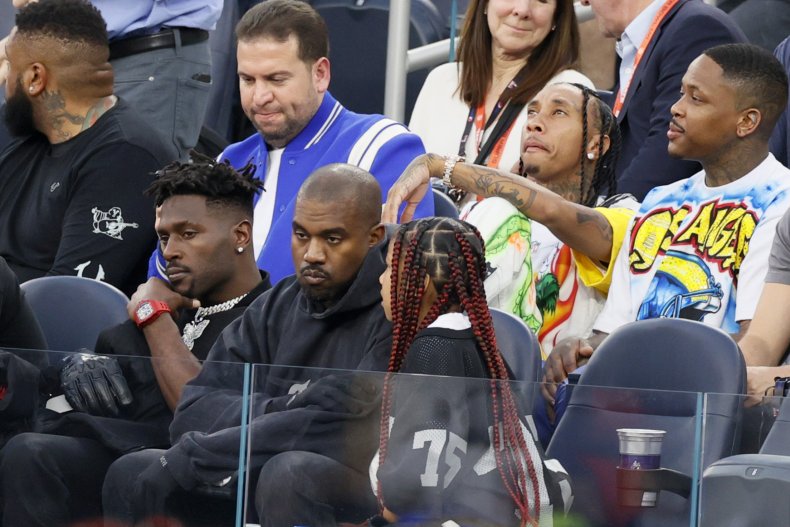 Last week, West took aim at Billie Eilish when he was offended by the singer for a comment she made after pausing a show to help a distressed fan in the crowd.
Eilish stopped a show in the State Farm Arena in Atlanta on February 6 to help the distressed concertgoer locate an inhaler before resuming her performance.
"We're taking care of our people," she said in a clip captured by another fan. "I wait for people to be OK, until I keep going."
West took Eilish's comment as an attack against fellow rapper Travis Scott, who came under fire for not pausing his set at his Astroworld festival in November 2021.
He has since demanded that Eilish apologize or he will refuse to play at Coachella.
The Super Bowl this year, which was won by the Los Angeles Rams, saw Dr. Dre, Snoop Dogg, Eminem, Mary J Blige and Kendrick Lamar perform at the 2022 Super Bowl Halftime Show.
Justin Bieber, Hailey Bieber, Kendall Jenner, Devin Booker and Dwayne Johnson were among other celebrities spotted at the annual spectacle.
Correction 02/14/22, 10:23 a.m. ET: This article was updated to indicate that Kanye West was at the stadium with his children North and Saint, not his daughters. Saint is the rapper's son.