Kanye West Campaign Argues That DNC Must Prove Names Like Mickey Mouse on Nomination Papers Aren't Real
Kanye West's presidential campaign has fired back at the Democratic Party's challenges against the campaign's nomination papers, arguing that the party must prove the signatures of some names, including Mickey Mouse and Bernie Sanders, are fraudulent.
Wisconsin's Democratic Party filed complaints earlier last week arguing that state regulators should not allow West's name on the presidential ballot because the campaign was late to submit the required 2,000 valid signatures. The complaint also suggested that several of the 2,400 signatures turned in by the campaign included fake names.
The 23-page filing from West's team called the challenge "misguided and ill-informed," arguing that the state's Democratic Party must prove the signatures on the nomination papers are bogus.
"A complainant cannot simply raise an issue, with little or no evidence, and shift the—which is what Complainant attempts to do here," West's lawyer Michael Curran wrote in the filing.
Curran said that "with little or no supporting evidence," claims that the signatures are fake "should be dismissed."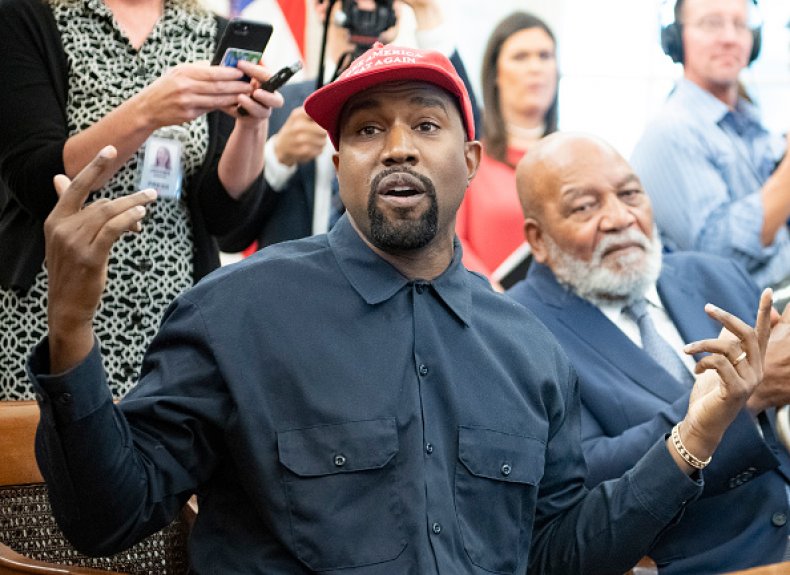 Curran also argued that the West campaign was not late in submitting the necessary signatures. State laws require the papers to be turned in "not later" than 5 p.m. Curran said although the aide arrived 14 seconds past the deadline on August 4, the papers were still submitted to Wisconsin's Elections Committee before 5:01 p.m.
The filing went onto claim that the legal action being pursued by the state's Democratic Party was motivated by the fact that West is Black.
"People of color have long been marginalized in this country," Curran wrote. "In seeking to remove Kanye West from the ballot and silence the voices of those who signed to place him, the Complainants are continuing this marginalization simply because Mr. West's views and perspectives on issues do not conform with theirs and those of the Party they represent."
The complaints will be reviewed by staff of the state's Elections Commission before an official recommendation is made to the bipartisan board.
Newsweek reached out to Wisconsin's Democratic Party for comment but did not hear back before publication.
West failed to secure his name on the ballot in Illinois last week.
According to the Chicago Tribune, almost two-thirds of the 3,218 signatures submitted in the rapper's home state were not valid. West also failed to file a running mate and list of electors for the Electoral College, both of which are required in Illinois.
The Illinois State Board of Elections will vote on a recommendation for his nomination papers on August 21.
West's campaign also withdrew its petition to appear on the presidential ballot in New Jersey because of invalid signatures.