Kanye West's Mental Health Discussion With Charlamagne Tha God Gets Canceled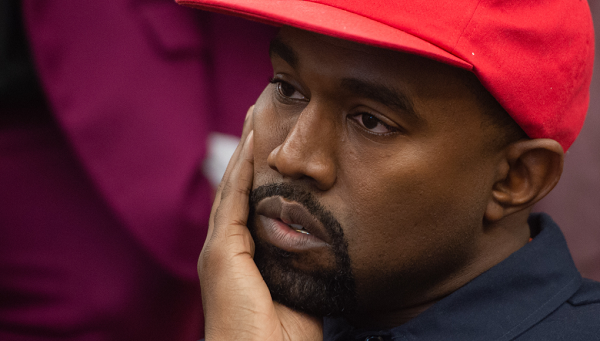 Kanye West won't be having a thoughtful discussion about mental health with Charlamagne Tha God after all. The rapper was slated to talk about depression, anxiety, and overall mental health, particularly in the black community, with the Power 105.1 radio host, in an event backed by the The New York Times, but the event has been canceled.
The Breakfast Club host, who interviewed West leading up to his Ye album release earlier this year (and the rapper's mortifying TMZ interview), broke the news of the TimesTalk cancellation on Instagram on Monday.
"Normalizing being mentally healthy is a conversation that I really wanted to have with Kanye because he's been so vocal about his own mental health struggles," Charlamagne wrote. "Unfortunately I think to have that conversation with him right now would not be productive and a total distraction from the point of the convo which is to eradicate the stigma of mental health especially in the black community."
West was originally scheduled to appear in conversation with Charlamagne at Town Hall in New York City on Wednesday. The discussion, which Times journalist Jon Caramancia was expected to moderate, was pegged to the release of Charlamagne's upcoming book release, Shook One: Anxiety Playing Tricks on Me. Dubbed as Charlamagne's self-help-styled memoir, the author's second book aims to offer a "blueprint for breaking free from your fears and anxiety."
Customers are being offered full refunds for the sold-out panel discussion, Town Hall announced on Twitter. Prices for tickets were ranging upward $127.
"We regret to inform you that Charlamagne tha God and Kanye West have canceled their appearance for a TimesTalks scheduled for October 17. We apologize for the inconvenience and are automatically issuing full refunds for your purchased ticket(s) to this particular program," the announcement read.
The canceled event comes barely a week after West had a rather bizarre meeting with President Donald Trump at the White House for the signing of the Music Moderation Act, during which West ranted his ongoing support of Trump, whom he claimed made him "feel like Superman."