Will 'Donda' Actually Get Released? 8 Other Kanye West Projects That Have Been Shelved
Kanye West has announced that he intends to release his 10th solo album, Donda, on Friday. Anyone who's familiar with West's process, though, knows that release dates for his projects are often fluid. So don't be surprised if Friday passes without a proper follow-up to 2019's Jesus Is King—especially since West is clearly going through some personal and mental health struggles at the moment.
Still, in advance of Donda's tentative release date, Newsweek decided to look back at some of the Kanye albums and projects that never came to fruition. These were either teased by West himself and apparently abandoned, or simply turned into something else altogether. Below are eight speculated-about projects that still haven't gotten a formal release.
Good-A** Job

Let's begin with the oldest and most-discussed Ye album that no one's ever actually heard. Way back in 2003, before he had even released his debut album The College Dropout, West told MTV that he had the titles for his first four albums mapped out.
"I'm calling the next one Late Registration," he told the network. "Then my third album is going to be called Graduation. And the fourth is Good-A** Job."
West followed through on Late Registration and Graduation in 2005 and 2007, respectively, but Good-A** Job never materialized. Instead, his fourth album became 2008's 808's & Heartbreak, a chilly record whose creation was fueled by the devastating loss of his mother, the late Dr. Donda West, and the end of his long-term relationship with fiancée Alexis Phifer.
Word then got around that West was planning to indeed follow 808's with an album called Good-A** Job. (Big Sean apparently posted about the project on social media, back in February 2010.) But, according to an article from NME at the time, West tweeted in July 2010 that he was scrapping that title; instead, the album ended up getting named My Beautiful Dark Twisted Fantasy. Maybe you've heard of that one.
Collaborative Album With Drake
An album-length team-up between West and Drake has long been rumored. Back in 2015, West mentioned a possible collaborative album with Drake while talking to New York City hip-hop radio station Hot 97, according to GQ. That same GQ article notes that in March of 2016 an alternate version of The Life of Pablo song "Wolves" popped up, featuring Drake and Icelandic avant-garde pop star Björk. (The final album version has Vic Mensa and Sia on it.) Apparently, because of Drake's connection to the track, fans apparently refer to the potential album as "Wolves."
Then, in a 2017 interview with Nation of Billions, Drake confirmed that the two were working on a project together. Drizzy also said, though, that he was confused about Yeezy publicly calling him and DJ Khaled out during the Saint Pablo tour. "I went from being... like working on a project with him, to him sorta publicly sh**ting on me and DJ Khaled for being on the radio too much," Drake said.
Unfortunately, the pair's relationship seems to have further soured in recent years, particularly because of West's close relationship with Pusha T and Pusha's long-standing beef with Drake. The Canadian rapper-singer also seemed to swipe at West and Pusha in a new freestyle that was released on Monday, according to the lyrical annotation site Genius.
Turbo Grafx 16

Very little is known about the rumored follow-up to 2016's The Life of Pablo. West tweeted about the album, named for the Japanese video game console of the same name, less than two weeks after Pablo's release. It's possible that songs planned for the album were released as singles or found their way onto 2018's Ye, but this remains one of West's most mysterious non-albums.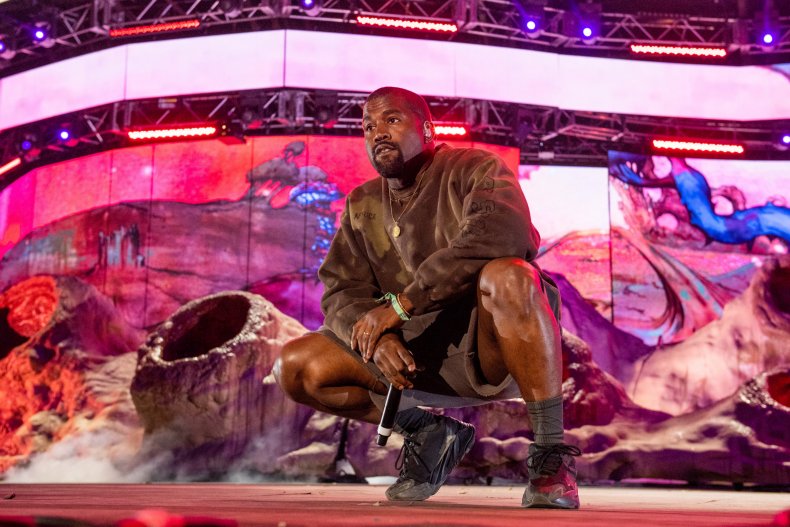 40 Songs with Kendrick Lamar
So, it's a minor travesty that these have never been released. In February 2016, West tweeted that he and Kendrick Lamar had worked on a bunch of songs together. Specifically, 40 songs. That's correct: 40. (West also claimed that he had another 40 songs cooking with Young Thug, which we'd also love to hear.) As far as we can tell, none of these tracks seeming to have come out. The only real-deal collaboration that West has shared with Lamar is (the pretty great) "No More Parties in LA," from The Life of Pablo.
Cruel Winter

West's Cruel Summer is a well-regarded compilation of G.O.O.D. Music tracks that was released in 2012. (Remember the single "Mercy"? You should.) For years, the rapper has been rumored to be planning and tinkering with a sequel called Cruel Winter. The 2016 track "Champions" was released, supposedly, as a teaser for the sequel. Despite rapper CyHi The Prince telling Complex that the album was done in 2017, Winter has yet to come.
Yandhi

Fans of Yeezus have been waiting for a sequel to that record since 2013, right after the first Yeezus dropped. In an interview with The Breakfast Club back then, West made an eyebrow-raising comparison to Yeezus and its potential successor. "Bruce Springsteen dropped this album called Nebraska and right after that he did Born in the U.S.A. This next one, I have a feeling, because of what we did right now, has to be Born In The U.S.A.," he said.
While it's unclear if the project he was referring to ended up becoming The Life of Pablo, we could definitely see Pablo as the Born in the U.S.A. to Yeezus' Nebraska.
Now, it's possible that the Yeezus 2 West was teasing became Yandhi, because of the title and proposed cover art. Regardless of its relationship to West's sixth solo album, Yandhi is still unreleased. It was the album West spent a chunk of 2019 teasing. But then, after a few missed release dates in the fall of that year, West ended up putting out a record called Jesus Is King instead.
Recordings from the Yandhi sessions leaked in July 2019, with only one song—"The Storm," later reworked to "Everything We Need"—making the cut for Jesus is King. Another noteworthy leak from that period? The Nicki Minaj-featuring ode to plastic surgery "New Body," which has yet to see an official release but has built quite a following.
Seemingly, West's newfound commitment to Christianity influenced the sudden change in direction, from Yandhi to Jesus Is King. "Everybody wanted Yandhi/Then Jesus Christ did the laundry," he rapped on "Selah."
Chance The Rapper collab a.k.a. Good-A** Job (again)
Fellow Chicagoan Chance the Rapper has been an outspoken advocate for West and his recent political aspirations. The two have worked together on a few occasions, most notably in the opening tracks for Chance's Coloring Book and West's The Life of Pablo, both released in 2016.
In his standout verse on Pablo's "Ultralight Beam" verse, Chance nodded toward the long-lost Good-A** Job: "I met Kanye West, I'm never going to fail/He said, 'Let's do a good-a** job with Chance 3.'"
That's not Chance's only connection to that title, though. During a 2018 appearance at a Chance-hosted Open Mike Night, West announced that there would finally be an album called Good-A** Job and that both rappers would be teaming up for it. The album still has yet to be released. But, after hearing Chance's The Big Day, maybe this one's best left on the shelf.
Watch the Throne 2
Watch the Throne, West's 2011 collaborative album with mentor/friend/rival Jay-Z, is one of his most beloved works and boasts some of his best songs: "N****s in Paris," "No Church in the Wild" and "Murder to Excellence," to name just a few. And in June 2018, he gave the album's faithful reason to hope that a sequel was on the way. He tweeted simply, "throne2 coming soon."
It's been nearly two years and we still haven't heard the album, but that shouldn't come as a surprise. West and Jay have had a complicated relationship for a while now. Just a couple recent examples: West called out Jay while onstage during the Saint Pablo tour, and Jay fired back on a song from his latest album, 2017's 4:44. Even though West told Charlamagne tha God in a 2018 interview that he and Jay had repaired their friendship, we're willing to bet that Watch the Throne 2 will remain unreleased for a while.