Kanye West Delays New Album 'Jesus is King' Again and Twitter Is Not Happy
Jesus is King, the latest album from Kanye West, has failed to materialize upon its scheduled release at midnight Friday, with the rapper tweeting to his fans: "To my fans, Thank you for being loyal & patient. We are specifically fixing mixes on 'Everything We Need' 'Follow God' & 'Water'. We not going to sleep until this album is out!"
Two hours previously, the performer had confirmed that the album would be released at midnight Eastern in a tweet that also listed the names of the 11 tracks that will appear on the album.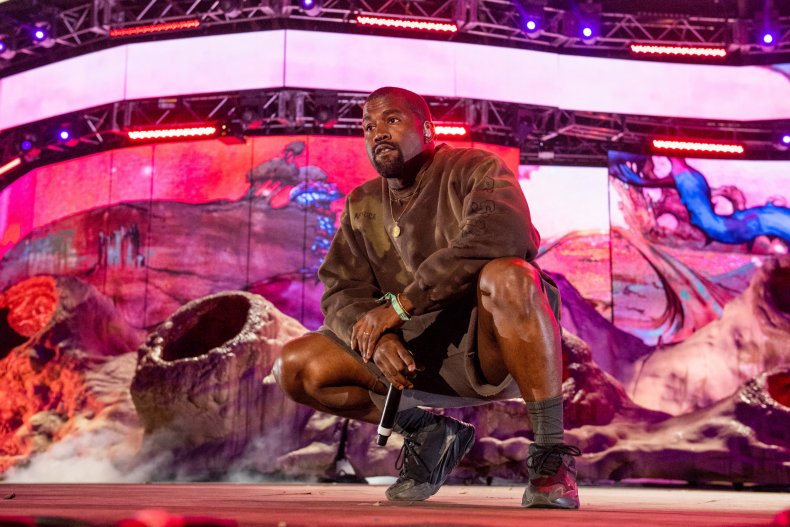 This delay led to fans sharing a fake tweet that looked like it was from West's account that read: "I forgot to hit record lol."
Spotify France also tweeted: "We'll have to wait a little bit for Kanye's album," suggesting that the music streaming platform also does not know when the album will be dropping on their platform.
Other fans chose to poke fun at West saying he wouldn't sleep until the album was out. For example, one fan shared a photo of West fast asleep with the caption, "kanye after tweeting this." Another shared a GIF of a Junior Masterchef contestant frantically working with the caption, "Kanye trying [to] finish this album after realizing its a sin to lie."

There is some evidence, however, that the album will be released very shortly.
At around 2 a.m. ET on Friday, West arrived at Oculus at the World Trade Center for what fans who are there are calling a "performance." Fans have shared videos of West entering the building, with other shots showing a choir joining him. The Reddit HipHopHeads Twitter account wrote: "Kanye West has arrived at Oculus NYC for his #JesusIsKing release night Sunday Service performance! (Note: Turn Volume Up!) His new album is expected to drop when the event begins. May not be long now."
They followed this up with a tweet reading: "Kanye West 's new album #JesusIsKing release night Sunday Service seems to be getting filmed here at Oculus NYC. He appears to be mixing the album live."
This means that we could see West's album arrive at some point on Friday, though fans will have to keep refreshing their streaming services to find out exactly when Jesus is King will be released.
The album was originally titled Yandhi and was scheduled for release on September 29, 2018, before being delayed numerous times.
Though there has been no update since West's tweet at around 11 p.m. PT on Thursday, fans are guaranteed to hear some tracks from Jesus is King on Friday. Though the album may not be released, Friday will see the release of the movie version of Jesus is King, which features tracks from the album alongside new gospel versions of old West tracks.
Fans have also already heard Jesus is King song "Water," which he played during his surprise Coachella set in April 2019.
The delay did not stop West, however, from discussing the release date of another new album. Speaking on Zane Lowe's Beats 1 show, the rapper revealed that he intended to release a gospel album named Jesus is Born on Christmas Day. He told the DJ: "Sunday Service album, Jesus Is Born, on Christmas is coming."