Kanye West Made the 2015 VMAs Actually Worth Watching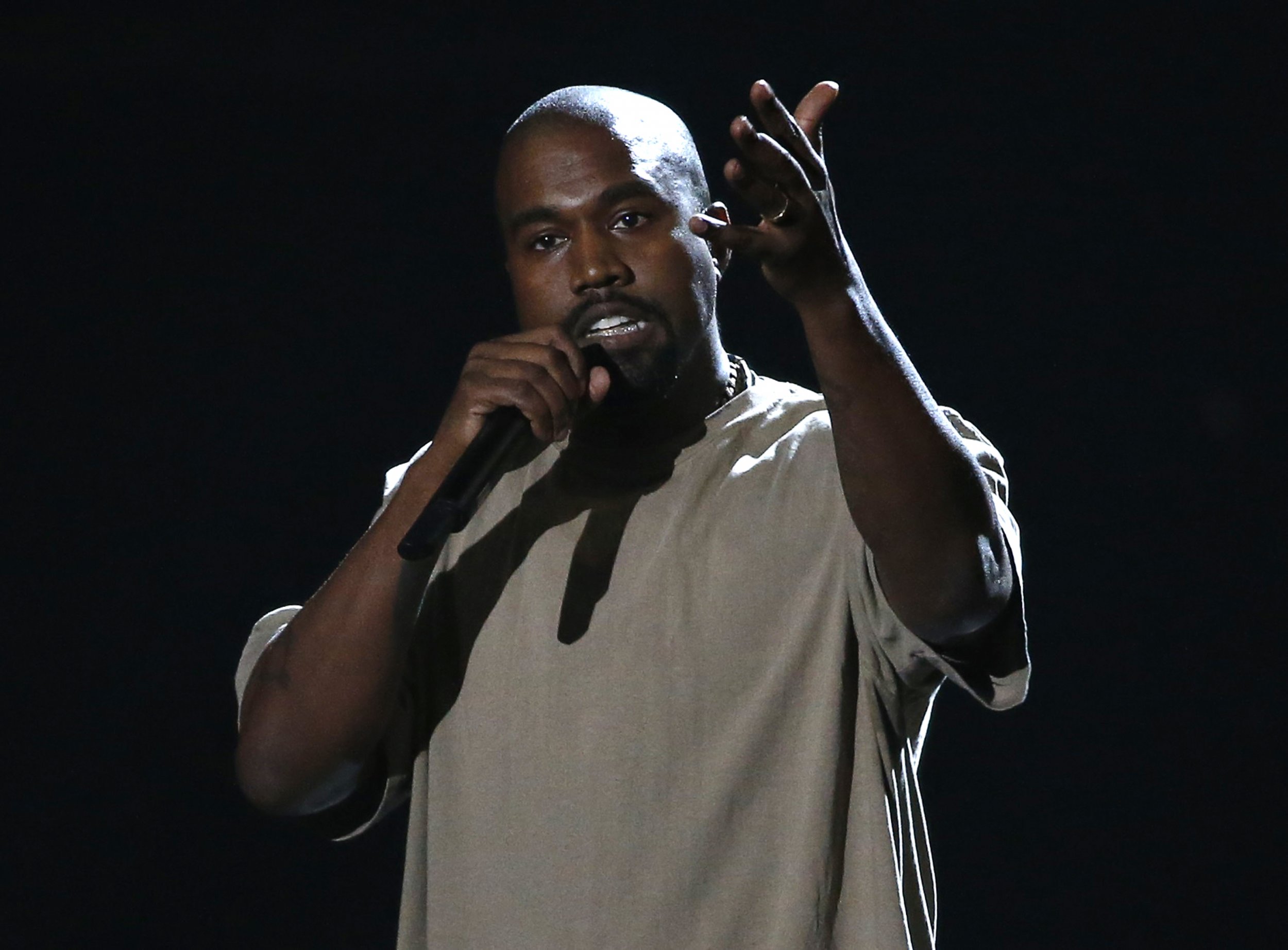 During an MTV Video Music Awards ceremony that tended toward the predictable and tiringly self-referential—with host Miley Cyrus making endless mention of her 2013 twerking infamy and Taylor Swift patching up a short-lived feud with Nicki Minaj—Kanye West once again livened up the entire affair. Taking the stage to accept the Video Vanguard award, the rap star launched into the sort of off-script, impassioned speech only West can give—announcing a possible presidential run in the process.
But let's back up. The would-be star of the evening, at least in terms of sheer airtime, was Miley Cyrus.
On paper, Cyrus made for a logical pick to host the 32nd VMAs. The pop star's memorably naughty 2013 performance on the same stage drew more than 10 million viewers to the award show, whose ratings dropped slightly in 2014. Cyrus might well sum up MTV's efforts to capture a waning youth edginess.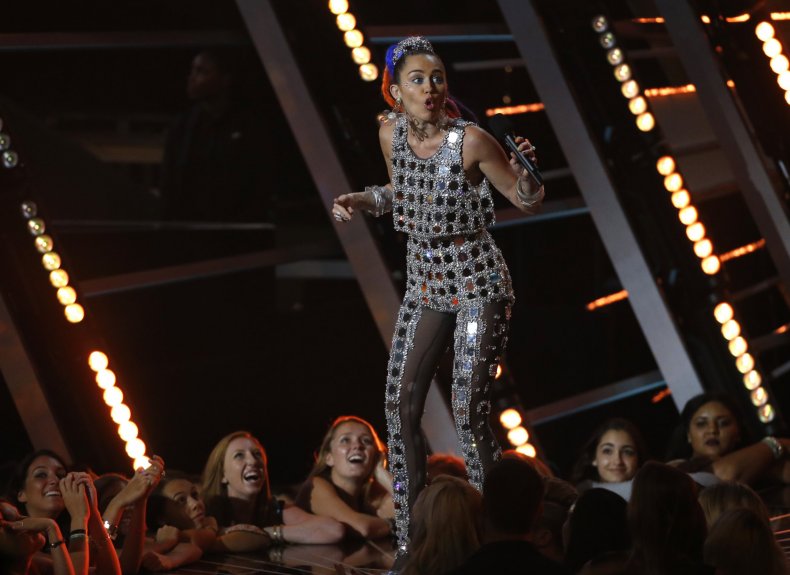 But in reality, Cyrus's charisma as host hardly matched her charisma as performer. The 22-year-old relied on the same tired rotation of jokes about how she loves weed, is bad, also likes sex. Did she mention she likes weed? "I have literally done everything on the VMAs stage, and none of it showed that I was qualified to host," Cyrus said in her opening monologue, then delving into an overly insular bit about her own Instagram account. (Why yes, there is already a supercut of the host mentioning sex and drugs.)
The hosting job often felt like a fruitless attempt to recapture a viral moment from a past year's show; only when she was unexpectedly called out by Minaj, who put the host on blast for talking trash about her in the press while accepting the award for best hip-hop video, was Cyrus forced to acknowledge and respond to this year's guests and show. "We all do interviews, and we all know how they manipulate shit," a surprised-seeming Cyrus said in response to Minaj. "Nicki, congratu-fuckin-lations."
While Minaj escalated one feud, she patched up another, performing her song "The Night Is Still Young" with guest performer Taylor Swift, who appeared on an elevated platform to surprise the crowd in a matching red minidress. The two singers exchanged barbs on Twitter a month ago, but at the show itself they shared a laugh and embraced after singing a snippet of Swift's too-appropriate "Bad Blood." However staged it was, it was the sort of conversation-starter moment that brings life to the VMAs.
Of course, this being an award show in 2015, Taylor Swift was in high-demand at various other points of the ceremony. She opened the show with a premiere of the high-octane Old Hollywood–themed video for "Wildest Dreams," and she trekked to the stage again, flanked by her squad of famous women, to accept the award for video of the year for her cameo-studded "Bad Blood" fantasy. That acceptance speech was memorable and uniquely Swift-like—she fit in a nod to gender equality, expressing her happiness "to live in a world where boys can play princesses and girls can play soldiers," and still managed to shout out her cats.
Swift also took the stage to present West with the Video Vanguard award, a sort of VMA version of a lifetime achievement award. Swift reminisced about buying West's first album on iTunes when she was 12 (an impossibility—she turned 12 in 2001) and then laughed about West's now-iconic stage-crashing of her acceptance speech in 2009, a moment the VMAs have helped bludgeon and meme to death ever since. "'I'm really happy for you, and I'm 'a let you finish, but Kanye had one of the greatest careers of all time!" she quipped. The two hugged it out in a staged display of forgiveness, though it's been clear for a while now that that bad blood is long over.
And the performances? They were fine. The Weeknd offered a soulful rendition of "Can't Feel My Face," A$AP Rocky dutifully rapped alongside an ill-advised backing by Twenty One Pilots, and Justin Bieber floated toward the ceiling like an Instagram-addled Peter Pan, then teared up on camera.
Nothing is likely to draw as much talk as Minaj's duet with Swift or Cyrus's colorful, show-ending performance, though the former seemed all but inevitable, and the latter was notable mostly for the 30 or so drag queens Cyrus brought onstage, not to mention longtime Cyrus disciple (or is it vice versa?) Wayne Coyne shooting a confetti cannon from the pop star's crotch. As the VMAs came to a close, Cyrus announced that her new album, Miley Cyrus & Her Dead Petz (in collaboration with Coyne's band, The Flaming Lips), is now available for free online.
Call it surprise-album exhaustion, but that announcement barely rose above the chatter still lingering from West's show-defining speech.
In a lengthy and incredible statement made while accepting the Video Vanguard award, West took the show well off script and spoke from the heart. The rapper expressed remorse for his 2009 stage-crashing and spoke about the struggle of supporting artists at award shows that seem to undermine them.
"I still don't understand awards shows," the rapper said. "I don't understand how they get five people who worked their entire life—sold records, sold concert tickets—to come stand on the carpet and for the first time in their life be judged on the chopping block and have the opportunity to be considered a loser."
West put MTV on blast for exploiting the footage of him from 2009 and caring only about ratings on MTV's own stage. He joked about his rambling delivery. ("Ya'll might be thinking right now, 'Did he smoke something before he came out here?' The answer is yes, I rolled up a little something.") He gave advice to fellow artists and spoke about teaching kids confidence.
And finally, in what may or may not have been a statement of serious intent, West made a mic-drop announcement: "I have decided in 2020 to run for president."
It was the sort of heartfelt show of simultaneous vulnerability and confidence that is unique to West among all celebrities, and it was a moment of genuine spontaneity that's rarely glimpsed at award shows of this nature. The speech dominated post-show discussion, and will be lodged in cultural recollection of the 2015 VMAs for years to come.
While his fellow guests were still talking about a gaffe he pulled more than half a decade ago, West gave them—and us—something new to talk about. Here's to Kanye 2020.