Kanye West Meeting Ugandan President Was 'Immoral,' Says Opposition Leader
A former reggae musician and opposition leader said that Kanye West's meeting with Uganda's president on Monday was "immoral."
"He is hobnobbing with a president who has been in power now for 32 years and restricts any freedom, a country where opposition activists are tortured and imprisoned," Bobi Wine said, according to The Guardian.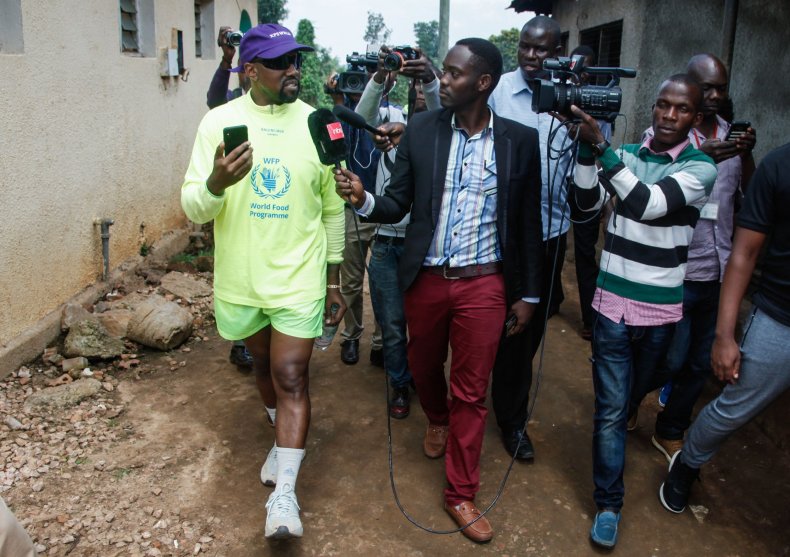 "It would have been great if he had used his voice for the good of people in Africa. I'm a musician, but I am not allowed to stage a show in my own country because I disagree with the president. It is very disappointing," Wine, who was arrested in August, said.
West and his wife, Kim Kardashian, are staying in a luxury safari lodge as he records music from a specially built tent. The East African nation's President Yoweri Museveni said that he had "fruitful discussions" about tourism and arts with the rapper, USA Today reported.
West gave the 74-year-old president a pair of his Yeezy Boost shoes as a gift, and Museveni gave the couple a copy of a book he wrote
"This is the source of human life, even the whites originally came from here," the president said while meeting with his guests, according to the State House's official Facebook page. Museveni, in power since 1986, also gave West and Kardashian Ugandan names. West was given the name "Kanyesigye," which means "I trust," and Kardashian received the name "Kemigisha," which means "the one with blessings from God."
This is not the first meeting between the rapper and a president this month. West met with President Donald Trump last week and spoke on a range of topics for nearly 10 minutes.
Authorities arrested Wine—whose real name is Robert Kyagulanyi Ssentamu—while campaigning. A military court charged the reportedly tortured politician with illegal possession of firearms.
"After 32 years in power, President Yoweri Museveni's government is for the first time shaking in its boots," the former musician wrote in an editorial for The Washington Post last month.
"I am fortunate enough to have a platform to bring attention to what is happening, but I have not seen the worst that this government can dole out. What happened to me is no aberration in today's Uganda, which is why returning to my former life as a musician is no longer an option," he continued.