Kanye West says he is considering legally changing his name to "Christian Genius Billionaire Kanye West."
The rapper expressed frustration at Forbes magazine for not designating him billionaire status, despite his Yeezy shoe line expecting to exceed $1.5 billion in sales this year. In June, Forbes put West's net worth at $240 million.
West told attendees at the Fast Company Innovation Festival in New York Thursday that he wants to show other black Americans that it's possible to achieve billionaire status, even if he has to change his name to do it.
"Martin Luther King didn't get killed because he had a dream—he had something else he was gong to talk about. He talked about black empowerment, economic empowerment," West said at the event, according to The Hollywood Reporter.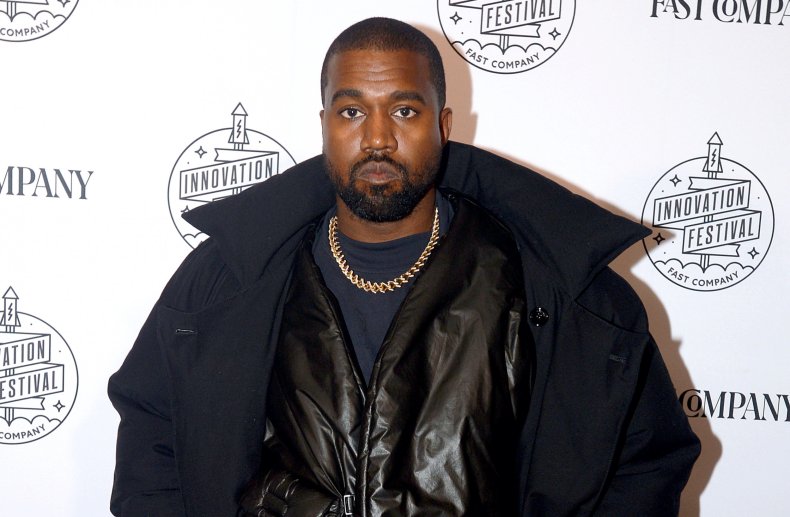 "When I did Forbes, I showed them a $890 million receipt and they still didn't say 'billionaire.' They don't want us to know that we can buy land, they don't want us to have the 100 percent ownership I have at Yeezy," the rapper continued. "When people say it's crass to call yourself a billionaire, I say I might legally change my name to Christian Genius Billionaire Kanye West for a year until y'all understand exactly what it is."
West has become more religiously devout recently, even titling his new album Jesus is King, and declaring that he now lives his life in servitude to god.
At the event Thursday, West also insisted once again he will run for president in the future in order to serve the black community.
"When I run for president in 2024," he began, prompting audience laughter, according to The Hollywood Reporter.
"What y'all laughing at? We would create so many jobs! I'm not going to run, I'm going to walk. When you see headlines saying Kanye's crazy—one in three African-Americans are in jail and all the celebrities are in jail also because they can't say nothing, they got no opinion, they're so scared," added West.
In October, West said he's "working on some things right now" regarding a presidential campaign in an interview with Beats 1's Zane Lowe. "There will be a time when I will be the president of the U.S. and I will remember... any founder that didn't have the capacity to understand culturally what we were doing," added West, though he didn't elaborate on who he was referring to.
The rap star also said that wearing a red "MAGA" hat popularized by President Donald Trump was a humorous jab at liberals.
"Liberals love art and now, I am unquestionably, undoubtedly the greatest human artist of all time. It's just a fact, right?" said West. "So, to put a red hat on was God's practical joke on all liberals like, 'Nooooo not Kanye!'"