Kanye West has announced plans for his first-ever opera, which will be performed later this month at the Hollywood Bowl in California.
Details of his latest work, which follows last month's release of the rapper's new album Jesus Is King, were unveiled on a gold-colored metallic invitation card for "A Kanye West Opera", an image of which was posted on the rapper's official Twitter account.
Titled Nebuchadnezzar, the new opera will be directed by Vanessa Beecroft, an Italian performance artist who has previously collaborated with West for his fashion label Yeezy. She has also worked with several other major fashion houses including Louis Vuitton, Prada, Tom Ford and Dolce & Gabbana.
The opera will feature music from the Sunday Services (the gospel choir that has been touring with West on his latest album), English music producer Peter Collins and Infinity's Song, according to the invitation.
The show will premiere at 4 p.m. on November 24, with doors opening 1:30 p.m. at the Hollywood Bowl, the famous amphitheater concert venue in Los Angeles. Tickets will go on sale on Monday at noon, according to a post by the official Twitter account of the Hollywood Bowl.
The announcement of West's first opera comes after the latest "service" of his ongoing tour, which took place Sunday at television evangelist Joel Osteen's megachurch in Lakewood, Texas. The venue is said to be America's biggest church, reportedly hosting a congregation of up to 50,000 every week, according to The Houston Chronicle.
West briefly addressed the overly excited crowd before his two performances at the church, reportedly asking for there to be complete silence when members of the crowd threw him shouts of affirmation.
"I go into these streams of consciousness when I'm talking, and when you speaking in the middle of it, it distracts me," he told one man in the congregation, The Houston Chronicle reported.
"I really appreciate the support, but I would like for everybody to be completely silent so I can let God flow through me as I speak to you guys today."
"Jesus has won the victory because now the greatest artist that God has ever created is now working for Him," he told the Lakewood congregation.
"All of that arrogance and confidence and cockiness that y'all seen me use before, God is now using for Him. Because every time I stand up, I feel that I'm standing up and drawing a line in the sand and saying, 'I'm here in service to God, and no weapon formed against me shall prosper.
"When I was in my lowest points, God was there with me and sending me visions and inspiring me," he said. "I remember sitting in the hospital in UCLA after having a mental breakdown, and there's documentation of me drawing a church and writing [that I wanted] to start a church in the middle of Calabasas."
The artist also made a surprise appearance at the Harris County Jail in Houston, Texas, where he performed songs from his latest album for more than 200 inmates at the San Jacinto building, as well as a more intimate crowd of women at the Baker Street jail, The Houston Chronicle reported.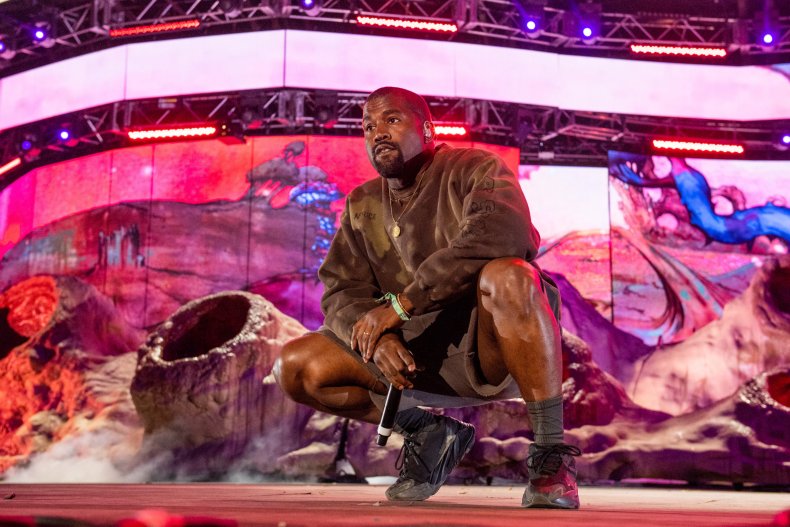 ".@kanyewest and his choir brought some light and #churchservice to people who needed it today at the Harris County Jail. #HouNews," wrote Harris County Sheriff Ed Gonzalez on his official Twitter account.
The biblically themed title of West's opera can be traced to King Nebuchadnezzar II of Babylon.
West referenced Nebuchadnezzar in a recent interview with radio host Zane Lowe ahead of the release of his latest album, NME reported.
"[God] is saying, Let me take this Nebuchadnezzar-type character—Nebuchadnezzar was the king of Babylon, and he looked at his entire kingdom and said, I did this," he said.
"I stood on the top of the mountain talking about Yeezus, saying, 'I'm a God'—I had a guy dressed as Jesus," he added.
West made history earlier this month following the release of his 9th studio album, becoming the first-ever artist to take all top 10 spots on Billboard's Christian Songs and Gospel Songs charts, as well as being the first to top 5 separate charts simultaneously on Billboard: the Billboard 200, Top R&B/Hip-Hop Albums, Top Rap Albums charts, Top Christian Albums and Top Gospel Albums.