Todd Rundgren has opened up about his experience working with Kanye West on his recently released album Donda—and his review is far from glowing.
After a series of delays, West finally released Donda on August 29, following elaborate listening parties and his move into Atlanta's Mercedes-Benz Stadium to complete work on the project.
And in an interview with Ultimate Classic Rock, prolific musician and producer Rundgren claimed that West eventually rushed the release of his delayed project for fear that rival rapper Drake would "one-up" him with his own new album.
Looking back on the work he did on the album—none of which reportedly made the final cut—singer-songwriter Rundgren said: "My involvement went on for a year, and in the end I realized why they hurriedly wrapped the whole thing up and put out what is obviously really raw, unprocessed stuff.
"It's because Drake was running the whole process. [Kanye] was too afraid that Drake would one-up him, so he hurried up and released the album the weekend before Drake could get his out. And in the end, Drake ate his lunch anyway."
Drake's album, Certified Lover Boy, enjoyed the biggest first-week sales of the year when it was released earlier this month, with 604,000 equivalent albums sold. That same record had previously been held by West, when Donda sold 309,000 copies in its first week of sales.
Elsewhere in his interview with Ultimate Classic Rock, Rundgren elaborated on his experience working with West on Donda, which features guest appearances by a host of musicians, including Jay-Z and Marilyn Manson.
"I'm one of the few artists not on Kanye's album," Rundgren quipped. "I have three albums worth of Kanye stems on my computer. Because I kept getting called by Kanye to add vocals onto the record.
"When it got into the homestretch in July, I just said, 'That's enough for me. I have no idea whether any of this is being used.' You don't get much feedback from him regarding what it is."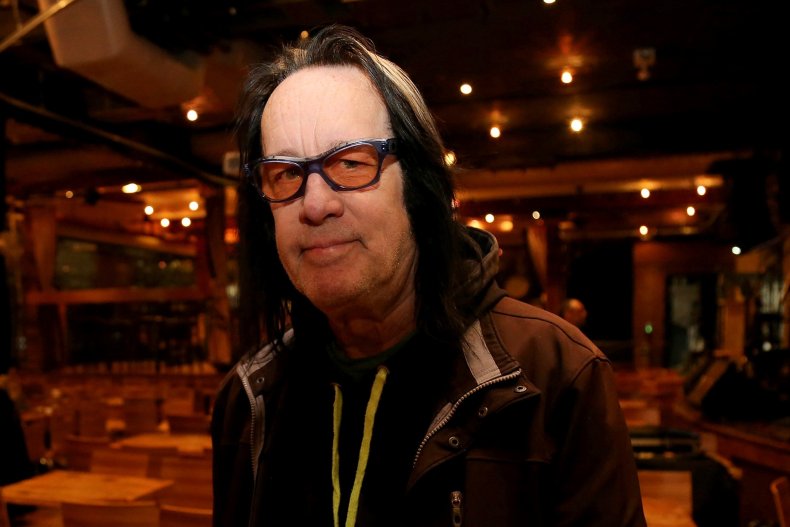 "I'm still a producer, and I don't just want to be like driftwood in the process," he added. "If I can contribute something, fine. If I can't, just let me know. I'm out of here... There is a possibility that I'm actually in there somewhere. There's so much junk in that record!"
Dismissing West as a "shoe designer," Rundgren added of the the star: "He's just a dilettante at this point. Nobody would regularly make records like that unless they had stupid money to throw around.
"Nobody rents a stadium to make a record in. Nobody flies in the entire world of hip-hop just to croak one syllable, just so you can say that everybody was on it."
Newsweek has contacted representatives of Kanye West and Drake for comment.
West's long-running feud with Drake, real name Aubrey Graham, has been well documented over the years, reaching new heights last month when West appeared to publicly share Drake's address on Instagram before deleting it.
The move was believed to be in retaliation to Drake's appearance on rapper Trippie Redd's latest album, Trip at Knight, where he took a swipe at West and Pusha T on the track "Betrayal."
Addressing his feud with West in a 2013 interview with Billboard, Canadian-born Drake said: "Me and Ye just fell into this thing where we hadn't actually talked to each other in so long that all this stuff got built up.
"Sometimes you just have to find the opportunity to tell someone that you really like and respect them. After that, everything can move forward."
In 2018, Drake kept the feud going when he criticized West's Yeezy 350 sneakers in a collaboration with French Montana, rapping, per Complex: "Keeping it G, I told her don't wear no 350s around me."
West tweeted in response to the jibe: "There should have been no songs with my involvement that had any negative energy towards you."