The listening events are back—and Kanye West is getting political again.
The rapper held a live performance at LoanDepot Park in Miami, Florida, to coincide with the expected release of his new album Donda 2 on Tuesday night.
Similar to the fanfare surrounding the release of Donda late in 2021, the rapper showcased his new tracks to a live audience with a show featuring collaborators from the music world like Jack Harlow and Migos.
One stand-out part of the event was West sampling a famous Kamala Harris quote on a track.
Harlow's track opened with a vocal sample of Kamala Harris' famous "We did it, Joe" phone call to Joe Biden following their election victory.
"We did it, Joe!" is now a soundbite that will go down in history. The current vice president's reaction to winning the November 2020 election became a viral moment at the time and has since been immortalized as a meme.
According to KnowYourMeme, the moment came after Harris tweeted a video of herself speaking with President Joe Biden on the phone and saying, "We did it, Joe."
In less than a week, the post received more than 44 million views, 3.3 million likes and 765,000 retweets.
West—now legally known as Ye—raised eyebrows by including this moment on his new song "Louis Bags" featuring Jack Harlow.
The 44-year-old rapper famously ran for president in 2020 and prior to that was a vehement Donald Trump supporter.
West even took a shot at the vice president late last year while promoting Donda during a wide-ranging interview on a Revolt TV show.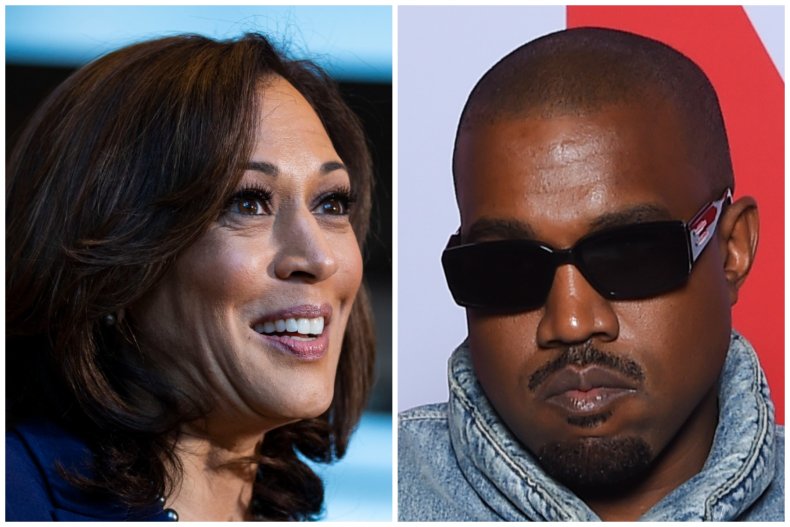 "You know Pusha [T] voted Democrat—voted for Kamala—we ain't seen her since the election either," West said at the time.
He then joked of the election results: "They got 94 of the Black female vote you would have thought Drake was running."
The sample has caused a stir on Twitter with legions of people expressing their surprise at West's decision to include the vice president on his new album.
"Why did Kanye just sample Kamala Harris wtf is this," reads one tweet.
While another added: "did this man kanye just sample kamala harris."
"No way Kanye f****** sampled Kamala Harris saying 'we did it joe,'" said another.
Elsewhere at the Donda 2 event, West used a sample of his estranged wife Kim Kardashian's Saturday Night Live monologue from October 2021, in which she called him "the best rapper of all time" and the "richest Black man in America."