Kanye West Says Trump is On A Hero's Journey and Has Support From a 'Crazy Mother-F***** Like [Me]'
Kanye West has arguably become better known for unleashing controversial rants instead of producing top-selling tracks as of late, and his trip to the White House on Thursday was no exception.
West, 41, went to Washington, D.C., Thursday to discuss job prospects for former prisoners and boosting manufacturing jobs in the Greater Chicago area, according to CNN. President Donald Trump also signed the Music Modernization Act (MMA) with West and Kid Rock present.
West's visit came after his wife, Keeping Up With the Kardashians reality star Kim Kardashian, visited the White House twice to speak on fixing the criminal justice system and clemency.
During his time at the Oval Office Thursday, West delivered a 10-minute rant on his admiration for President Donald Trump and his administration.
"Let's stop worrying about the future all we have is today," West said in the Oval Office, according to Saagar Enjeti of Daily Caller. "Trump is on his hero's journey right now. He might not have thought he'd have a crazy mother-f***** like (me)."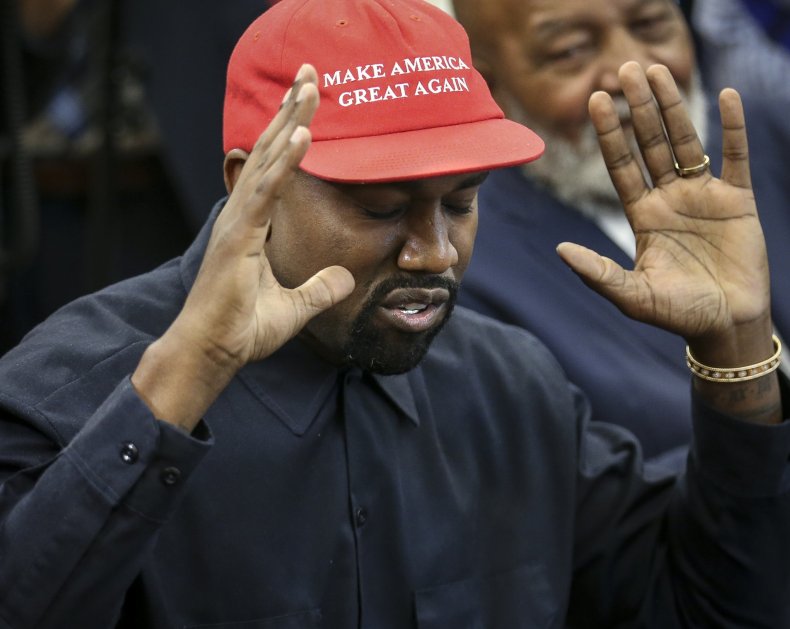 Enjeti suggested West's didn't stop there. The White House reporter tweeted about the "Famous" rapper's remarks on his Make America Great Again hat. The rapper reportedly said, "This hat it gives me power in a way...my dad and my mom separated so there was not a lot of male energy in my home and also I'm married to a family where, you know, there's not a lot of male energy. It's beautiful though."
West elaborated further by claiming the MAGA hat made him "feel like Superman."
In an interview with Hill.TV on Thursday, Democratic strategist Chuck Rocha suggested West's visit was solely based on the rapper's desire to create more publicity.
"Kanye is about Kanye, and this is a good way for Kanye to get good press," Rocha told Hill.TV's Rising. "If he's working on criminal justice reform, I'm going to support him, and I'm going to lift up his voice because it's a huge thing with me...But I still think at the end of the day he's just another entertainer who wants to see a headline, and him going to the White House, and being there is a good thing for his Twitter followers."
Before this, West came under fire for ranting on Saturday Night Live's Season 44 premiere in September. During this rant, he explained how white people frequently question his support for Trump.
"There's so many times I talk to a white person and [they] say, 'How could you like Trump? He's racist,'" West said at the time. "Well, if I was concerned about racism I would've moved out of America a long time ago."
West encountered more scrutiny, however, after sharing a picture of him wearing a MAGA hat on Instagram while suggesting in the caption how the 13th Amendment be abolished. He also claimed his MAGA hat "represents good and America becoming whole again."
The 13th Amendment comment led Snoop Dogg to refer to the fellow rapper as an "Uncle Tom," whereas Lana Del Rey called West out for having "extreme issues with narcissism" since he's willing to back a president who "believes it's OK to grab a woman by the p***y just because he's famous." Chris Evans, in turn, said West's comments were "maddening."