Rapper Kanye West has taken aim at Saturday Night Live cast member Pet Davidson in a new track that looks set to appear on an upcoming album he's been working on.
West, who is legally known as Ye, called out Davidson by name in the song in which he also addresses his divorce from his soon-to-be ex-wife Kim Kardashian, who has been romantically linked to Davidson.
A snippet of the new track was released earlier this week leading to speculation among fans and West subsequently released the song, entitled "Eazy." The rapper has been in studio working on a follow up to his album Donda.
"Eazy" features rapper The Game and West has taken the opportunity to discuss his divorce from Kardashian via the track, while also singling out Davidson by name.
"God saved me from that crash," West says. "Just so I can beat Pete Davidson's ass."
"And my new bitch bad / I know Illuminati mad," West then says.
That's a reference to a near-fatal 2002 car crash that West survived and apparent threat to Davidson, who has reportedly been dating Kardashian since last year.
Their relationship has been followed closely by fans and the media, with their appearances together subject to intense interest. The pair appeared in public holding hands in November in what some viewed as confirmation of their relationship.
Kardashian filed for divorce from West on February 19, 2021, and the rapper made reference to the end of their relationship in "Eazy," saying on the track that he's "havin' the best divorce ever."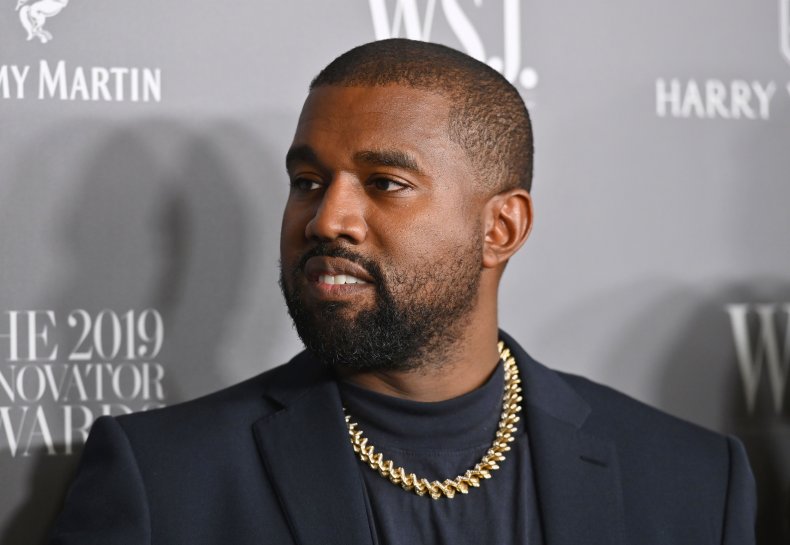 'Mr. Narcissist,' tell me 'bout my arrogance/ No more counselin', I don't negotiate with therapists," West says. He also refers to the famous Kardashian family as "boujee and unruly."
West and Kardashian had been married for six years and have four children together - North, aged 8, Saint, 6, Chicago, 3, and Psalm, aged 2.
While Kardashian is reportedly dating SNL's Davidson, West is currently in a relationship with Uncut Gems actor Julia Fox.
Page Six reported on Friday that Fox "loves" the new track, citing an unnamed "insider."
West was named as a suspect in a battery near a Los Angeles nightclub on Thursday. The incident allegedly occurred around 3a.m. local time at South Santa Fe Avenue and Bay Street, though information about the incident was limited.
"All the information we're providing is that he's a named suspect in a battery report," the Los Angeles Police Department's (LAPD) Media Relations Division told Newsweek.
News that West was a suspect in that case came just a day after it was announced that he would be one of the headliners at this year's Coachella festival.