All the Topics Kanye West Covers in Guest Verses on Pusha T's New Album
Kanye West, or Ye as he's now known, has new music out as he co-produces and appears on Pusha T's new album It's Almost Dry.
Released on Friday, April 22, the album features the likes of Ye, Pharrell Williams, Jay-Z and Kid Cudi. There are two songs on It's Almost Dry which feature Ye, and each verse is being dissected across the internet as he shares new details about himself.
On Pusha T's songs "Dreamin of the Past" and "Rock N Roll," Ye discusses topics like trying to buy The French Prince of Bel-Air house, becoming a minister and subtle references to his divorce from Kim Kardashian.
Read on as Newsweek dissects the two verses and discover what new information we learned from the artist formerly known as Kanye West.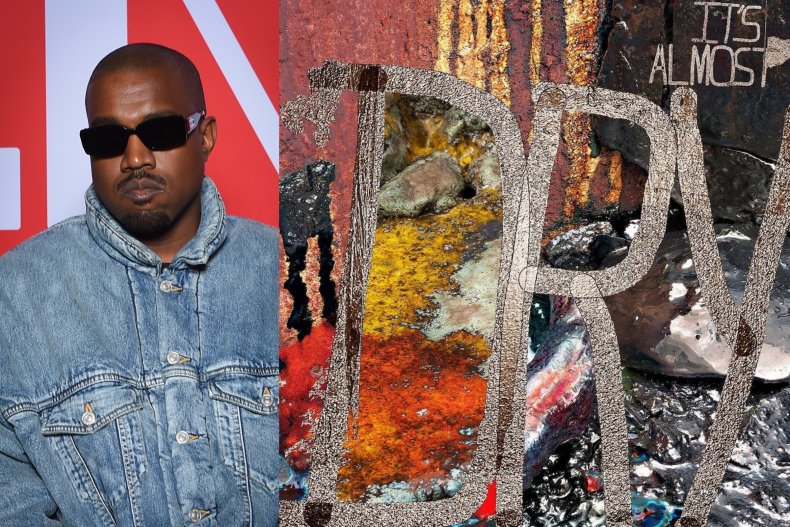 "Dreamin of the Past" Lyrics Explained
West features on verse four of the third song on It's Almost Dry. Pusha T, real name Terrence Thornton, Ye and The Beatles' John Lennon are credited as writers of this song. Lennon is credited because the track features a sample of Donny Hathaway's version of "Jealous Guy," originally written by Lennon.
West raps: "Properties all across the board, this monopoly's mine,
'Came a minister in my prime so I gotta be Shyne."
West mentioning becoming a minister is most likely a reference to his Sunday Service initiative. West has created a Christian group and choir for the social media age. The reference to Shyne the rapper is a continuation of Pusha T's reference in a previous verse.
"I used to watch The Fresh Prince and pray the house would be mine,
Coulda bought it but I ain't like the way the kitchen design"
Many online have noted these lyrics reference that Ye had the opportunity to buy the iconic house from Will Smith's sitcom The Fresh Prince of Bel-Air. The house located at 251 N Bristol Ave, Los Angeles was put on Airbnb to celebrate the 30th anniversary of the show.
"Born in the manger, the son of a stranger,
When daddy's not home, the family's in danger."
"Yeezus" claims to be born in a manger, like Jesus, and he's the son of a stranger, which could be highlighting how he grew up without his father around.
The second line here is most likely referencing his split from Kardashian, and how the family will change without him around as the father. It could also be a subtle dig at Pete Davidson who West has vocally disapproved of recently.
"Rock N Roll" Lyrics Explained
The second song featuring Ye also turns out to be his final collaboration with former friend Kid Cudi. The two have publicly fallen out recently and Cudi, aka Scott Mescudi, tweeted to explain why it'll be his final song.
The seventh track on It's Almost Dry, "Rock N Roll," features Pusha T, Ye, Kid Cudi, and a sample of "1+1" by Beyoncé.
West provides verse three on this track, which is much longer than his previous verse on the album. The full verse reads as follows:
"I accepted you the lie
All the times, selfish, thinking you was mine
I showed up, then you arrived, I thought I could turn the tides
How I make it through the Chi', get to you, and almost die?
Finally tired of comin' and goin', make up your mind
I ain't come to pick up the kids to pick a fight
Goin' off all of the time, showin' off all of the time
Pushing me over the edge, don't know if I'm fallin' or flyin'
How many nights I pray, how many times?
No matter what we say, God will decide, God will decide
Call the divine, stars will align, stars will align
Love my mama, but sometimes, dad was right
Take his hand, hold on with all of your might
When you're lost in the light, call on the light
Follow the signs, walk in the shine"
The verse contains similar references to his previous verse from "Dreamin of the Past" too. Lyrics like "pick up the kids" and "tired of comin' and goin', make up your mind" sound like quotes from a person going through a divorce, as West recently has.
Making it through "Chi" is a reference to him growing up in Chicago. As has become customary for West in recent years, his mention of God, calling on the light and divinity are religious references too.
Pusha T's album It's Almost Dry is available to buy, stream and download now.