Kanye West on Trump: 'The Mob Can't Make Me Not Love Him'
President Donald Trump thanked Kanye West for his "very cool" defense of the U.S. leader after the rapper said his "love" for Trump would not change, despite widespread backlash from fans over his support for the president.
First, West posted a photo of himself wearing a "Make America Great Again" hat on Wednesday, following it up with an image of the hat by itself and boasting that it was signed by the president.
The rapper then took aim at former President Barack Obama in a separate tweet, saying the U.S. leader, who called West a "jackass" in 2009 after the rapper famously interrupted Taylor Swift's MTV Video Music Award (VMA) speech, "was in office for eight years and nothing in Chicago changed."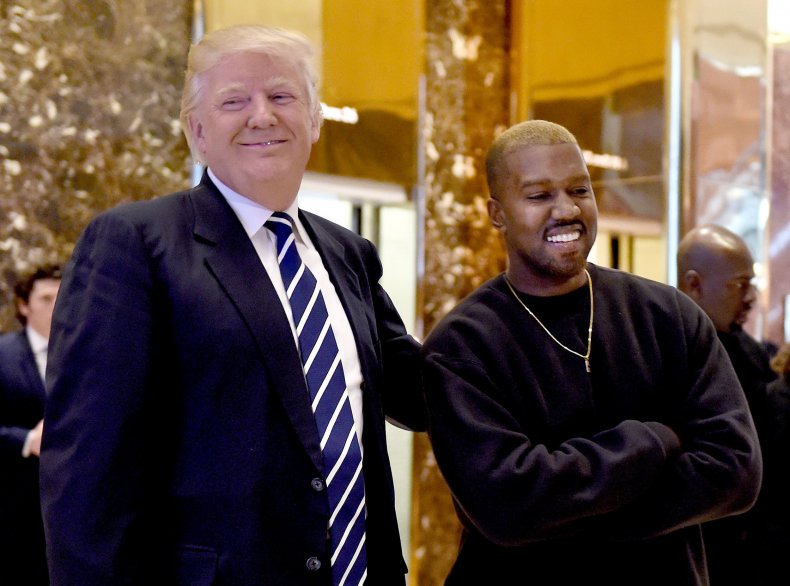 The rapper's tweets were quickly met with heavy criticism, with some people calling his mental health into question, while others vowed to "unfollow" him.
Responding to the backlash over his tweets, Kanye wrote: "You don't have to agree with Trump, but the mob can't make me not love him. We are both dragon energy. [Trump] is my brother. I love everyone. I don't agree with everything anyone does. That's what makes us individuals. And we have the right to independent thought."
The post was retweeted by Trump, who wrote: "Thank you Kanye, very cool."
The president also retweeted West's photo of his signed hat, writing: "MAGA!"
Others were not as impressed by West's comments, with Late Show host Stephen Colbert tearing into the rapper on Wednesday evening, calling him "Kellyanne Kanye" and accusing him of having "lost his mind."
"I think Kanye's lobbying for a job as Trump's new communications director—he could just change his name to Kellyanne Kanye," Colbert joked.
Responding to one of West's tweets, Colbert said: "Yes, we have the right to independent thought. And I independently think that Kanye has lost his mind. You know what, Kanye? Donald Trump is your brother, it is true. I am your brother too. And brother to brother, I just want to say, put the phone down."
West's support for Trump first became apparent when the rapper spoke in favor of the U.S. leader at a concert in Sacramento, California, just days after he was elected in 2016. The next month, the rapper also attended a meeting with the then president-elect at Trump Tower in New York, drawing heavy criticism from fans.
Recently, the rapper has seen growing support from right-wing pundits, including InfoWars host and conspiracy theorist Alex Jones.
"I admire your bold moves against the thought police," Jones told West in a tweet on Monday, inviting the rapper to come speak on his show. "If you want to see these control-freak vampires really go crazy, please join me on my broadcast," Jones said.