Kanye West Urinates in Grammy and Doxes 'Forbes' Editor
Another day, another series of alarming tweets from Kanye West. On Wednesday, West shared a video of what appears to be him urinating into a Grammy award, placed in a toilet. "Trust me...I WONT STOP," he wrote above the clip.
The rapper also called out the editor of Forbes, Randall Lane, in another tweet and shared some of his personal contact information.
"If any of my fans want to call a white supremacist ... this is the editor of Forbes," West wrote above a screenshot of Lane's phone number. (In West's "Contacts" list, Lane is labeled under "Randall Forbes.") The tweet has since been deleted.
West was previously interviewed by Lane for Forbes in July, shortly after announcing his campaign for presidency. Why exactly West is going after the editor is unclear.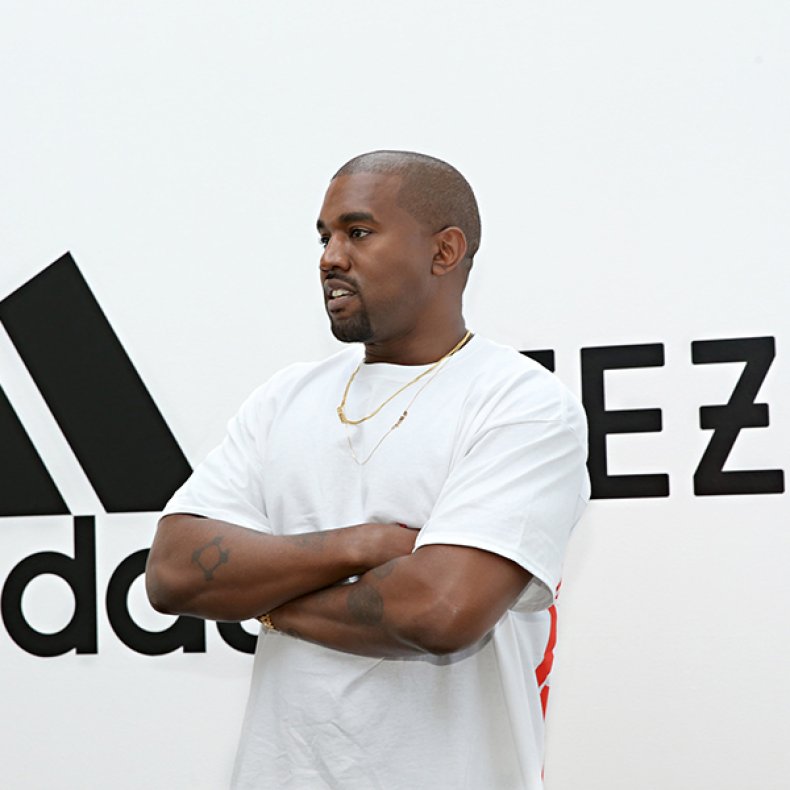 In the Forbes interview, West elaborated on why he decided to run for president for the 2020 election.
"God just gave me the clarity and said it's time," West said in the interview. "You know I was out there, ended up in the hospital, people were calling me crazy. I'm not crazy. Between all of the influences and the positions that we can be put in as musicians—you go on tour, you put out all these albums, and you look up and you don't have any money in your account."
"It can drive you crazy, through all of that I was looking crazy because it wasn't the time," he continued. "Now it's time. And we're not going crazy, we're going Yeezy, it's a whole 'notha level now. N-O-T-H-A."
Newsweek did not receive comment from West in time for publication.
Two days before sharing these newest tweets, West declared himself the new Moses, and insisted that he needed to see "everybody's contracts at Universal and Sony." He added, "I'm not gonna watch my people be enslaved."
On Wednesday, after sending out the tweets about his Grammy award and the Forbes editor, West tweeted more about the record industry, and spoke out against practices and types of deals that can marginalize musicians.
Record producer Hitboy, who worked with him from 2011 until 2013, as per MTV, responded to West's previous tweet about him being the new Moses. Although they no longer work together or appear to even get along, Hitboy acknowledged the practices that West is referring to, and agreed with the idea of creating better contracts for musicians.
"This tweet is something I can agree with though," Hitboy captioned an Instagram post on Wednesday. "@umpg [Universal Music Publishing] has held me in what the last 3 lawyers Ive hired have referred to as the 'worst publishing contact they've ever seen' since I was 19 years old." Hitboy, now 33, said that despite the success he's gained from his work, his deal didn't seem fair.
"Slave deals are still very real /rampant in 2020," he concluded.
West appeared to be pleased that Hitboy is standing in solidarity with him. "HI GUYS ... TRUST ME WE WILL NOT STOP ... HITBOY FIRST TO STAND UP ... I DIDN'T HAVE A PROBLEM WITH HIM PRODUCING FOR BEYONCÉ ... I HAD A PROBLEM WITH THE FACT HE WAS SIGNED TO ME AND I DIDN'T KNOW BUT I KNEW JAY AND BEYONCÉ AND HIT-BOY ... JUST FOR CLARITY"
"90% of the record contracts on the planet are still on a royalty," West continued. "A standard record deal is a trap to NEVER have you recoup, and there's all these hidden costs like the 'distribution fees' many labels put in their contracts to make even more money off our work without even trying."
Updated 9/16/2020 2:38 p.m. ET: This article has been updated with more recent tweets shared by Kanye West and an Instagram post shared by Hitboy.