Kanye West Ushers In an Anti-Climactic New Era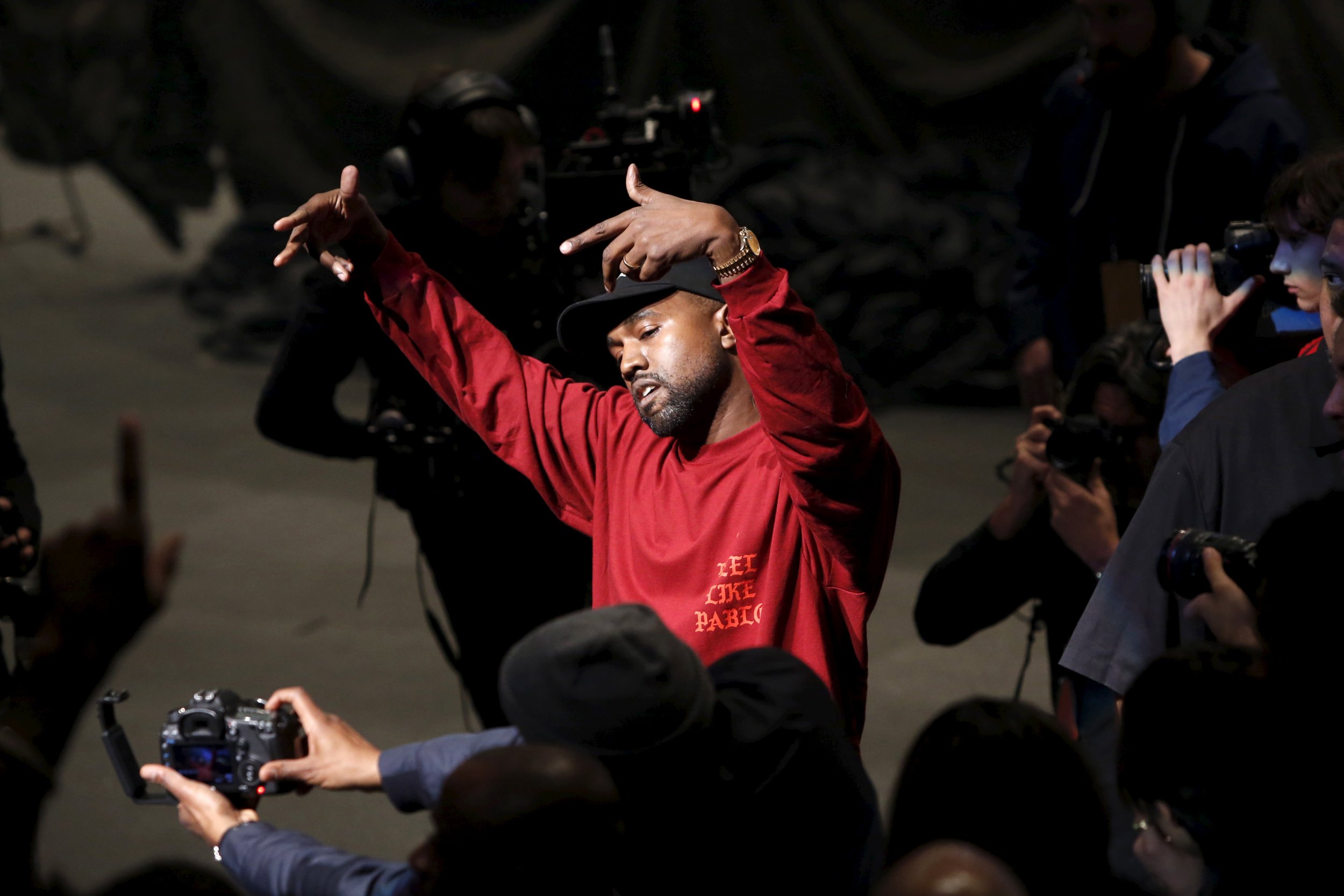 Kanye West just dropped his much-anticipated "surprise" album, The Life of Pablo, on Tidal following his appearance on Saturday Night Live, probably while you were fast asleep or trying to forget about the chill outside. At various times expected to be titled Swish, So Help Me God and Waves, if West's increasingly bizarre tweets were to be believed, the album has been receiving positive early reviews from critics and fans alike.
Still, it's hard to get over the roll-out of the album, which can only be considered bizarre. First, there's the concept of the non-surprise surprise. As West told Power 105.1: "Release dates is played out, so the surprise is going to be a surprise." But few were anticipating the roll-out would also involve missed release dates, a phony, photo-shopped magazine cover and a puzzling fashion-show-cum-dance-party at Madison Square Garden on Thursday, featuring hundreds of prostrate models under a billowy tent and West fumbling with an aux cord.
The confusion over titles aside, there's the matter of West announcing the album's release as early as 2014, back when he was still touring for his last album, Yeezus. While in 2015 he released a smattering of singles (including "All Day" and his collaboration with Kendrick Lamar, "No More Parties in L.A."), the album's ultimate release seemed about as likely as Kanye smiling in photos. Then, things started ramping up in the New Year. On January 8, West released on Soundcloud and then quickly erased the track "Real Friends," citing technical issues such as "distortion on the main loop." That same day, he tweeted that Swish would be out February 11. A series of cryptic studio shots followed until January 25, when West dubbed the upcoming release "the best album of all time." The next day, he called the newly titled Waves "not album of the year, but album of the life."
It got weirder. Several days later, he tweeted a Rolling Stone cover that he said was "shot by Tyler, the Creator" of the group Odd Future. The magazine quickly dismissed it as fake, leading Kanye to create a Twitter poll on whether the cover should be real (59% of the participants voted yes). On February 10, West finally revealed the album's actual eventual title, and tweeted a new list of handwritten song titles (not the same as for Waves), saying "the album is being mastered and will be out today." Well, it wasn't released that day, and while the listening party and Yeezy Season 3 fashion show at Madison Square Garden took place the next day, the actual release of the album amounted to...nothing. Then, two-ish days later, surprise! The album dropped.
What gives? Is this botched roll-out a deliberate ploy to keep people talking about the album? You could argue that West is an artist who's historically taken matters into his own hands and often crowdsources his ideas via his Twitter megaphone. He's gotten to a point where just about any of his updates inspire headlines, hype and excitement. In a way, the choppy Pablo album rollout could be West's way of rewriting the narrative on just how calculated album rollouts have been historically. (Drop a single or two, sneak a few images onto Instagram to get people excited, and set a clear date for the release. Rinse, repeat.)
Ultimately, though, the social media scramble and ramp-up ahead of Pablo—featuring a beef with Wiz Khalifa and an off-putting one-off tweet in which he claimed Bill Cosby is innocent despite the many, many sexual assault accusations he is facing—have soured its release. It's exhausting to keep up with. As The Oregonian's David Greenwald wrote: "Without hearing a note, there is already nothing we don't know about it, its arduous birthing process and preferences of the man behind it."
Speaking about another anticlimactic "surprise" release last month, Rihanna's Anti, Newsweek's Zach Schonfeld put it best: "This, apparently, is how big pop albums are rolled out these days: an endlessly delayed, social media-driven 'surprise' release wherein the main surprise is whether you'll be expected to drop $9.99 for the album or to assent to a free trial on yet another streaming platform in order to hear it." What's good, Tidal?
While artists like David Bowie, Radiohead and My Bloody Valentine have successfully released albums in actual surprise fashion in the past, the idea of the surprise album drop shifted completely in December 2013, when Beyoncé dropped her-self titled album—complete with stunning music videos for each track—just as critics had sighed with relief as they filed off their Best of Year-End lists. Bey's move proved to be a game-changer for the surprise release album release game, and is something that D'Angelo, Rihanna, Drake and now Kanye West have followed suit with since.
In fact, the "surprise" album drop happens so frequently that it's almost expected now. And you know what? All the lead-ups also feel calculated in their own ways, thanks to the all-consuming nature of social media and Reddit tracking every movement possible. New York magazine's Lindsay Zoladz brings up the good point that "the brilliance of the surprise album is that it abides by one of the internet's most important edicts: Less, actually, is more."
How does a surprise not get old, then? Look at Beyoncé: When she releases something by surprise, she does so without so much as a word of anticipation. Or any words, really. (She hasn't answered a direct question in two years.) Last weekend's release of Bey's incendiary "Formation" is the perfect example of an artist successfully putting her work out into the world and allowing it to evolve with a life of its own. We have the music video, and hot sauce swag is available in Beyoncé's online store, should you feel inclined to buy it.
The point is that "Formation" isn't muddled by endlessly teasing words, images or dates, and it's arguably more powerful because of her refusal to amp it up. She lets the surprise truly be a surprise, and doesn't engage with it before or after, despite riling up politicians and police unions alike with its controversial messages. Kanye could stand to do less here, and maybe cool it with the tweets (including some outright misogyny) for a while. But, like much of what West does, his album has inspired something new: an era of post-surprise-album fatigue, which we'll blame on the botched album release being the new album release. Or, as Sleater-Kinney's Carrie Brownstein put it, "the release as anti-climax."