Kanye West will visit President Donald Trump to discuss various policy issues on Tuesday, White House press secretary Sarah Huckabee Sanders has confirmed. The rapper's planned meeting is a rare occasion for the White House, which has few black people.
Sanders said of West's lunch with Trump: "Topics of discussions will include manufacturing resurgence in America, prison reform, how to prevent gang violence, and what can be done to reduce violence in Chicago."
West could also meet with the president's son-in-law and senior White House adviser Jared Kushner, who has been spearheading the administration's efforts around prison reform.
The lack of diversity in Trump's administration was scrutinized anew when the highest-ranking black staffer, Omarosa Manigault Newman, left her role as a White House aide in December. Manigault Newman, who subsequently published a book in which she was highly critical of Trump, claimed that many of Trump's senior advisers "had never worked with minorities" and "didn't know how to interact with them."
"As the only African American woman in this White House, as a senior staff and assistant to the president, I have seen things that have made me uncomfortable, that have upset me, that have affected me deeply and emotionally, that has affected my community and my people," Manigault Newman said on ABC's Good Morning America in December.
Trump does not appear to have any senior advisers who are black. The only black member of his cabinet is Ben Carson, the secretary of housing and urban development. Besides U.S. Surgeon General Jerome Adams, few other black people have high-ranking roles in the administration.
The White House did not immediately respond to a request for comment from Newsweek on Tuesday on how many black individuals hold high positions within the administration.
Trump's administration is far less diverse than those of his predecessors. In Barack Obama's first cabinet, nonwhite men and women made up 64 percent, and George W. Bush had 45 percent, according to an analysis by The Times.
West stirred disappointment among many of his fans when he vocally supported Trump, who has been accused of racism for multiple comments and actions since he was elected.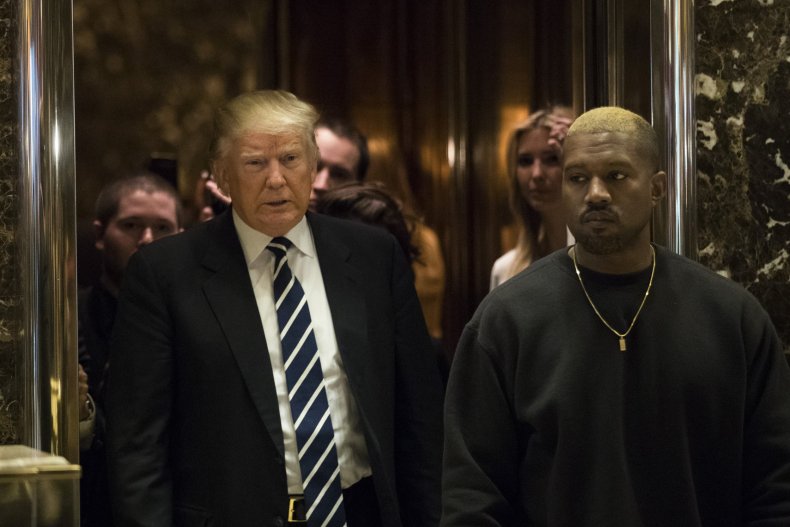 The rapper's wife, Kim Kardashian West, has already worked with the Trump administration. She met with the president in the White House in May to seek clemency for Alice Marie Johnson, and afterward had dinner at the Washington, D.C. home of Kushner and his wife and fellow senior adviser Ivanka Trump.