Witnessing the Bizarre Spectacle of Kanye West's Yeezy Season 3 Event at Madison Square Garden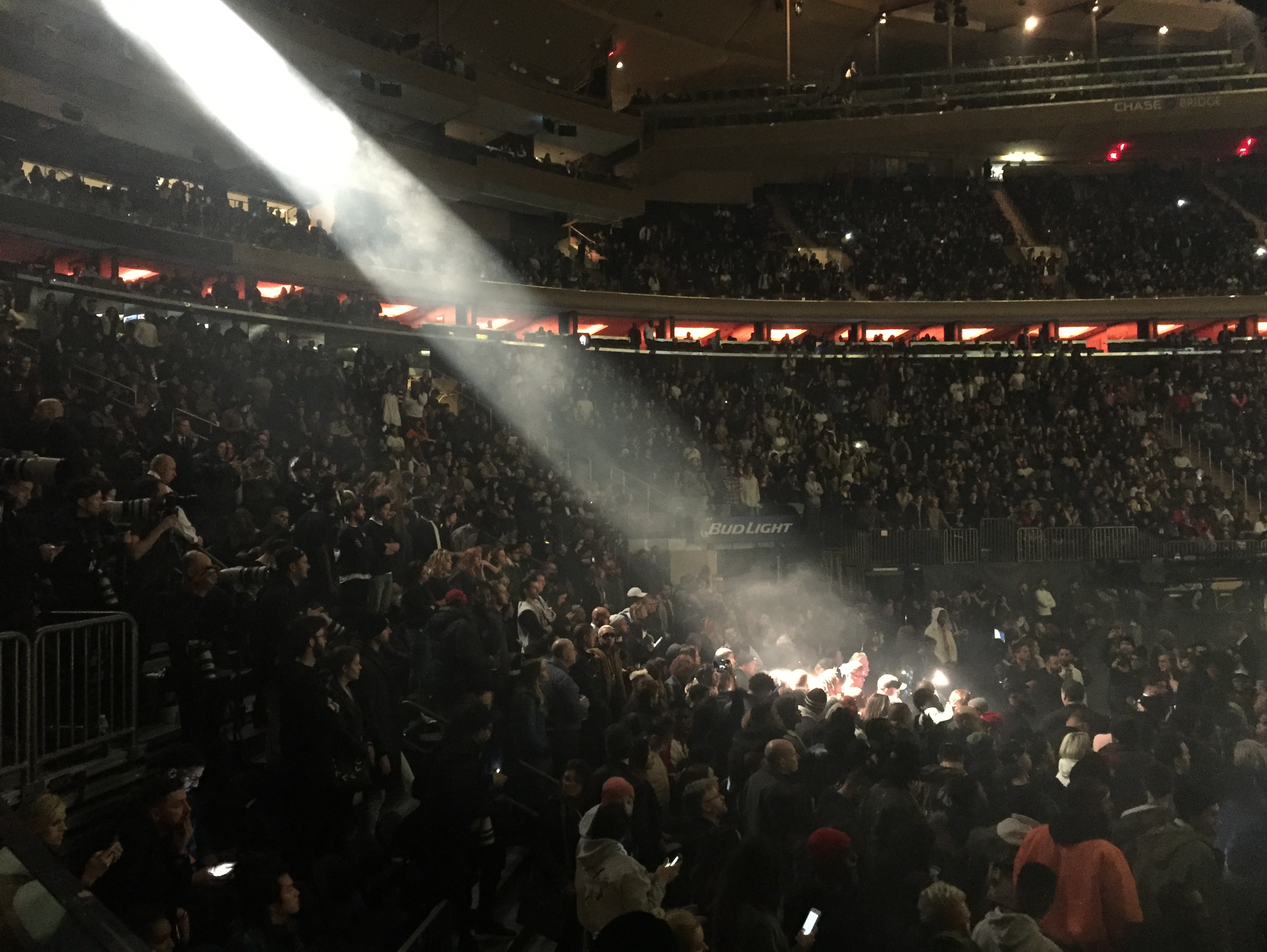 "New York City, tell me how y'all feel," Kanye West yelled to a crowd of 20,000 fans at Madison Square Garden on Thursday afternoon, his first words after unveiling his much-anticipated album The Life of Pablo through the PA of the world's most famous arena. "Did I deliver on my promise with that album?"
West, who wore a red "I Feel Like Pablo" long-sleeve shirt and a black baseball cap, spoke from behind a table of computers and audio gear at one end of the arena's floor. Surrounding him was a dense crowd of collaborators and celebrities. 2 Chainz puffed on a blunt. Young Thug, Kid Cudi and Travis Scott were there. Supermodels were there. Fashion icons were there. Athletes were there, including Los Angeles Lakers guard Nick "Swaggy P" Young, who stood right next to 2 Chainz and probably inhaled enough secondhand smoke to fail his next drug test. In front of this crowd was a massive multitiered stage covered in stoic models sporting the Yeezy Season 3 fashion line that occupied most of the arena.
Despite the overwhelming size of the fashion display, the primary focus of this strange event was the content of West's seventh studio album, and when he asked the crowd if that content lived up to the hype, they agreed that it did. Because it did. For the most part. To be honest, it was kind of hard to tell for sure. It was a bizarre setting in which to appraise a piece of music.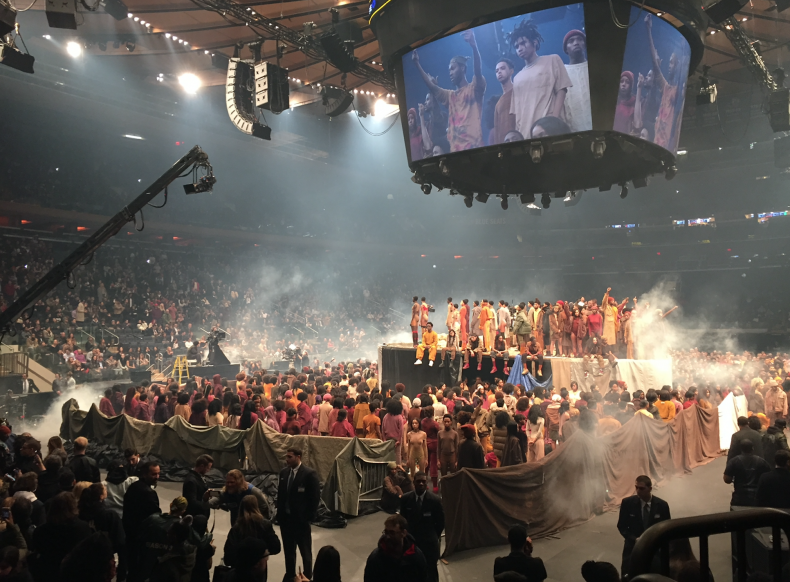 The promise West was referring to was his saying that The Life of Pablo, then called Swish, would not only be the album of the year but the "album of life." That was on January 26, and little did anyone know that for the next two weeks he would promote the project with a totally unfiltered, entirely captivating stream of quasi-hype tweets. There was no publicity team, there were no managers, there was no orchestrated content rollout. There was only Kanye and his Twitter fingers.
This is why we love Kanye, but it is also why we hate Kanye. Yes, he gave us an unprecedented glimpse of his last-minute creative process, flaws and all. It was urgent. It was important. It felt like he didn't totally know what he was doing. No other artist would have dared to be this forthcoming. But when you ask for someone flaws and all, you get the flaws too. You get the merciless bashing of Wiz Khalifa, Amber Rose and their child. You get the inexplicable, disgusting proclamation that "BILL COSBY INNOCENT !!!!!!!!!!" amid an otherwise innocuous string of tweets. There are no half-measures with Kanye. There is no bargaining. His stream of consciousness is just that, for better or worse, and as Dave Chappelle taught us, sometimes keepin' it real can go wrong.
The Yeezy Season 3 event turned out to be just as unpredictable and bizarre as West's Twitter feed. How in the hell did no one have any clue what was going to transpire at an event of this scale? How was there so much mystery and intrigue surrounding an event held in such a high-profile, thoroughly commercial facility? Hundreds upon hundreds of fans waited outside in 25-degree weather before the doors opened at 3 p.m. to find out. They were dressed in blacks and olives and camel overcoats. Half of the women looked vaguely like Kim Kardashian. Some even mimicked her latest look.
Once inside, they waited in line again, this time for Pablo merch. Most of them already had an idea of what the kiosk would look like. West tweeted about it, of course. These chromatic stalls were set up throughout the arena's concourse, and it was bizarre for something West clearly viewed as some sort of fashion installation to sit a few feet away from metal detectors and concession stands serving cheap nachos. Even well after the show ended, hundred of fans stood in line to buy up all the Pablo gear they could afford. Most of those in attendance were trying to mimic Kim and Kanye's style to some degree or another, so of course it was worth $60 to own the exact item Kanye was rocking when he dropped his latest masterpiece.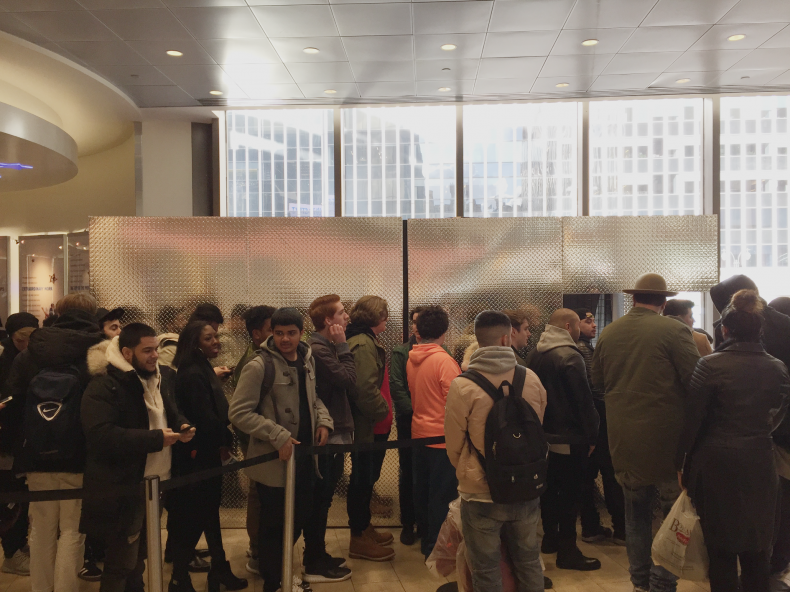 Once the arena filled, the Kardashians, dressed in white, gracefully proceeded down an aisle to their seats. West then emerged, waved to the crowd and took his place at the end of the arena. "Yeah, so I'm gonna play y'all the new album," he announced casually. The tantalizing tarp covering the fashion display was lifted and the music began.
The Life of Pablo is exciting and stimulating and very much a Kanye West album. He raps about bleached assholes, real friends and "no-pussy-getting bloggers." What will surely be the album's most talked-about lyric appears on the song "Famous," when he raps, "I feel like me and Taylor might still have sex / Why? I made that bitch famous." It's a classic Kanye lyric, repulsive and irresistible at the same time, just like the man himself. It was delivered, as was the rest of the album, on top of bass so overpowering that the arena's armrests vibrated with every beat.
For Kanye and the collaborators who surrounded him, it was the celebration of a lifetime. They danced and fist-bumped and sang along to every lyric. Kanye was his own hype man, an irrepressible grin on his face the entire time. Everyone involved in the album's production had kept the lid on these songs they were so proud of for so long. Save for a few superlative tweets, the excitement had been restrained, and now that all that pent-up joy and creative energy was being set free in front of 20,000 people and who knows how many more watching online. Well, you're damn right they were going to turn the bass up.
Then things got kind of weird. After the album finished playing, Kanye thanked the fans, thanked various fashion figures, then thanked the fans again. He replayed a song from the album. He talked about how he flew over to Paris two weeks ago to design the dresses worn by the Kardashians. He replayed more songs from the album. "It feels so good to see all my brothers, all my music family, my wife, her sisters, and all of New York City standing behind the crazy n***** from the interviews," he said.
Then, in a truly bizarre moment, he said he had designed a video game about his mother passing through heaven's gates and was going to play it for us. (It had been announced last year.) This came up on the Jumbotron:
It was intense, and almost immediately West seemed uncomfortable about how this had gone down. Embarrassed even. "Thanks," he said weirdly. "That's not easy to do, man! You be acting like this shit is regular, man!"
Then he said he was going to play the video again. "The concept is my mom traveling through the gates of heaven. You don't understand. I'll go out and meet with everyone in San Fran, and they'll diss the fuck out of me. I'll be like, 'I want to make a game,' and they'll be like, 'Fuck you.' That was hard to do, bro. This shit was hard to do, man."
After it played the second time, he once again said "thanks" before thanking the fans for sticking with him even though he may be misunderstood as an artist. In the wake of the back-to-back video game teaser screenings, it was a vulnerable moment. But again, this is why people who like Kanye like Kanye. He is not afraid to do anything. His ego is so huge that he will try literally anything he thinks of, including a video game that is very specifically about his mother's journey to heaven. More than just about any famous person, Kanye is out in orbit, wrapped up in his own conception of himself to an incomprehensible degree. But he also bares himself to us in a way that any other person with a reputation at stake would be terrified to do, and we respect this. Yes, he fucks up sometimes, but then he just keeps going.
Of course, sometimes when Kanye keeps going, he makes a point to shit on those who tried to keep him back where he came from. His latest target has been Nike, who wouldn't allow him the creative freedom he desired when it came to designing sneakers. He fled to Adidas and has since taken steady aim at the industry leader that shunned him. In "Facts," a song he released on New Year's Eve, he repeatedly raps, "Yeezy Yeezy Yeezy, just jumped over Jumpman"—a reference to Nike's popular Jordan brand—amid several other sneaker-related boasts and burns.
In the run-up to the Yeezy Season 3 event, though, he made it clear that he loves and respects Michael Jordan.
After he finished playing, before the video game portion of the show, West orchestrated a "Fuck Nike" chant that grew louder and louder until someone eventually yelled, "Fuck Jordan." West stopped the chant. "I wouldn't be here if it wasn't for Michael Jordan," he yelled. before repeating "respect Jordan" three times. Then he paused and, probably, started smiling. "But people do come to Madison Square Garden to see me play one-on–no one."