Karaoke Bar Explosion Injures 5 After Hydrogen Balloons Catch Fire
Five people were treated for burn injuries on Sunday after a drunk karaoke customer set fire to more than a dozen hydrogen balloons while trying to separate them using his lighter.
Police in the city of Changsha, the capital of Hunan Province in central China, arrested one suspect, who was identified only by his last name, Chen. He had suffered burn injuries to both his arms and face.
Zhou Mingchen, an officer with the Changsha Public Security Bureau, told Changsha Broadcast and Television that the suspect was "drunk," and that he tried to gift one of the balloons to a young woman in the same elevator car. The pair did not know each other.
CCTV images from the karaoke bar show a number of patrons entering the elevator. Among them are Chen and his friend, Liu, who is holding a bunch of more than a dozen hydrogen-filled balloons.
According to the report, Chen and Liu had spent the night at the establishment and were preparing to leave at just after 5 a.m. local time when they encountered a young woman waiting for the same elevator.
Just moments after the group enters the elevator, Chen sparks a flame using his lighter and sets fire to the entire bunch of hydrogen balloons, which instantly explode in the crowded space, surveillance camera footage shows.
The video ends with Chen, Liu and others flooding out of the elevator car as the flames and smoke disperse.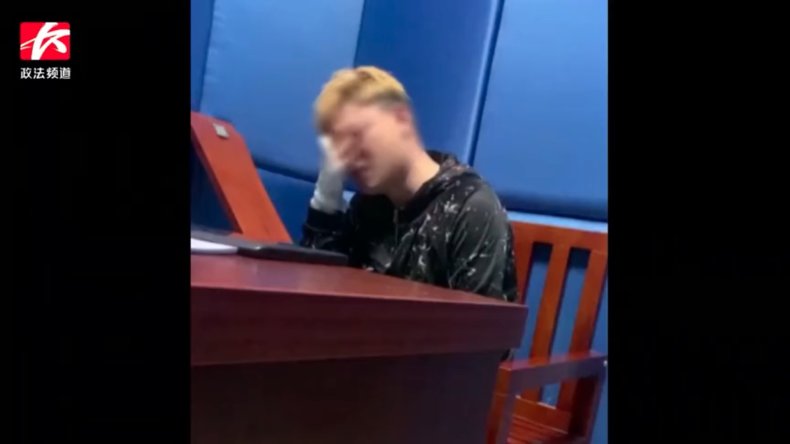 Zhou, who was one of the responding officers on the day, said Chen later admitted he had been trying to separate the bunch of tangled balloon strings.
"The strings were tangled together. I tried separating them with my teeth, but when that didn't work, I used my lighter," Chen told the television station.
"I wanted to burn the string. As soon as I pressed the lighter, one second later, all of the balloons exploded," he added. "My mind went totally blank when I saw the flames. My hands and face were burned."
Chen was arrested on undisclosed charges, while four other people were treated for varying degrees of burns, the policeman said in a statement. Among the victims was the young woman, who suffered the most serious burns of the five.
She remains hospitalized at the Second Xiangya Hospital of Central South University and is receiving treatment for burn injuries on her arms, face and body.
Zhou said: "The suspect was intoxicated. He was not thinking properly. We're still evaluating the severity of all the victims' injuries in order to determine whether to pursue a criminal case against him."
Hydrogen-filled balloons have been banned in China for several years due to safety concerns, but many are still available from informal vendors, especially in smaller cities.