Did Woolsey Fire Spread Radioactive Waste? Kardashian Sisters Share Cancer Petition
The Kardashian sisters are calling for change in cleaning up potentially radioactive material after the Woolsey fire. Kim Kardashian West and Kourtney Kardashian tweeted individually about the Santa Susana Field Lab, where they claimed the fire started.
Santa Susana Field Lab is a former nuclear testing plant in Ventura County.
"Shocked & furious to learn smoke from the #WoolseyFire started at former nuclear testing site, Santa Susana Field Lab, & is potentially radioactive," Kardashian West shared. "Sign now to demand that incoming governor @GavinNewsom gets this site cleaned up."
Kardashian West linked a change.org petition titled "No More Kids With Cancer: Clean Up The Santa Susana Field Lab." The petition was started by Melissa Bumstead, whose four-year-old daughter, Grace, has a rare form of cancer she claimed developed from living within 20 miles of the former nuclear testing. According to Bumstead, Grace is only one of 50 children with similar acquired cancers.
The petition has nearly 472,000 signatures at the time of publishing, almost reaching its goal of 500,000. It asks the lab be cleaned by the Department of Toxic Substance Control (DTSC) to prevent cancer and health risks.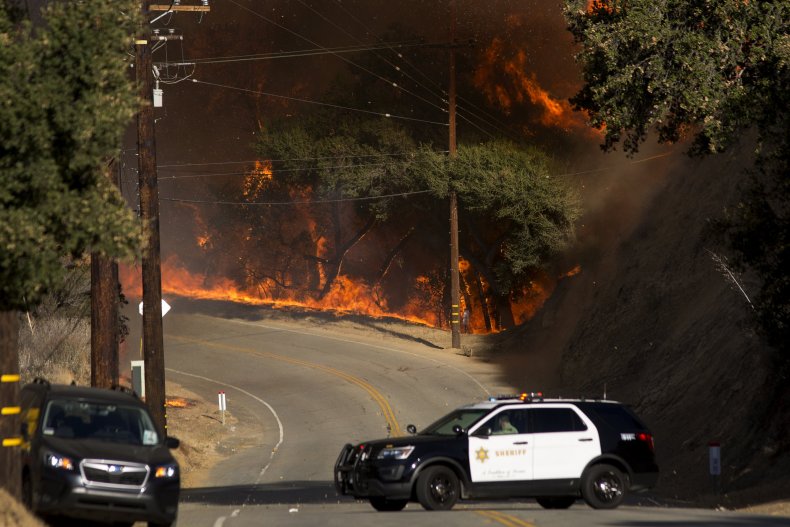 Kardashian also shared the change petition, and noted her own family lives 20 miles from the lab. "Our family lives ONLY 20 miles from a nuclear disaster site, Santa Susana Field Lab, and we didn't even know it – the #WoolseyFire started there, and smoke could be carrying radioactive chemicals," she tweeted. "We need @GavinNewsom to do something – sign the petition."
The fear of toxic, radioactive material spread in the fire is shared by activists, including Bumstead. The DTSC released a statement noting after testing, the lab showed no accelerated radioactivity, as well as no rise in hazardous materials. They claim lab was unaffected chemically by the wildfire and is not harmful to residents.
Bumstead doesn't believe it. "We can't trust anything that DTSC says," Bumstead wrote in an activist news release, according to the Ventura County Star. "DTSC repeatedly minimizes risk from [Santa Susana Field Laboratory] and has broken every promise it ever made about the SSFL cleanup. The public has no confidence in this troubled agency."
The Los Angeles County Department of Public Health also noted no health concern on Tuesday after the fires started near the field lab, NBC News reported. Three people have been confirmed dead from the Woolsey Fire, while 59 is the statewide death toll for wildfire deaths.