Karen Bass, Potential Biden VP Pick, Says She 'Didn't Set Out' to Run for President
Representative Karen Bass, a California Democrat who is seen as a frontrunner to be selected as Democratic presidential candidate Joe Biden's running mate, said on Sunday that she did not enter politics with presidential ambitions.
"In my life, I have always been focused on the work and you can look through my past and I think it's pretty clear that I didn't set out in my life to run for president. I have focused on doing the work in a lot of different ways," Bass, 66, who chairs the Congressional Black Caucus, told NBC News' Meet the Press.
"My focus has been on trying to do everything I could to make our nation a more perfect union, especially for those people who are the most marginal. Those people who are often not included in our country," she said.
But Bass asserted that she would be well-prepared to serve as president if something were to happen to a potential President Biden. If Biden, 77, were to win in November, he would be the oldest president ever to be elected in the U.S.
"Having served as speaker of the House in California, as you know, California is the world's fifth largest economy, the largest state in the Union. I led at a time when we went through the worst economic crisis since the Great Depression," the congresswoman said. "I lead in a very bipartisan manner, I worked with [Republican] Governor Schwarzenegger [of California], worked well with my Republican colleagues."
Bass stressed her work "across political lines," pointing out that she has worked "well" with former GOP Speaker of the House Paul Ryan, who represented Wisconsin, as well as current House Minority Leader Kevin McCarthy, a California Republican. In a separate interview with Fox News Sunday, Bass said that she's "ready" and "prepared" to serve as Biden's vice president.
Newsweek reached out to Biden's campaign for comment on Bass and her remarks, but it did not respond by the time of publication.
During the Fox News Sunday interview, Bass also renounced praise she had voice for Cuban Communist leader Fidel Castro back in 2016. "Lesson learned, would not do that again, for sure," she said.
Although Biden has been somewhat tight-lipped about the ongoing vice presidential vetting process, he committed earlier this year to select a woman as his running mate. The former vice president, who served under former President Barack Obama, has been urged to select a woman of color as well.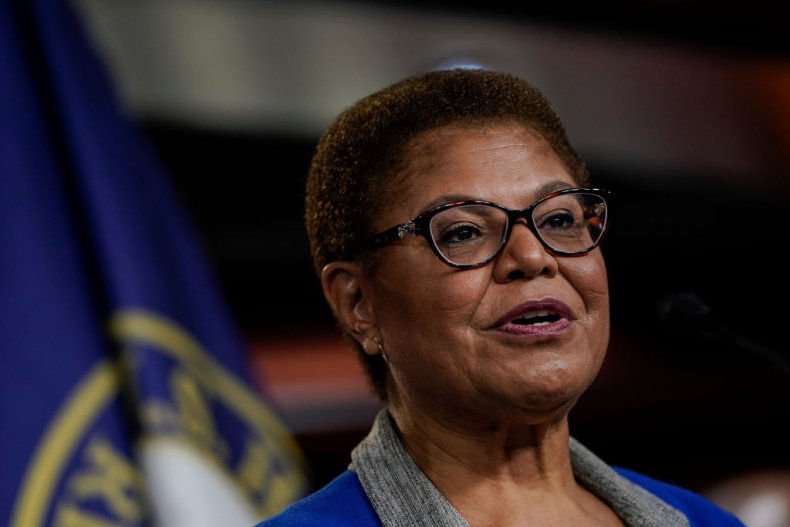 Several prominent women have emerged as apparent frontrunners in addition to Bass, including former Democratic presidential hopefuls Senators Kamala Harris of California and Elizabeth Warren of Massachusetts. Former Obama-era National Security Adviser Susan Rice has also been shortlisted, as well as Senator Tammy Duckworth of Illinois and Representative Val Demings of Florida.
Biden said last week that he would announce his VP pick during the first week of August, meaning the announcement is expected in the coming days.
Prior to being elected to the House of Representatives in 2011, Bass served in the California State Assembly from 2004 to 2010. She was the Speaker of the legislative body for about two years, from 2008 to 2010. The congresswoman was born and raised in Los Angeles and first got involved in politics by volunteering for Robert F. Kennedy's 1968 presidential campaign while she was in middle school.
Updated 11:46 a.m. ET: This article was updated to add that Bass renounced positive comments she made about Castro back in 2016.