With just one day to go until Los Angeles votes to elect its mayor in the city's primary, the two Democratic frontrunners have stepped up their campaigns.
Karen Bass and Rick Caruso have both engaged in a final push to woo voters and try to convince them that they are the best person for the job. It's a choice between two candidates who could not be more different.
Caruso, 63, is a billionaire property developer and former Republican who only registered as a Democrat in January. He is worth $4.3 billion, according to Forbes.
Bass, 68, grew up in a working-class family before becoming a social worker and grassroots activist who has been a Democrat since she was a teenager. She has been a congresswoman for 11 years and was on President Joe Biden's shortlist of possible vice-presidential running mates.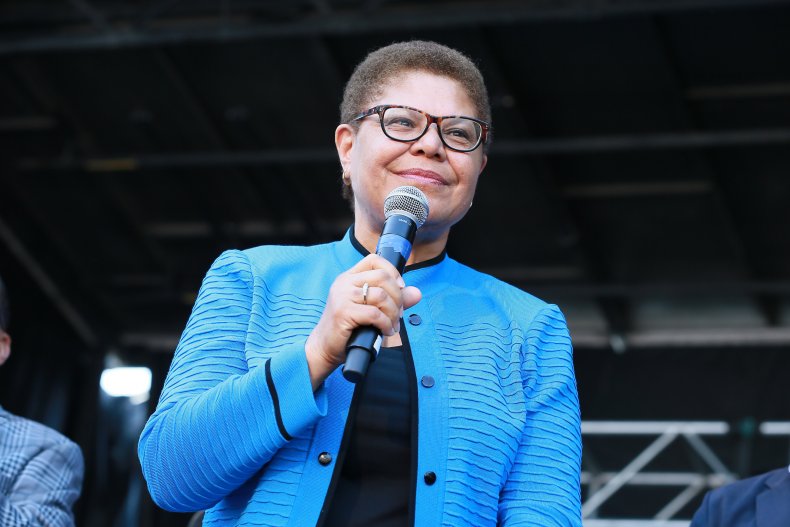 Caruso has spun his lack of political experience as a positive, claiming longtime politicians like Bass have failed the city and pointing to the worsening homeless problem — which has become a key issue in the campaign for both candidates.
Bass told Vanity Fair magazine: "Absolutely, elected officials could have done more. I think a local billionaire could have done more too." Her team pointed out Caruso had never built a single affordable housing unit but instead focused his business on luxury properties and malls.
The race between the two mayoral hopefuls has been tight. And the polls have made for interesting reading, as they suggested the political newcomer's expensive advertising campaign, into which he has pumped millions of his own money, was paying off. However, the most recent survey suggests that Bass has pushed out in front just before the electorate heads to the voting booths.
A survey conducted by a pro-Bass political action committee (PAC), in the middle of last month, showed Caruso performed slightly better than Bass when voters were asked to decide between the full field of candidates, with the billionaire on 37 percent compared to Bass on 35 percent. But when voters were asked to choose simply between Bass and Caruso, the results were more dramatic, with Caruso taking 48 percent and Bass on 39 percent. A not-insignificant 13 percent of respondents remained undecided between the two.
An earlier survey, carried out by political polling group BSP Research between April 20 and May 3, suggested Caruso was more popular than Bass with registered Latino votes – a crucial demographic in L.A. Caruso had a favorable rating of 47 percent, compared to Bass's 44 percent. Both had an unfavorable rating of 15 percent, with the remaining voters saying they did not know enough about the candidate to form an opinion.
But a third, more recent, poll by the Institute of Governmental Studies at the University of California, Berkeley, found Bass received 38 percent of support from likely voters, compared with Caruso's 32 percent, per The Los Angeles Times. The poll was conducted from May 24 to May 31.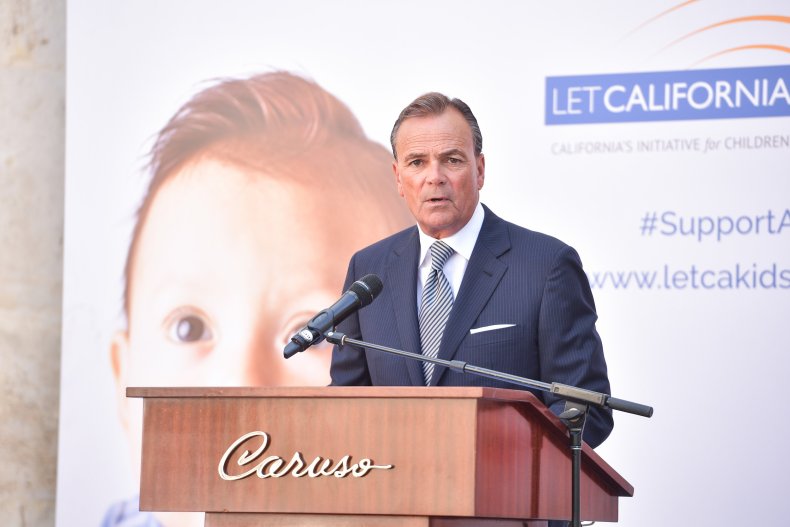 And, according to the Times, Bass also enjoys more support from women voters than Caruso — another key demographic, and the one most likely to get out and vote, the newspaper noted.
It's not just the polls that are split. Los Angeles' most famous export, Hollywood celebrities, have also been divided between the pair. Caruso has enjoyed the backing of Tesla chief executive Elon Musk, reality TV star Kim Kardashian, and actress Gwyneth Paltrow. Meanwhile, Bass has also secured endorsements from A-listers, including actress Jennifer Aniston and director Steven Spielberg.
The current mayor, Eric Garcetti, whose term is up, told The Los Angeles Times he did not plan to throw his support behind any of the hopeful candidates by giving them his endorsement.
Any of the nine candidates from any party, including Bass and Caruso, could win outright if they receive more than 50 percent of the vote on Wednesday, according to ABC7 Los Angeles, but a run-off election later in the year looks more likely. Although that vote will not be held until November 8, Los Angeles is traditionally such a Democratic-leaning city that the performance between the party's two frontrunners in the primary is seen as the key indicator for success.
Newsweek has reached out to Bass and Caruso.