Karen Pence Criticized for Joining Debate Stage Without Mask Despite Rules Mandating Use in Venue
Second lady Karen Pence appeared alongside her husband Vice President Mike Pence at the end of Wednesday's vice-presidential debate in Salt Lake City, Utah without a face mask.
Wearing a face mask was a condition of attending the debate. Co-chair of the Commission for Presidential Debates Frank Fahrenkopf reminded attendees to keep their face masks on during the debate.
"If you take your mask off, someone will approach you and ask you to please put your mask back on," Fahrenkopf said, adding that if anyone refused to put their masks back on, their ticket would be canceled and they would be "escorted by law enforcement from the premises."
Although she wore her mask during the debate, Karen Pence's decision to take off her mask while congratulating her husband was seen as a rule violation by some social media users.
"So on brand that Karen Pence is not wearing a mask," tweeted CNN Global Affairs analyst Susan Glasser.
"Why doesn't Karen Pence have a mask on?" author Amy Siskind tweeted. "That is the rule!"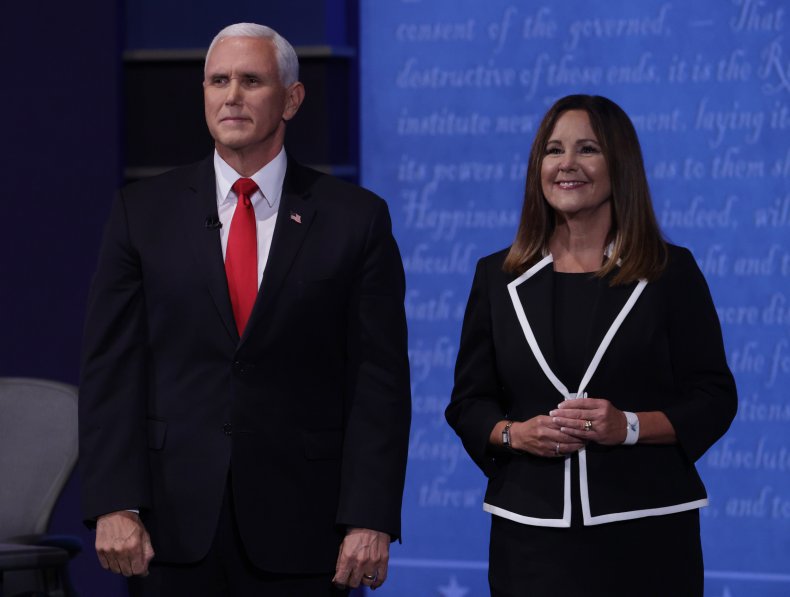 "That fact that the VP wife Karen Pence can't wear mask after knowingly being in the sphere of the infected says all u need 2 know," tweeted actor Scott Krinsky.
"Everybody other than the candidates and the moderator were supposed to be wearing masks," said MSNBC host Rachel Maddow after the debate ended. "You know what, you could save lives if you would do that and you might in fact be saving somebody's life in the room right now, if in fact your husband was exposed to a COVID infected person in the past week — which he was."
Democratic vice presidential candidate Kamala Harris's husband Doug Emhoff also joined his wife on stage when the debate was over. Emhoff elected to leave his face mask on.
Newsweek reached out to Mike Pence's office for comment.
Although several White House staffers have tested positive for the coronavirus, including President Donald Trump, Mike Pence was cleared to travel on Tuesday by his physician.
"Vice President Mike Pence is not a close contact with any individuals who have tested positive for COVID-19, including President Donald J. Trump and senior members of the White House administration, according to the guidelines of the Centers for Disease Control," read a statement Dr. Jesse Schonau. "Vice President Mike Pence is encouraged to go about his normal activities and does not need to quarantine."
Stephen Miller, an adviser to Trump, tested positive for coronavirus on Tuesday. His wife, Katie Miller, serves as Mike Pence's communication director. Katie Miller tested positive for the virus in May.
Coronavirus safety protocols were instituted during Wednesday's debate. Plexiglass shields separated the candidates, who were positioned 12 feet away from each other.