Karen Pence Joined Twitter Over the Weekend and Now Probably Wishes She Didn't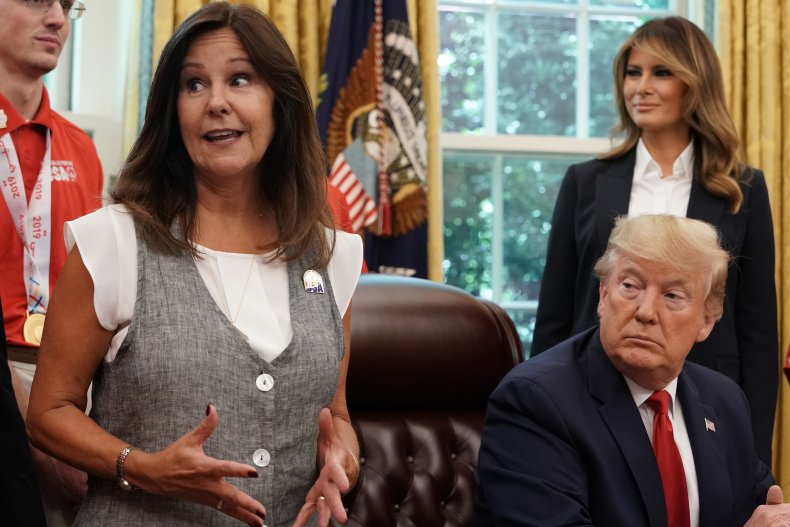 Karen Pence, second lady of the United States, created a new Twitter account over the weekend to talk about the accomplishments of President Donald Trump's administration, but Twitter isn't having it.
In her inaugural tweet, Pence said she was excited to help tell the story of Trump and Vice President Mike Pence's leadership, instructing users to follow the page to "keep America great."
Many Twitter users responding to the post accused Pence of religious hypocrisy, highlighting her Christian school's ban on openly anti-LGBTQ students and staff, Trump's numerous affairs, and the administration's child separation policy at the border. Pence teaches at a school in Virginia that does not allow LGBTQ students or teachers, according to NBC News.
"Welcome to Twitter! Why does your school ban openly-LGBTQ students and teachers?" Twitter user Charlotte Clymer (@cmclymer) of the Human Rights Campaign responded.
"Oh Karen...carrying water for the thrice married philandering porn star-paying money laundering election-cheating racist in the White House who cages children for fun," wrote Suzanne Lindbergh (@suzannebuzz), a producer at Verizon Media. "Your Christian values are shining through."
"What are your thoughts on President Trump's rampant infidelity?" responded John Sipher (@john_sipher), who co-founded an entertainment company and formerly served in the Central Intelligence Agency. Sipher also wondered how the second lady, while pregnant, would handle her husband having an affair with an adult film star, a reference to allegations made against the president. Sipher has since deleted the tweet.
"Please tell this story," another user added (@DevinCow), referencing a popular photo of Trump smiling with Stormy Daniels.
Other users simply sent videos of men making out with men, or the popular GIF of #greenshirtman, who was filmed laughing hysterically at sanctuary city protesters in Arizona.
An unfortunate development for Pence is the internet phenomenon which appropriates the name "Karen" for antagonistic characters in memes, often middle-aged white women who ask to speak to managers or own small dogs, for instance.
"Karen Pence is the Karen of Karens," wrote Holly Figueroa O'Reilly, a songwriter who was part of the lawsuit demanding Trump unblock people on Twitter.
"There's children dying in cages, Karen," another user responded.
Finally, a page called Lost Girl seemed to sum up the feeling of many users on Monday: "Literally no one cares, Karen."
The Pences have been criticized in the past for supporting policies that discriminate against the LGBTQ community. As governor of Indiana, Vice President Mike Pence supported legislation that would have made same-sex marriage illegal in the state. Earlier this year, Karen Pence came under attack for teaching at Immanuel Christian School in Virginia, which forbids employees from "homosexual or lesbian sexual activity," according to the school's website.