Kari Lake's Chances of Being Indicted Amid Criminal Referral in Arizona
Former Arizona gubernatorial candidate Kari Lake could be facing possible charges after the Arizona Secretary of State's Office accused her of illegally sharing voters' signatures on her Twitter account as evidence the 2022 election was somehow rigged against her.
On Monday, Arizona's Secretary of State Adrian Fontes sent a letter to Arizona's Attorney General Kris Mayes referring Lake for investigation for what he said was a violation of state law by sharing several voters' signatures on her Twitter page, citing a statute under Arizona law that states signature files "shall not be accessible or reproduced by any person other than the voter."
"The protections afforded by this subsection prohibit posting any information derived from voter registration forms or precinct registers to the internet, and under no circumstance may a person other than the voter or [a] statutorily authorized person reproduce a voter's signature," read the referral.
On its face, that's exactly what Lake—who has so far failed to produce sufficient evidence to overturn the election—appeared to do. But whether the state actually has a case is a different question.
The signature files Lake shared on her Twitter account Monday had, in reality, already been made public one week earlier during testimony by Shelby Busch, chair of the conservative We the People AZ Alliance, to the Senate Elections Committee on a number of Republican-led bills seeking reforms to several facets of Arizona election law: a fact her campaign account made note of Monday night.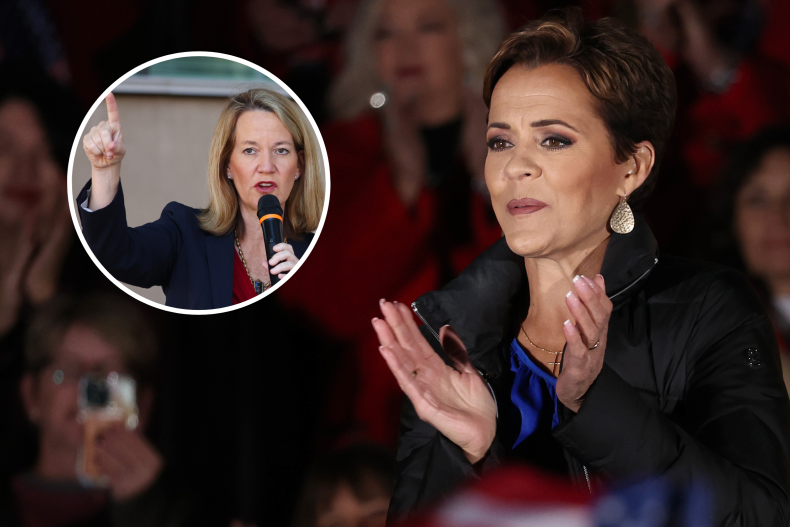 "Adrian Fontes wants Kris Mayes to investigate & potentially imprison @KariLake for the 'crime' of ... sharing signature verification evidence that was presented before the @AZSenateGOP & is currently in her lawsuit," they tweeted.
But there's an even longer history with the documents. Per reporting by Jen Fifield—the Arizona reporter for the outlet VoteBeat—We The People obtained the documents last June amid a larger audit of the state's 2020 election, which the group requested in an effort to build a stronger case to overturn it.
According to Busch, 10 percent of signatures she and her group evaluated were "egregious" divergences from the original, thereby falling short of the Secretary of State's offices own standards for signature verification—a key argument for Lake as she seeks to overturn the result of the election.
"We trained our workers to pass a ballot, not to look for a reason not to pass a ballot," Busch claimed during the January 24 hearing. "Every one [of the ballot envelopes] that fell into this egregious category we believe has zero capability of meeting any of the Secretary of State standards."
Newsweek reached out to Lake's team for comment.
Whether Lake potentially violated the law by reposting publicly available documents is unclear, and would largely be based on whether the documents themselves were obtained outside the realm of a public records request and illegally submitted for the record.
Newsweek has reached out to Senate Judiciary Committee Vice Chairwoman Wendy Rogers, a key figure in recent efforts to challenge the state's elections, for comment, including processes involved to submit those documents for the record.
While there are provisions in Arizona public records law prohibiting the release of information that could violate people's "privacy," what actually qualifies is not clearly defined, and there is no language outlining whether sharing confidential documents in a public setting nullifies those protections.
"Speaking generally, otherwise confidential things that are made public through presentation in a public hearing, and as to which no effort has been made to secure their secrecy (such as in camera inspection by the judge, adjudication in a closed hearing, or a gag order) has lost its confidentiality and enters the public domain," Jim Gardner, an elections law expert at the University of Buffalo told Newsweek.
Newsweek reached out to the Arizona Secretary of State's Office for comment.
Some believe the state has a case. The Secretary of State's office didn't ask the Attorney General to investigate the release of documents but rather the contents of Lake's tweet—a case that would need to be investigated on its own merit.
"The fact that the signatures were lawfully used in another context does not in any way mitigate the willful violation of the law committed in the subsequent reproduction and publication of the signatures by Lake," James Barton, an Arizona attorney specializing in elections law, told Newsweek.
"In election law cases, we often need to review the voter files and compare signatures. I have done so myself. The parties take the commitment to voter privacy seriously and promise the Recorder's Office that we will not abuse the data provided.
"This is a big deal. It is an abuse of the trust that should make everyone, regardless of affiliation or ideology, angry."
Update 2/1/23, 9:12 a.m. ET: This story was updated with additional information and comment from James Barton.