Kari Lake Claims Shot Down by Fox News Host: 'Not True'
Fox News has dismissed claims by Kari Lake—the Republican candidate who lost the Arizona gubernatorial election to Democrat Katie Hobbs last November—that George Soros is endorsing Ron DeSantis in a potential presidential run in 2024.
On Friday, Lake—a former news anchor who was endorsed by Donald Trump in her run for Arizona's governor—shared an article on Twitter from right-wing media site The Gateway Pundit falsely stating that Soros, the businessman and philanthropist, had endorsed DeSantis for 2024.
"The Kiss of Death - Florida Governor Ron DeSantis Endorsed by George Soros," read the caption accompanying the post—a direct quotation from the article. The claim made in the article's headline was debunked by several news outlets. Twitter users added a fact check to Lake's tweet stating that Soros did not endorse DeSantis.
Newsweek has contacted Lake's team for comment.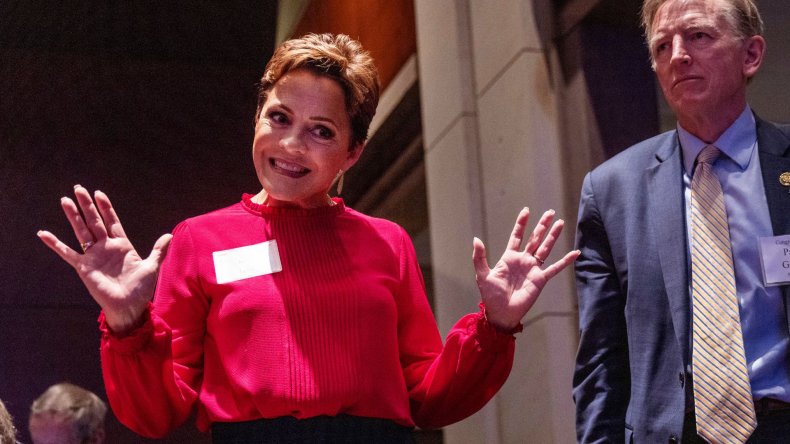 "Governor Ron DeSantis hasn't even announced his plans for 2024, but that has not stopped the attacks from coming," said Fox News host Trey Gowdy on Sunday, in a clip that has since been shared on Twitter.
"This attack was from a failed Republican gubernatorial candidate in Arizona. Three months ago, she thought Ron DeSantis was the best thing since sliced bread. Now, she wants you to think Governor DeSantis was endorsed by George Soros. Of course, it's not true, but why let the truth get in the way?"
According to a report in the Washington Examiner, Soros said that the Florida governor was "likely to be the Republican nominee" in the 2024 presidential election, beating Trump for the ticket.
During a speech at the Munich Security Conference on Thursday, the billionaire investor described DeSantis as "shrewd, ruthless, and ambitious," while he said Donald Trump "has turned into a pitiful figure continually bemoaning his loss in 2020. Big Republican donors are abandoning him in droves."
Soros predicted that the GOP choosing DeSantis as its nominee for 2024 might lead Trump to run as a third-party candidate in the presidential election. "This would lead to a Democratic landslide and force the Republican Party to reform itself," Soros said.
The claim that the billionaire endorsed DeSantis—shared by Lake—appears to be part of a string of attacks against DeSantis launched by Trump even as the Florida governor seems set to run against him next year. In a recent post on his social media platform Truth Social, Trump called DeSantis "a RINO [Republican In Name Only] in disguise! whose Poll numbers are dropping like a rock."
Lake has shared Trump's conspiracy theories about the 2020 election being "stolen" and has made her own claims after losing in the Arizona gubernatorial race to Hobbs in 2022. Lake appears to be turning on her former ally by echoing Trump's campaign against DeSantis.
DeSantis has not formally announced his bid for the presidency.