Kari Lake Says She's 'Entertaining' Major Run if She Loses Election Case
Arizona Republican Kari Lake has said she is "entertaining" a run to represent the Grand Canyon State in the Senate.
In November 2022, Lake lost her bid to become state governor to Democrat Katie Hobbs by 17,000 votes, though she is refusing to accept defeat and alleges the election was rigged against her.

Lake's allegations of electoral malpractice have already been rejected by a Maricopa County judge, though she immediately lodged an appeal which has been expedited by a state appeals court.
Speaking to Charlie Kirk on his Real America's Voice show, Lake suggested she could run for the Senate if she doesn't get a "decent ruling" in her lawsuit for the Arizona gubernatorial election. This sets up what could be a three-way battle for an Arizona Senate seat in 2024, after incumbent Senator Kyrsten Sinema switched from the Democrats to an independent in December 2022.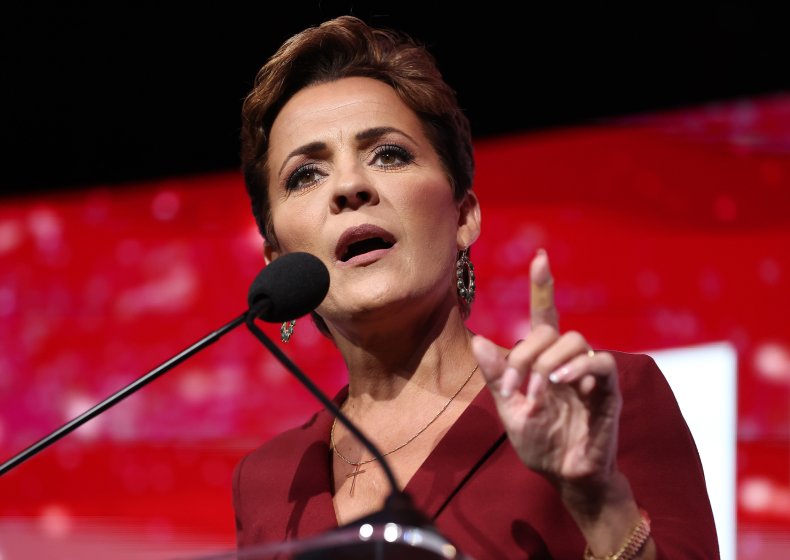 Asked by Kirk if she's "entertaining" a Senate run, Lake replied: "Yes I am entertaining it. I mean my number one priority is our court case, and I have full confidence in our court case and I hope we will get a judge to do the right thing.
"But I'm also looking at what happens if we don't get a decent ruling in that, and they want me to go away, they want our movement to go away. I represent we the people, and if they want us gone so badly that they're willing to steal an election then I'm not going to let them have that, I won't go away."
Lake claimed to have internal polling showing she's the best placed Republican to beat Democrat Ruben Gallego, who has already announced his candidacy, along with Sinema if she seeks re-election.
She commented: "I've seen some internal polling that shows I'm the only Republican who can beat these other two.
"I find both of them incredibly dangerous to the people of Arizona, Kyrsten Sinema's voting record being 93 percent of the time voting for Joe Biden's agenda, I find Ruben Gallego being a self-admitted socialist really frightening for Arizona and if I'm the only Republican who can beat them, I would be willing to jump in."
Gallego, a former marine currently representing Arizona in the House, announced his Senate bid on January 23.
In a video message he said: "At a time when our nation needs leadership most, Arizona deserves a voice that won't back down in the face of struggle.
"Unfortunately, Senator Sinema is once again putting her own interests ahead of getting things done for Arizonans."
Sinema had been considered to be a centrist Democrat, before leaving the party to become an independent in December.
Making the announcement she commented: "In a natural extension of my service since I was first elected to Congress, I have joined the growing numbers of Arizonans who reject party politics by declaring my independence from the broken partisan system in Washington and formally registering as an Arizona Independent."
Kari Lake has been contacted for comment.