Kari Lake Gets Polling Boost Before Supreme Court Battle
Most Americans think the losing candidate in an election should have the right to challenge the result, in a boost for Republican Kari Lake, who is seeking to overturn the result of Arizona's gubernatorial election in the courts.
Election integrity has emerged as a major issue in U.S. politics over the last few years, with Donald Trump continuing to claim he was the legitimate winner of the 2020 presidential election, though this has been repeatedly dismissed in court and by independent election experts.
According to polling by Redfield & Wilton Strategies, conducted exclusively for Newsweek, 56 percent of U.S. adults think the defeated candidate "should have the right to challenge an election result."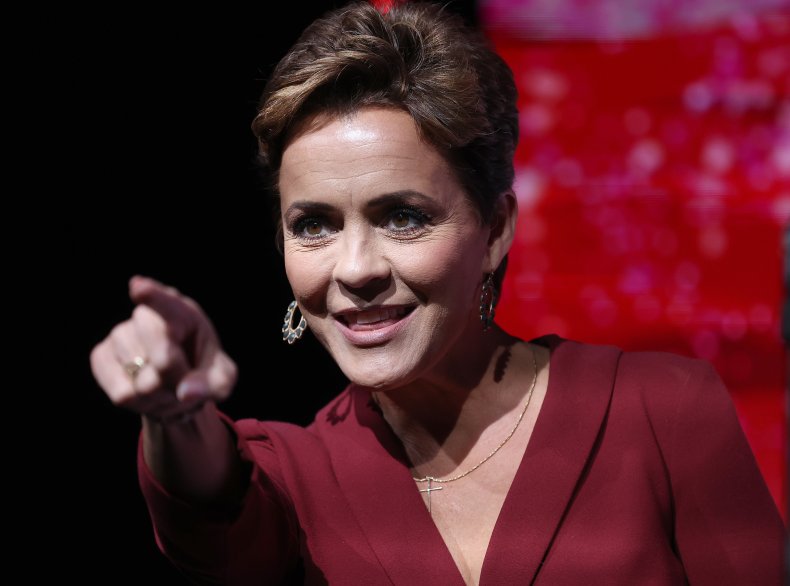 This is divided between 22 percent who strongly agree, and 34 percent who simply agree. Another 22 percent of respondents said they neither agree nor disagree, while only 17 percent of Americans don't think losing candidates should be able to contest election outcomes.
The survey of "1,500 adults in the United States" was conducted on January 28-29, 2023.
It also found 49 percent of Americans "have trust" in the integrity of the U.S. electoral system, versus 26 percent who said they don't. Out of these, 24 percent "strongly agree" they have trust in the system, with another 25 percent saying they agree.
However, 11 percent of Americans said they "strongly disagree" with the statement saying they "have trust" in election integrity, with a further 15 percent also saying they "disagree." The remaining 25 percent either said they "neither agree nor disagree," or "don't know."
Lake was defeated in her bid to become Arizona Governor by Democratic rival Katie Hobbs, who won by 17,000 votes and was sworn in on January 2.
In December, Lake's claims of electoral fraud were rejected by a Maricopa County judge, though the Republican immediately announced her intention to appeal, and has said she will take the case all the way to the Arizona Supreme Court.
On Monday, Arizona Attorney General Kris Mayes was asked to investigate Lake over the alleged unauthorized publication of voter signatures by Secretary of State Adrian Fontes, a fellow Democrat.
The inquiry centers around a graphic tweeted by Lake on January 23, which included the signatures of 16 Arizona voters. Under the state's law it is illegal to disclose voters' signatures without their consent.
Speaking to Newsweek Neama Rahmani, a former federal prosecutor and president of West Coast Trial Lawyers, warned Lake could find herself "a defendant in criminal court."
He said: "Lake apparently committed a felony under Arizona law. Only the voter or an authorized person can publish voter signatures, and Lake is neither. The tweet to all of Lake's followers is all the evidence the Arizona attorney general needs if her office accepts the referral for prosecution.
"Lake needs to stop pursuing this frivolous election-fraud case and stay off social media. Otherwise, she may find herself as a defendant in criminal court."
Newsweek has contacted Kari Lake for comment.