Kari Lake To Host 'Save Arizona Rally' As Court Date Looms
Failed Republican gubernatorial nominee Kari Lake is set to host a "Save Arizona Rally" ahead of a crunch court date to reconsider her claims that the 2022 election was beset by voter fraud.
Lake lost the race to be Arizona's 24th governor to Democrat Katie Hobbs by more than 17,000 votes. Hobbs has held the position since she was sworn in on January 2.
But the Republican has not accepted the outcome and hopes her rally later today (January 29) will bolster her legal efforts to overturn the results.
Lake claimed printing issues with voter machines in Maricopa County "disenfranchised" voters there, a claim that has been strongly disputed by her detractors. Maricopa County was a critical region in the election as it has more than 60 percent of the state's population, according to the 2020 Census.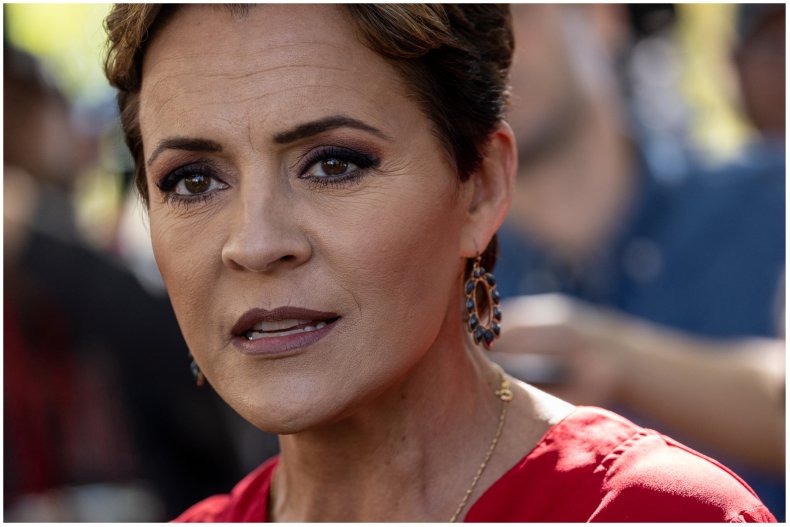 Earlier this week, Lake announced via a Twitter post that the Save Arizona Rally would go ahead.
Lake was the only political figure in the initial post, which received a mixed response from social media users with some mocking and others being supportive of the event.
Where And When Is The Save Arizona Rally Being Held?
The event will be held from 6 p.m. at the Orange Tree Golf Club in Scottsdale, a part of the Phoenix metropolitan area.
In addition to Lake, the event will also feature Donald Trump-endorsed and recently-elected Arizona Republican Chairman Jeff DeWitt, who has also shared the former president's unfounded claims that the 2020 election was somehow stolen by Joe Biden.
The rally comes just days before the Arizona Court of Appeals will hear Lake's claims that the November 2022 election was deeply flawed.
In December, the Maricopa County Superior Court Judge Peter Thompson dismissed Lake's claims of electoral misconduct after she filed a civil case against Hobbs as well as several other local election officials.
Thompson previously said: "Every single witness before the Court disclaimed any personal knowledge of such misconduct. The Court cannot accept speculation or conjecture in place of clear and convincing evidence."
While Lake had been confident she would secure victory in November, election analysts have outlined how she could have lost.
An analysis of the gubernatorial election, carried out by three auditors and shared with The Arizona Republic, found that Lake lost because 33,000 nominally Republican-leaning voters switched to Hobbs.
Benny White, one of the report's authors, told the publication: "She (Lake) just ran a terrible campaign. It doesn't help to call Republicans RINOs [Republican in name only]."
Newsweek has contacted Lake for comment.