Video of Kari Lake Listing Off Democrat 'Election Deniers' Viewed 2M Times
A video of Kari Lake, the Republican defeated in Arizona's governor race in November 2022, listing a number of relevant Democrats she described as "election deniers" has become viral on social media, where it was viewed over 2 million times.
Among her list, Lake mentioned "Hillary Clinton and all the Democrats"—later going into some specifics of 150 examples of Democrats "denying" election results.
"Since 2000, people have questioned the legitimacy of our elections. And all we are asking is that in the future we don't have to have that happen anymore. When I'm governor, we're going to make sure we have honest elections," Lake told a room full of journalists.
The former television news anchor turned Republican firebrand with the support of former President Donald Trump has been fighting back against being labeled by media as an "election denier," despite having challenged the result of Arizona's governor race in November 2022—claiming that she's the real winner—and having consistently supported Trump's claims that the 2020 election was stolen.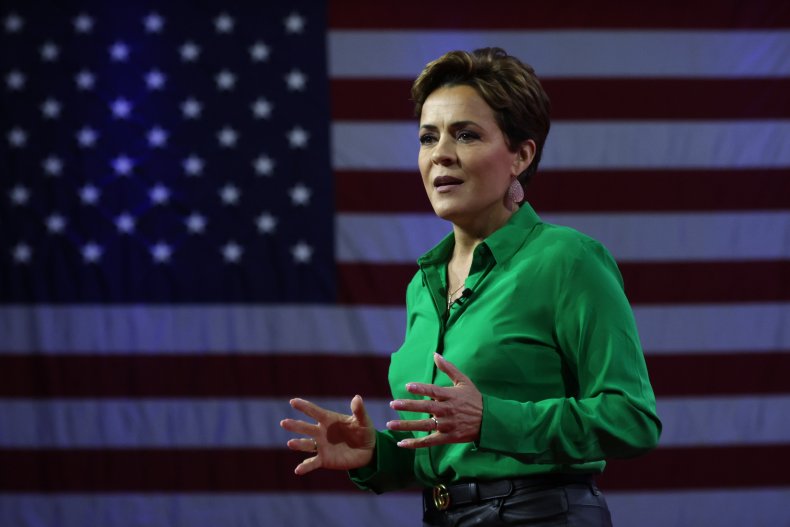 "If you're going to start throwing around terms like 'election deniers,' let's remember who the other election deniers were: Hillary Clinton and all the Democrats," she said during a press conference, which was shared in a clip on Twitter.
She then quoted a tweet made by White House Press Secretary Karine Jean-Pierre on April 2, 2020 saying: "Reminder: Brian Kemp stole the gubernatorial election from Georgians and Stacey Abrams." The tweet is likely referring to the 2018 gubernatorial race in Georgia, when Kemp ran against Democrat Abrams. While there's no evidence of voter fraud involved in the race, claims that Kemp "stole" the election are based partly on the fact that during Kemp's eight years as secretary of state, over 1.4 million voter registrations were canceled. A fact checker by USA Today has found claims that Kemp stole the election to be "partly false."
Lake also mentioned former Democratic presidential candidate Hillary Clinton saying that "Trump is an illegitimate president." She asked reporters: "Is she an election denier?" Lake posted the clip of the press conference on Twitter writing: "'Election Denier.' The corporate media can keep their partisan slurs to themselves. I'm not DENYING an election happened. I'm denying the integrity with which it was ran. We can either restore fairness to our elections or lose this country forever," she tweeted.
After the midterm votes were counted, Lake refused to concede victory to Democratic rival Katie Hobbs, who had obtained 17,000 more votes. Hobbs was officially sworn in as Arizona's governor on January 2.
But Lake legally challenged the results of the election, demanding that the court either declare her the real winner of the race or rerun the election in Maricopa County, where voters reported facing technical difficulties on Election Day.
In late December, a Maricopa County judge threw out Lake's case in a two-day trial. The defeated candidate then appealed, but in February, the Arizona Court of Appeal rejected her election challenge.
"Her request for relief fails because the evidence presented to the superior court ultimately supports the court's conclusion that voters were able to cast their ballots, that votes were counted correctly, and that no other basis justifies setting aside the election results," the Court of Appeals decision stated.
Newsweek has emailed the White House and Lake's team for comment.