Kari Lake Warns GOP Can't 'Sit Out' Culture Wars Amid 'Woke' Hershey's Ad
Former Arizona gubernatorial candidate Kari Lake is calling on her fellow Republicans to remain active in the "culture war" following a new Hershey's ad that features a transgender woman.
In celebration of Women's History Month and International Women's Day in Canada, Hershey's relaunched its Hershey's SHE bars campaign, which has different female activists on special-edition chocolate bar wrappers.
The new advertisement shows Fae Johnstone, a Canadian trans woman and LGBTQ+ activist.
The Kari Lake War Room account on Twitter said the GOP "cannot afford to sit out the culture war" in a direct response to the Hershey's ad.
"Things will not simply return back to normal because we want them to be," she wrote in the tweet. "We must be active combatants in the political arena."
Lake added that if Republicans "can't defend the reality of basic biology," they "might as well take our ball [and] go home."
To celebrate the "Her for She" campaign for International Women's Day in Canada, Hershey's is featuring several female activists and entrepreneurs and is calling on people to "celebrate the women changing the future" in their community.
"We still have a long way to go in the fight to end misogyny, patriarchy and gender-based violence," Johnstone said in a tweet. "I hope this campaign helps give more young women and girls role models and possibility models. And shows them how we can... change the world, together."
She also said she hopes this campaign will "shows trans girls they can dream big and change the world too."
On Thursday, "#BoycottHersheys" was a top trending topic on Twitter, as conservatives blasted the candy company for featuring a trans woman in its ad for Women's History Month.
Leftism, a Twitter account focused on "exposing leftism and leftists," is leading the criticism of the ad and said Hershey is "erasing women" in the advertisement.
"Once a man, always a man. Once a woman, always a woman," Leftism wrote in a tweet. "No matter how many surgeries one gets, the amount of makeup they put on, or how they dress, one can never change their gender."
Others have dismissed the outcry against Hershey as transphobia.
One Twitter user, B. Gay, who identifies as gay, laughed off the outrage and called on people to spread the ad featuring Johnstone to "make a transphobe mad."
Christine Pelosi, the daughter of former House Speaker Nancy Pelosi, also showed her support for the company.
"If Hersheys is giving trans kids comfort with representation, support them - don't #BoycottHersheys!" she wrote in a tweet.
Lake, who lost her gubernatorial race this past November to Democrat Katie Hobbs, has refused to accept the election results and is entangled in a legal battle, alleging there was widespread voting fraud.
On her campaign website, Lake said banning sex education for students before fifth grade was one of her top education priorities.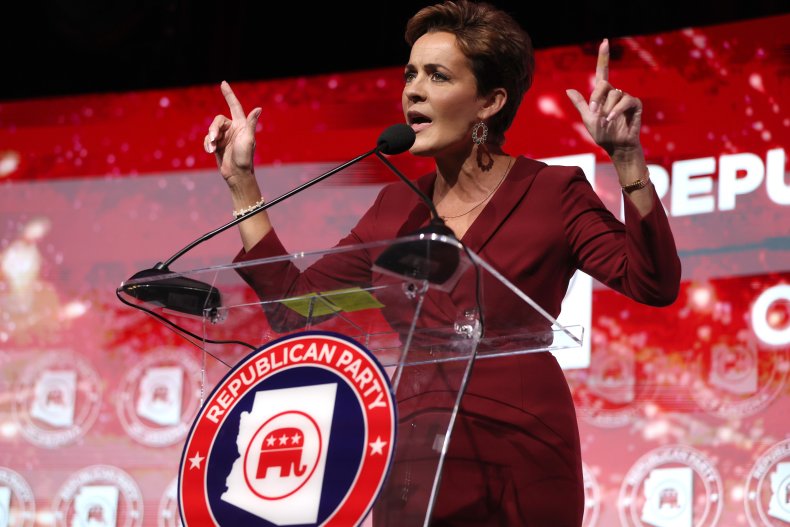 "Radicalized sex education for children under the age of 10 has no place in our school system, and there is no reason to allow these programs to continue infiltrating schools all the way down to the kindergarten level," her website states. "We do not need activist-educators pushing their sexuality or personal sexual preferences on little children."
She recently called out Hobbs for her stance on gender-affirming surgery.
"Hobbs...supports dangerous gender mutilation surgeries on our children under the guise of 'gender affirmation,'" Lake said. "I think I speak for every single one of us parents when I say hell no."
Hobbs made protecting the LGBTQ+ community a pillar of her campaign. On her first day in office, she issued an executive order providing employment protection to state employees and contractors who are LGBTQ+.
Newsweek has reached out for comment from Lake, Hershey's and Johnstone.