Kari Lake's RNC Lawyer Accused of Threatening Republican Maricopa Attorney
Maricopa attorney Tom Liddy accused a Republican National Committee (RNC) lawyer working with Kari Lake's Arizona campaign of threatening him during a recent phone call about the midterm election.
In an interview with The Washington Post published on Saturday, Liddy, a Republican, recalled a recent phone conversation with representatives for Lake, a former television news anchor and Arizona's 2022 GOP gubernatorial candidate.
Lake, endorsed by former President Donald Trump, was defeated in the state's gubernatorial race by Arizona Secretary of State Katie Hobbs, according to the Associated Press, which along other news organizations called the race for the Democratic candidate last Monday. The state's governor-elect is expected to take office in January to replace outgoing GOP Governor Doug Ducey.
Lake's representatives had questions about voting issues that occurred on Election Day, with one RNC attorney demanding answers around reported issues with ballots, according to the Post.
Liddy told Newsweek that he initially spoke with Tim La Sota, a Lake campaign attorney, who asked questions about the Election Day voting returns: "How many voters checked into to Maricopa County vote centers?; how many provisional ballots outstanding?"
"There was nothing unusual about the questions. After I was satisfied that I clearly understood their questions, another voice came on the phone—not LaSota's," Liddy said of the RNC lawyer he accused of threatening him. "The voice said something to the effect of 'it is very important that we get the answers to these questions quickly. There are a lot of irate people out there who want to take to the streets and we can't control them. I want to be able to tell them that Tom Liddy has been cooperative. Right now I cannot tell them that.'"
Liddy confirmed to Newsweek that the RNC lawyer is Benjamin Mehr and that he was flown in from Washington by the RNC.
"I told Ben that I didn't give a s*** what he told the angry people in the mob," Liddy explained. "I was not going to be intimidated and my clients at Maricopa County won't be intimidated. I told him that his words sounded like a threat."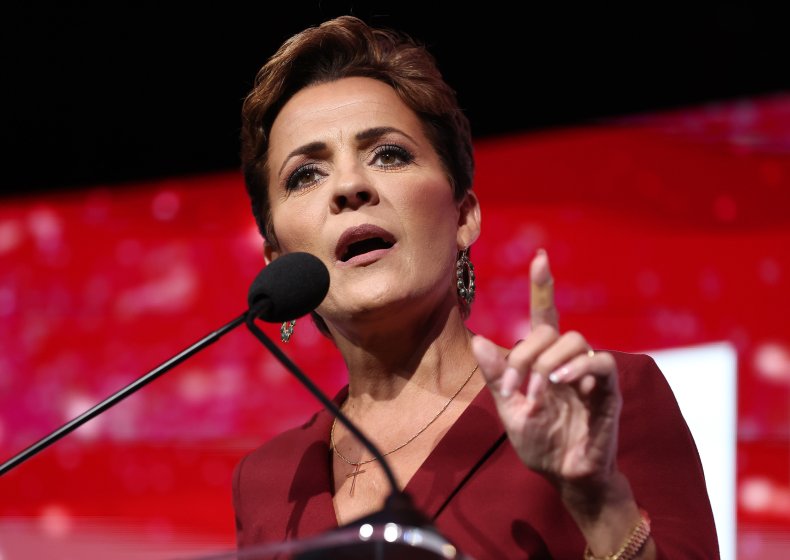 According to the newspaper, Lake's campaign criticized Maricopa County for printer malfunctions at approximately 60 voting sites. The printers' ink was reportedly too light for the ballots to be read. Technicians managed to then fix the problem with the printers and update them on Election Day, according to The New York Times.
"Maricopa County has identified the solution for the tabulation issues at about 60 Vote Centers. County technicians have changed the printer settings, which seems to have resolved this issue. It appears some of the printers were not producing dark enough timing marks on the ballots. This solution has worked at 17 locations, and technicians deployed throughout the county are working to resolve this issue at the remaining locations," the county said in a statement, Fox 10 Phoenix reported.
The printer problem led to poll workers offering voters with three options to cast their ballots: stay and wait for the tabulator to come online, leave the ballot in a locked box, or go to a different polling site.
After the race was called for her Democratic rival, Lake, who refused to concede, vowed to keep fighting for the election and said that her defeat resulted from the "disenfranchisement" of her supporters in Maricopa County, according to the Times.
Meanwhile, La Sota, who Liddy initially called, said he didn't find Mehr's comments to be threatening, according to the newspaper.
Part of the call was caught on video and posted online Friday by the Twitter account Kari Lake War Room. However in the video, the face of the RNC attorney was blurred and his name was bleeped out.
Liddy, who was on speaker, can be heard raising his voice and cursing at the RNC attorney, according to the video. County officials said they were unaware that a video of the phone conversation was posted, according to the Post.
"The Ethical Rules that govern the conduct of lawyers prohibits the surreptitious recording of phone calls between attorneys. This phone call was a call I made to Tim LaSota. Mr. LaSota did inform me that there was another lawyer from the Republican party present. There was no mention of recording the 12-minute phone call," Liddy told Newsweek.
Meanwhile, an RNC spokesperson described Liddy's account of the call as "false" and added that "the interaction in the video speaks for itself."
The RNC lawyer could be heard saying, during the phone call, that it would be helpful "for us to be able to say that Tom Liddy is giving us good information. And that is one thing that is in your control, and we would really appreciate it. "
"...Guess what? Let me educate you," Liddy replied, according to the video. "I cannot control what you say. Okay? You can say whatever you want to say. I can't control that. Now, if you're not happy working with me and you don't want to continue working with me and you don't want the answer to your questions...then we'll just stop."
Liddy also said during the call that "it sounds like you're threatening me," to which Mehr
responded, "I'm definitely not threatening you and I promise that."
Liddy then replied: "If I don't get these answers to you quickly, you're not going to be able to tell the crazy people that I've been helpful..."
Liddy told the Post that the video recording of the conversation lacks context that explains his reaction to Mehr's remarks, according to the Post.
"This is in the context of us having people in the streets all throughout 2020; of people going out to the streets in front of Rusty Bowers's home while his daughter was dying; of hundreds, if not thousands, of threats of death or imprisonment that have been sent to my clients who are officers or employees of Maricopa County, of death threats to me and to my son," Liddy told the newspaper, explaining his reaction to Mehr's comments.
Liddy told Newsweek that he confirmed to Mehr that he will work on getting the answers for the campaign's questions.
"But I was not going to alter my behavior because he threatened to give my name to angry people who were ready to take to the streets," he added.
Rusty Bowers, a Republican who served as speaker of the Arizona House of Representatives, pushed back against pressure to overturn President Joe Biden's 2020 election victory in Arizona. Bowers testified before Congress about the unconstitutional effort backed by Trump's allies, and saw protests outside his home as a result.
Liddy also told the Post that the questions raised by Lake's campaign were normal and that he worked to answer them quickly. He added that what he found "shocking" is that "a member of the bar would threaten another lawyer."
Meanwhile, RNC spokesperson Nathan Brand, told Newsweek that the video indicates that "Maricopa County election officials are completely inept."
"They should have been preparing for this midterm election for two years, yet they comprehensively failed before, during and after Election Day – it is an absolute disgrace."
Brand continued: "The citizens of Arizona deserve transparency, certainty, efficiency and that is why the RNC has a world-class team of lawyers and observers to hold election officials accountable. What that video shows is how a Maricopa County attorney responded to an RNC attorney seeking transparency – it's completely unacceptable."
Newsweek reached out to the RNC for comment.
Update 11/20/2022 at 6:29 p.m. ET: The story has been updated to include comments from Tom Liddy and Nathan Brand.