Karl Rove Blasts Republicans Who 'Excused' 1/6 Rioters: 'What If the Other Side Had Done It?'
In an op-ed published on the one-year anniversary of the Capitol riot on January 6, Republican strategist Karl Rove criticized members of his party who "excused the actions of the rioters who stormed the Capitol."
"These apologists say those who stormed the Capitol were innocent patriots, tourists visiting the seat of the national government to petition their elected representatives peacefully. We're told that these harmless, ordinary Americans are being persecuted as political prisoners," Rove said in the piece, which was published by the Wall Street Journal on January 6.
Rove went on to detail the violence committed on January 6, noting that there were "several thousand protesters willing to use force to disrupt Congress in its constitutional duty to receive and certify the electoral vote." Rove added that roughly 140 police officers were assaulted, and that the Capitol was ransacked.
He put forward a "thought experiment," asking what would have happened if "the other side had done it."
"What if in early January 2017, Democrats similarly attired and armed had stormed the Capitol and attempted to keep Congress from receiving the Electoral College results for the 2016 presidential election?"
He questioned what would have happened if Democrats had claimed former President Donald Trump's "razor-thin victories in Michigan, Pennsylvania and Wisconsin resulted from extensive voter fraud and should be rejected," breached the Capitol, and threatened violence against Republican leaders.
"If this happened, would some of my fellow Republicans have accepted it as merely a protest? Would they have called patriots those charged with violent acts against our country, its laws and Constitution? Would they have accepted such extralegal means to change the outcome of a presidential election?" Rove asked. "No they would not. I'm certain of that."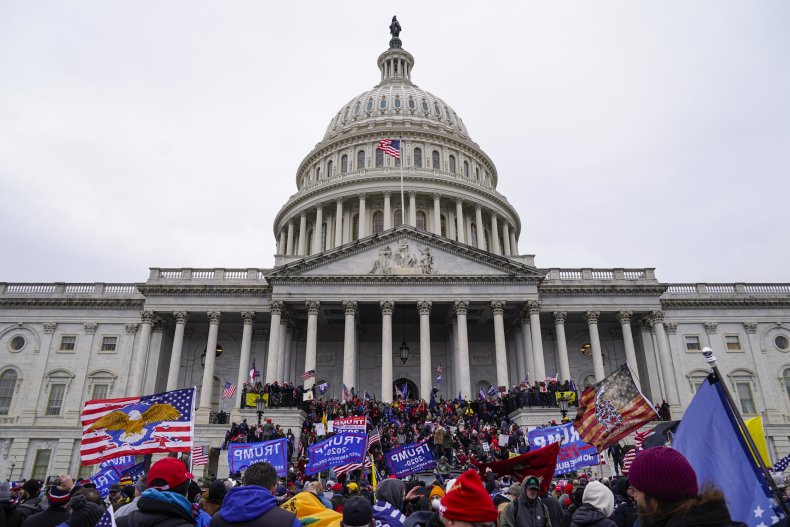 Rove said that to "move beyond Jan. 6, 2021, we must put country ahead of party."
"For Democrats, that means resisting their leadership's petty habit of aggravating partisan fault lines by indiscriminately condemning all who came to Washington that day," Rove said.
But Republicans, he said, have a "heavier burden."
"I've been a Republican my entire life, and believe in what the Republican Party, at its best, has represented for decades. There can be no soft-pedaling what happened and no absolution for those who planned, encouraged and aided the attempt to overthrow our democracy. Love of country demands nothing less. That's true patriotism," Rove said.
In a separate editorial published in the Washington Post last month, Rove warned that Trump's "obsession" with the 2020 election could lead to Republican losses in upcoming election cycles.
"If the GOP can't learn to shake the Trump obsession with alleged election fraud, the former president could even hand Democrats the White House—again," Rove wrote.