Republican strategist and Fox News contributor Karl Rove said President Donald Trump is more likely to be convicted of his second impeachment in the Senate if attorney Rudy Giuliani leads the defense.
"I think it's all going to boil down to what the president's defense is," Rove said during a Fox News appearance Sunday.
"Rudy Giuliani charted a very bad course for the president in the morning papers," Rove continued, referring to previous comments made by Giuliani stating that the president couldn't have incited the January 6 Capitol mob riot because his accusations of voter fraud were true.
Despite Giuliani's claims, the president's baseless allegations of widespread voter fraud and irregularities have been rejected in over 50 courts across the United States.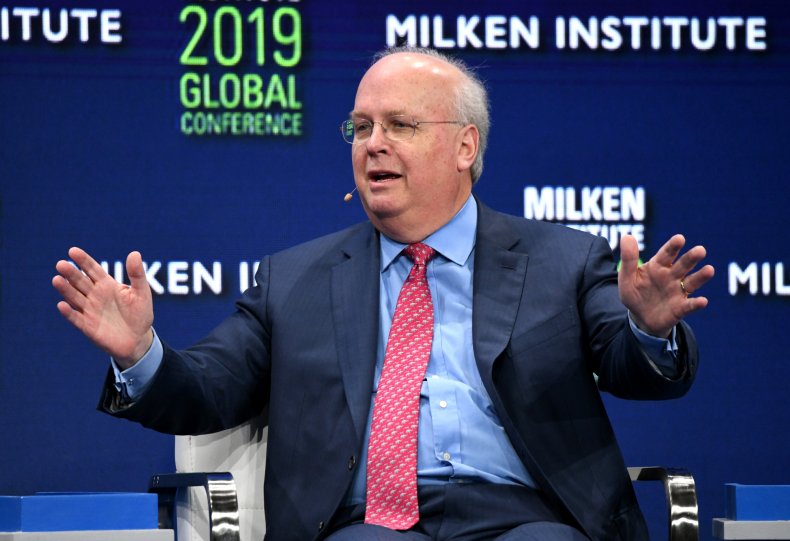 The House of Representatives impeached Trump last week in the aftermath of the Capitol riot that he has been widely accused of inciting. For a conviction to pass in the Senate, about 17 Republicans must vote alongside Senate Democrats for Trump's impeachment. Senate Majority Leader Mitch McConnell was reportedly supportive of House Democrats' successful impeachment effort.
"If it's the Rudy Giuliani defense, there's a strong likelihood that more than 17 Republicans will, because essentially that argument is, 'This was justified, the attack on the Capitol and the attempt to end the congressional hearing on certifying the election was justified because all these charges are true.' And frankly, they aren't," said Rove.
Giuliani told ABC News on Saturday that he was working on Trump's impeachment defense and noted that the president couldn't have incited the riot since they didn't immediately attack the Capitol after his speech at the rally.
"Basically, if [incitement] is going to happen, it's got to happen right away," said Giuliani. "You'd have to have people running out, you'd have to have people running out of that frozen speech, right up to the Capitol. And that's basically incitement."
Hogan Gidley, a spokesperson for Trump, tweeted Saturday that the president has yet to make a decision on his legal representation, despite Giuliani's claim he would join the defense.
"President Trump has yet made a determination as to which lawyer or law firm will represent him for the disgraceful attack on our Constitution and democracy, known as the 'impeachment hoax," said Gidley.
Newsweek reached out to Rove, but didn't hear back in time for publication.