Former Bush Adviser Says Nancy Pelosi Is 'Venturing into Treacherous Constitutional Territory' With Impeachment Articles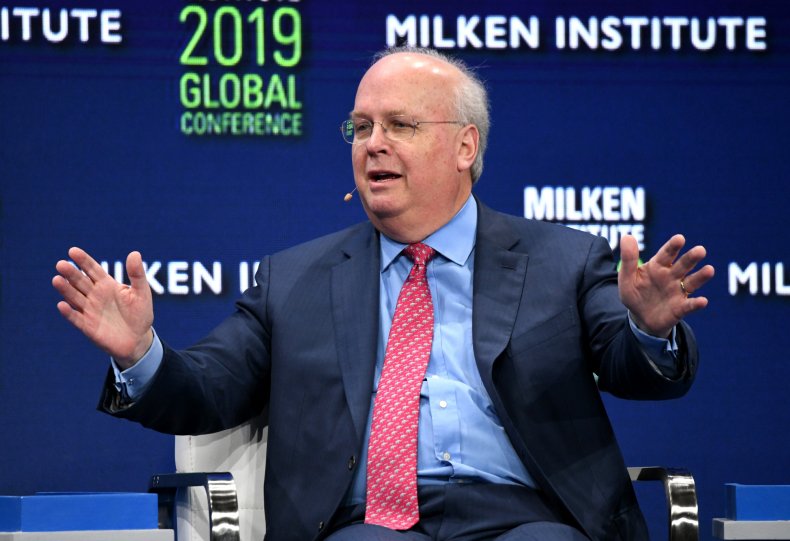 Karl Rove, a Republican strategist and former senior adviser to President George W. Bush, penned a withering op-ed Tuesday evening accusing House Speaker Nancy Pelosi of "venturing into treacherous constitutional territory" by withholding the articles of impeachment against President Donald Trump from the U.S. Senate.
"By attempting to prevent the process from proceeding unless Mr. McConnell acquiesces to her demands for additional witnesses and documents, Mrs. Pelosi is attempting to intrude on the Senate's constitutional prerogatives and create a role for herself in the trial that the Founders didn't intend," Rove wrote in the Wall Street Journal.
Pelosi has said that Democrats would need to understand how Senate Majority Leader Mitch McConnell plans to conduct the Upper Chamber's trial of the president before handing over the articles, which are analogous to the indictments in criminal prosecutions.
Democrats want guarantees that they will be able to call key witnesses, which McConnell has rebuffed, likening his process to one undertaken by the Senate during President Bill Clinton's impeachment in 1999.
Rove echoed that comparison in his op-ed, saying that the American people "deserve a dignified conclusion to impeachment, as the Senate gave them with Mr. Clinton."
"Impeachment always inflicts trauma on the nation. We can accept that," he wrote. "What the country shouldn't accept is a continuation of this Democrat-led circus."
A spokesperson for Pelosi did not immediately return a request for comment.
While the analogy to Clinton is obvious—Trump is one of just three presidents to be impeached by the House of Representatives—the current proceedings defy direct comparison for a few key reasons.
The first and most notable one is that public sentiment around impeachment is different from what it was in October 1998, just months before Clinton was impeached.
At that time, just 32 percent of Americans thought he deserved to be impeached and removed from office, according to historical Gallup surveys. By contrast, 46 percent of Americans endorsed Trump's impeachment and removal. While still a minority, this is a substantial increase over attitudes towards Clinton's impeachment proceedings, during which central witnesses were deposed. Moreover, as recently as October 2019, a majority of Americans favored Trump's impeachment and removal, according to Gallup.
Another notable way in which the present case departs from impeachments past is that the articles, based on Trump's involvement in the Ukraine affair, deal with matters of national security and obstruction of Congress, while Clinton's dealt with perjury and obstruction of justice.
Rove also asserted that by withholding the articles, Pelosi has discredited the argument that Trump's impeachment is an urgent matter.
At a press conference last week, Pelosi explained her hesitancy to transfer the articles, arguing that, in drafting the Constitution's impeachment clauses, the founders did not envision a "rogue Leader in the Senate at the same time" as a president whose conduct was being scrutinized by the House.