New Hampshire Gives Kasich, Bush Campaigns New Life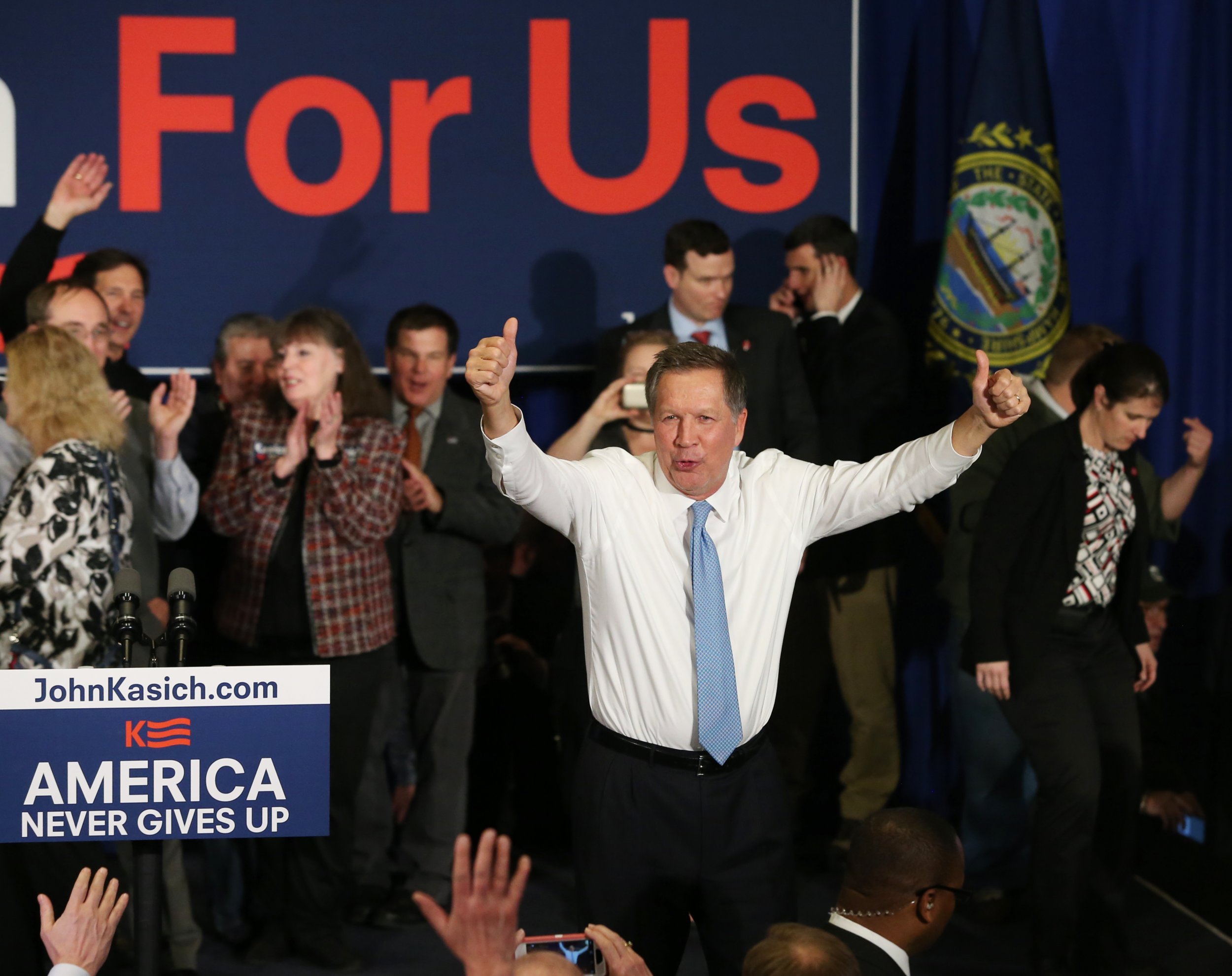 If Republicans were hoping New Hampshire would clarify their murky presidential contest, they're waking up on Wednesday morning sorely disappointed.
The nation's first primary election kept alive the candidacies of two GOP governors, John Kasich and Jeb Bush. Beating the odds, Kasish came in second, and Bush landed in a virtual tie for third with Senator Ted Cruz of Texas. And as Florida Senator Marco Rubio learned in Iowa's caucuses last week, surpassing expectations is almost as important as how many votes a candidate wins.
The problem for Rubio is that he had the opposite results Tuesday night in New Hampshire, finishing a disappointing fifth. And now the young Republican, who has been hammered in recent days for a shaky debate performance on Saturday, has an energized pair of veteran politicians biting at his heels for the party's pragmatist, business-friendly vote.
Speaking to a crowd of volunteers and supporters in Manchester Tuesday night, Bush declared triumphantly, "This campaign isn't dead. We're going to South Carolina!"
The question is whether either man can turn a strong showing in the Granite State into a lasting advantage in the fragmented Republican race. Ultimately, someone is expected to consolidate the anti-Trump vote of the establishment. Rubio was thought to be that man coming out of Iowa, where he finished an unexpectedly strong third behind real estate mogul Donald Trump (Tuesday night's big winner) and Texas Senator Ted Cruz. But his distant finish in New Hampshire means the race among mainstream Republicans remains as jumbled as ever.
Bush and Kasich, along with New Jersey Governor Chris Christie, staked their campaigns on New Hampshire, a state known for a more moderate, secular bent than Iowa (all three governors were footnotes in the Hawkeye State's caucuses). Kasich and Bush's finishes on Tuesday—well behind Trump—don't by any means make them a favorite for the Republican nomination. But it does give a new legitimacy to their campaigns as they travel to South Carolina to make their pitch to the "first in the South" primary voters. Christie, in contrast, is likely to drop out after finishing among the bottom rung of Republican candidates.
The strong New Hampshire result is particularly critical for Kasich, who had little name recognition and limited funds going into primary night. He bragged Tuesday night of the 106 town halls he held in the state since launching his campaign last summer. The rambling, stream-of-consciousness speech he gave to campaign supporters in Concord late in the evening was vintage Kasich—uplifting, folksy, unabashedly sentimental.
"It doesn't take government, it takes our hearts, the heart to change America," Kasich said at one point. The lesson of New Hampshire, he continued, is to "spend my time listening and healing and helping and bringing people together to fix our great country!" That brought chants of "Kasich! Kasich!"
Kasich's almost undivided focus on New Hampshire leaves him with a lot of catch-up to do, however, as the campaign shifts into the South. And that's not particularly welcoming territory for a self-styled pragmatist who has expressed openness to attending a gay marriage and allowing immigration reform that would legalize (but not grant citizenship to) undocumented immigrants in the United States.
Bush, in contrast, is already up with $10 million in television advertising in South Carolina, according to NBC. And he has extensive infrastructure built there, as well as in Nevada, which holds its GOP caucuses on February 23. Bush also has been looking ahead to the March 1 Super Tuesday states across the South and Midwest. What has campaign has lacked thus far is energy, something he have may have found in New Hampshire.
In elevating Kasich and Bush, as well as Trump, Granite State Republicans reinforced the political schizophrenia plaguing the party. While Trump sold himself to voters as the anti-politician, the two governors are about as establishment as it gets, with a combined 35 years in elected office. (Kasich alone has 27 of those years, having served four in the Ohio state Senate, 18 in Congress and five in the governor's mansion.)
Both billed themselves as conservatives in their election night speeches. But they also promised to be unifiers, focusing on uplifting the country and focusing on solutions, rather than red meat. "Tonight the light overcame the darkness of negative campaigning," Kasich declared triumphantly.
And their support came from self-described moderate and independent voters. Sherry Roberge of Lichtfield, New Hampshire, attended Bush's election night gathering in Manchester Tuesday night. Roberge, 50, called herself a "mainstream" Republican and said her vote for Bush was a last-minute decision. Ultimately, he seemed "more professional in his approach," and offered "more leadership" than the other candidates, she said. Hardly an impassioned show of support, but after being considered all but out of it, Bush will surely take it.
So will Kasich, who reflected Tuesday on the doubts about his viability, given his low national polling. "You know we were in 1 percent in the national polls, and people were like, 'How can you ever win?'" Well, he said, "there's something that's going on that I'm not sure anybody can quite understand. There's magic in the air of this campaign!"