Kasich Confirms Trump Camp Floated Vice Presidential Offer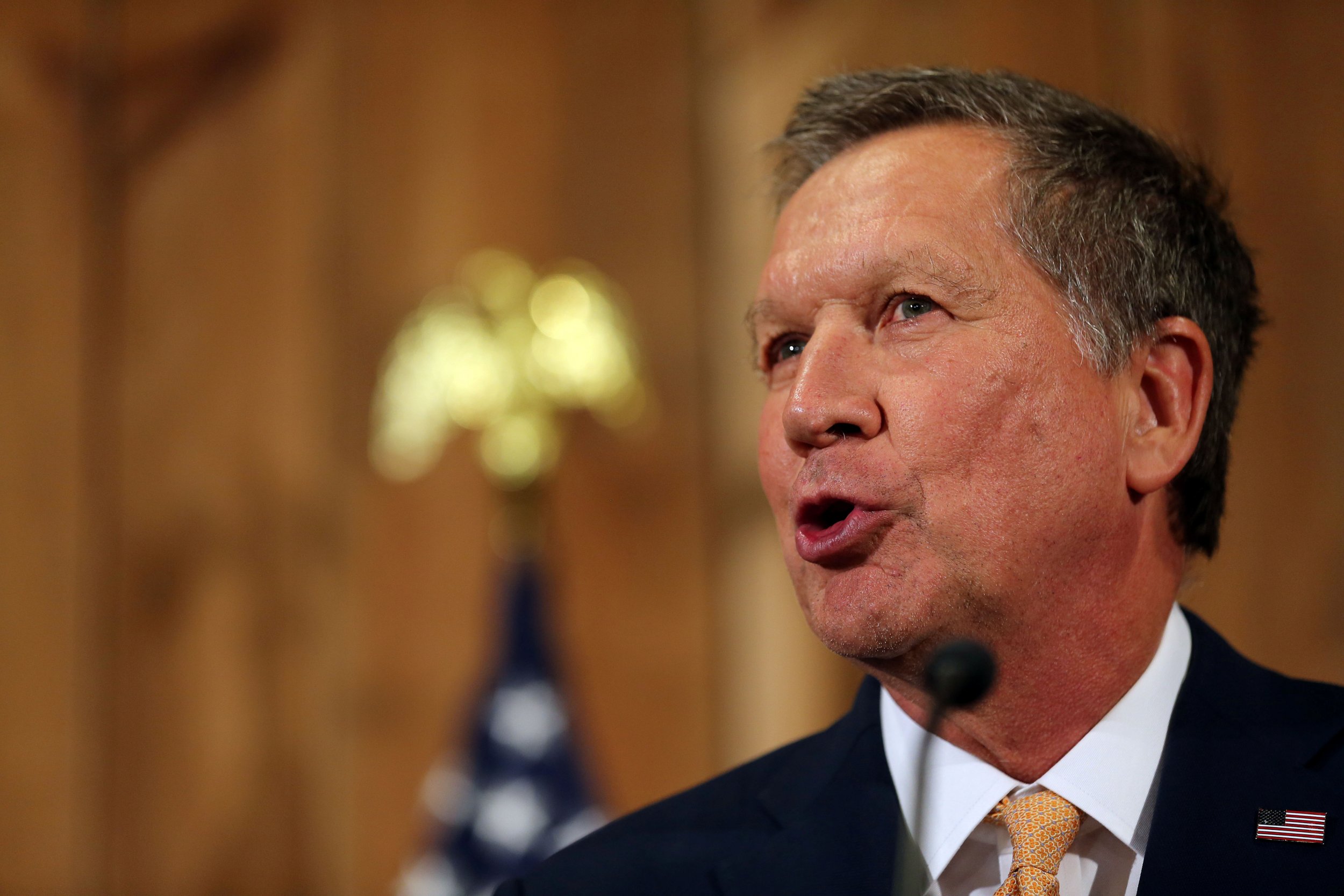 John Kasich confirmed reports that Donald Trump's camp floated the offer of the vice presidency to the Ohio governor, who said in an interview on Sunday that he won't be voting for Hillary Clinton for president—but he still can't support Trump.
Kasich, who competed against Trump for the Republican nomination for president, told CNN's Jake Tapper on State of the Union that Donald Trump Jr. did speak to one of his aides to determine Kasich's interest in the vice presidency but said it wasn't something he ever considered. "I might have agreed to be George Washington's vice president, but I got the second best job in the country..governor of Ohio. So, I was never interested in being anybody's vice president...Never considered it...I would be the worst vice president. I have too many opinions," Kasich said.
Those opinions include how his treatment of Gold Star families compared to Trump's days-long response to the Khan family's speech at the Democratic National Convention, as well as bewilderment at the New Yorker's recent comments on Ukraine and Russia.
Kasich meets with families who have lost loved ones overseas, and "it is very tough. I give them a flag. And I sit and I talk to them. I tell them about the loss of my mother and father in a sudden accident. And I said, you know, let's not compare, but what I can tell you is, I have seen the black hole. I have had the deep mourning and the pain. But here's what I know. I believe the Scripture when it says that those who give up their life or serve someone else will wear a big crown, that their service is marked in the book of life, never to be erased. I hug them...I am honored to do it, because if there is anything that I can say to these families, anything at all—and they got kids in there. And their dad is gone or their mom is gone. It is—it's just excruciatingly difficult. But I'm so glad I do it. And I'm so glad that they would honor me to come."
The governor also rejected Trump's suggestions that aid to the NATO states comes with a price tag, as well as his seeming confusion over Russia's designs on the Ukraine. "To say that, you know, we don't love NATO? NATO is critical. It's kept the peace post-World War II. It's critical. I mean, are there improvements that can be made in NATO? Of course there can be. Can we have better intelligence, better security? Of course we can. But do we have an obligation to the Baltics? Of course we have an obligation to the Baltics," he said. "Putin, I think, is a thug. He wants to reconstitute the old Soviet Union. It's not going to happen. The West has to make it clear to Putin that we don't tolerate this behavior. And, at the same time, let him save some face. There is a way to do that. You know, he has to give back Crimea. Maybe he can have a base there in—to the sea. But, you know, we can't show weakness in the face of a guy who has become very, very aggressive against the values of the West."
Kasich also said he's never voted for a Democrat for president and won't be starting with Clinton, who is "on the bus Bernie is driving, and she is sitting in the back seat." He doesn't know what he'll do when he steps into a voting booth although he hasn't ruled out voting for "a Republican," even if that Republican isn't Trump. "There is so much water over the dam now, it's become increasingly difficult...You know, you can either operate on the dark side of the street, or you can operate in the light. I believe that America needs people to operate in the light, plain and simple."