Despite Ohio Win, Kasich Has a Very Hard Road Ahead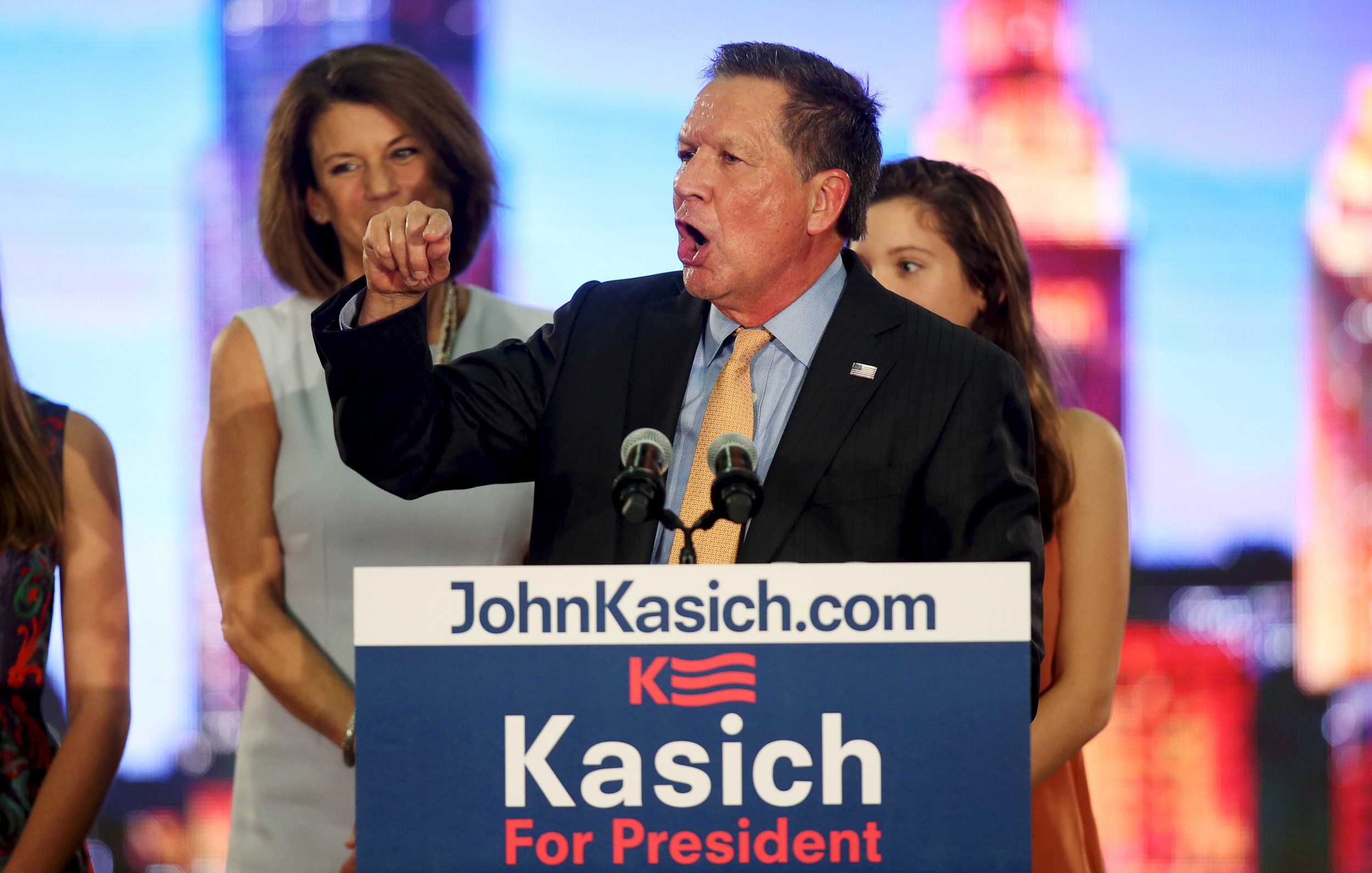 According to his campaign, Ohio Governor John Kasich's big win in his home state Tuesday night is "resetting" the Republican race. In a memo to reporters, chief strategist John Weaver argued that the electoral map is "shifting significantly in our favor and "Gov. Kasich is positioned to accumulate a large share of the almost 1,000 remaining delegates and enter Cleveland in strong position to become the nominee." The reality -- and the delegate math -- is much more bleak for the Kasich campaign.
The second-term governor and former congressman more than doubled his delegate tally with the comfortable victory in Ohio, giving him all 66 of the state's delegates thanks to its winner-take-all formula. Kasich insisted in an interview on CNN Tuesday night that "I may go to the convention, before this is over, with more delegates than anybody else." That, however, would require him to win the vast majority of the delegates out of the remaining primary elections to make up a roughly 500 delegate gap with Trump -- highly unlikely. Chances are even slim he'll even be able to catch Texas Senator Ted Cruz, who leads him by more than 200 delegates. That's why Kasich's campaign is betting that no one in the race will cross the 1237 delegate threshold to win the nomination outright and that he can go to the convention in Cleveland in July and convince party members he's their best shot in November.
It's not clear that GOP leaders, who have been tepid in their resistance to Trump thus far, would really have the temerity to try and pull off something so audacious. It certainly would inflame the GOP rank-and-file -- if you think voters are angry at the establishment now, just wait until the party tries to pull off a coup on the floor of the convention. To even make it plausible, Kasich needs to win at least a handful of states other than his own, preferably some of the highly-populated ones lined up on the calendar in April, May and June.
The Kasich campaign is eyeing a series of traditionally Democratic states that they think will respond to his more moderate, upbeat message. Much of the Northeast and Mid-Atlantic states have yet to vote, as do those on the West Coast. They're betting that with Florida Senator Marco Rubio out of the race after a dismal outcome in his home state Tuesday night, they can consolidate GOP establishment support. " Our internal data shows that Rubio voters break to Gov. Kasich by a 3:1 margin," Weaver writes in his memo. And Kasich made a clear appeal to Rubio voters in his victory speech in Ohio Tuesday night, opening his remarks by praising the "very fine" Florida senator. But polls suggest that bringing in Rubio supporters, alone, won't be enough.
In New York, which votes April 19, a Siena College poll released March 7 had Kasich tied with Rubio for second place. Even if Kasich absorbs all of Rubio's support, he'd still trail Trump by 9 percent, according to the poll. Surveys show a similar scenario in Pennsylvania, the state the governor is visiting Wednesday. Pennsylvania voters go to the polls on April 26.
Things look even worse for Kasich in California, the biggest enchilada of all with 172 delegates in play. There hasn't been too much recent polling of the Golden State, which votes June 7. But a January Field Poll showed Cruz leading the way with 25 percent, followed closely by Trump at 23 percent. Kasich was way down at just 1 percent of the vote.
Kasich also lags his rivals in terms of resources. As of January 31, the Ohio governor had just $1.5 million in his campaign bank account, while the Super PAC supporting him had $2.4 million. Cruz, on the other hand, had $13.6 million and four Super PACs backing his campaign had another $24.3 million. Trump, of course, has his own personal wealth to rely on.
Kasich, of course, will get some campaign momentum, not to mention a surge in press coverage, out of his Ohio victory. Voters in critical West Coast and Northeastern states will probably give him another look. The #NeverTrump forces may mobilize behind him and pour money into his coffers. Kasich and his team insist he proved his mettle by beating back Trump in Ohio, where the real estate mogul campaigned hard, going after Kasich on trade and other issues. "You came to Ohio, you threw everything you had at me and guess what, it didn't work," Kasich said on CNN, addressing Trump's campaign. He failed to mention that his campaign had all the institutional advantages in his corner, including the support of the state party.
The tougher reality for Kasich is that it's Cruz, not him, who is in second place behind Trump in the delegate race. Despite a quiet night for the Cruz campaign on Tuesday, that's not likely to change. And it's pretty hard to convince people you're the clear GOP alternative to a divisive billionaire frontrunner when you're playing the role of third wheel.