Will Trump Run in 2020? Kasich May Challenge President for Republican Nomination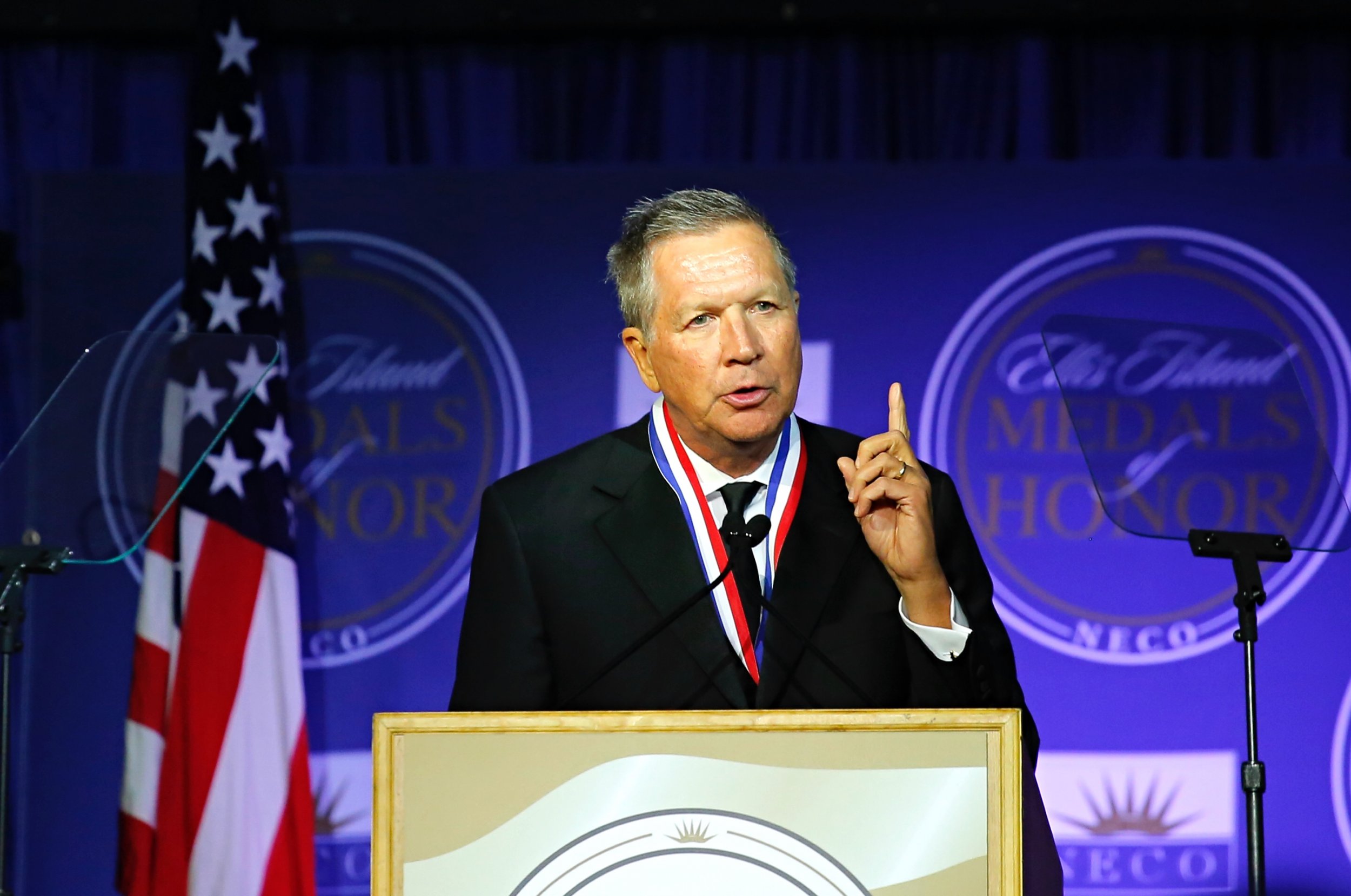 Outgoing Ohio Governor John Kasich and his team reportedly have a 2020 presidential run in their sights, either as an independent or by launching a surprise primary challenge to President Donald Trump. And there's one other consideration said to be in Kasich's thoughts: the prospect that Trump does not run at all in two years' time.
Kasich, who was part of the 2016 field that ultimately fell to Trump, has been meeting with advisers and potential donors about another national campaign, Politico reported Friday morning. Evidence of a possible run lies in the 65-year-old's repeated appearances on national television and trips around the country—a far more aggressive schedule since Kasich and his team previously denied a challenge to Trump or a 2020 run just months ago.
"He's actually been pretty straightforward about it: he would like to run again if he sees an opening," Kasich 2016 campaign adviser Charlie Black told Politico. "And if Trump runs again, there's no opening. But if Trump doesn't run, there is one."
Campaigning as an independent could be another avenue for Kasich, whose top political adviser, John Weaver, declined to rule out a second run for the White House.
"He's made no decision whether to run in 2020, he's made no decision whether to run as an independent, in a primary or not. There's been no decision to run, but no decision not to run," Weaver said to Politico.
Still, Kasich may have further hinted at a 2020 run when he appeared to alter his stance on gun control Sunday during an appearance on CNN. During his time in office, Kasich has signed several pieces of legislation to allow for easier access to guns and has been backed by the National Rifle Association. But, in the wake of last week's deadly mass shooting at a Florida high school that has sparked national cries for stronger gun laws, he called for Trump to pass "commonsense gun laws"
"Would you feel as though your Second Amendment rights would be eroded because you couldn't buy a Goddarn AR-15?" Kasich said. "These are the things that have to be looked at. And action has to happen before—and, look, you're never going to fix all of this, but commonsense gun laws make sense."
There have also been murmurs of Kasich and Democratic Colorado Governor John Hickenlooper potentially teaming up for a bipartisan independent run in two years. Hickenlooper, though, called that possibility "kind of a long shot" during an Axios event Friday.
Still, the two continue to work together on other issues. Kasich and Hickenlooper are leading a bipartisan plan to fix the nation's healthcare system that is expected to be unveiled Friday in Washington.
There appears to be no easy path to getting by Trump in the next election, however. The president continues to hold strong support among Republican voters and has given no indication he intends to bow out after one term. Indeed, the president's re-election committee raised a grand total of $22.1 million last year.
But Trump has repeatedly dealt with controversies, both of his own making and not. Thus far, he has failed to repeal-and-replace Obamacare or obtain funding for a border wall between the United States and Mexico. At the same time, the special counsel's investigation of Russian meddling in the 2016 election has loomed over the president for most of his first 13 months in office.
Trump has also faced heavy criticism for his handling of a number of scandals and national events. His response to a deadly white nationalist rally in Charlottesville, Virginia, last year was heavily panned and led to accusations of favoring racist groups. That sentiment was only furthered by the president reportedly describing Haiti, El Salvador and African nations as "shithole" countries during an Oval Office meeting last month.