Who Is Leafar Seyer? Kat Von D Marries Prayers Singer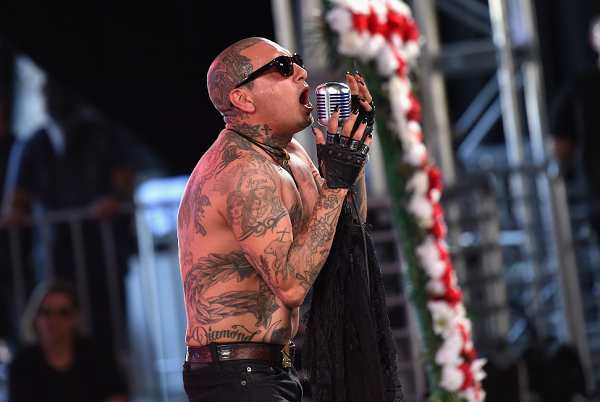 Just one week after announcing her engagement, tattoo artist Kat Von D and boyfriend Leafar Seyer tied the knot on Wednesday. The makeup maven and face of Kat Von D Beauty shared the news in an Instagram post the same day.
"Today, I married my soul's mate, my mind's twin, my bestfriend," she wrote alongside a photo of the couple's matching silver wedding bands and black manicured nails.
She ended the post with the Spanish saying, "Juntos en vida y en muerte," which means, "Together in life and in death."
Seyer shared the same image with his fans on social media, with the caption, "Today I married the girl of my dreams [En Vida Y En Muerte]."
A Mexico native, Seyer, whose birth name is Rafael Reyes, is the singer for the Chicano Prayers, an electronic rock duo with longtime friend Dave Parley. They are known for Cholo music, a style that incorporates aggressive rock lyrics about gang and street life, laced over heavy metal beats and synthesizers. Seyer is also the author of the 2011 book Living Dangerously.
The couple's quick wedding caught a number of Von D and Seyer's fans by surprise, particularly when Seyer only asked for Von D's hand on February 14. "…so this just happened @prayers #bestvalentinesdayever," she captioned a video that showed her engagement ring.
The same day, Seyer posted an Instagram video of a plane flying across the sky with a banner that read, "I love you Kat Von D."
Rumors of Von D and Seyer's relationship first emerged in December 2015, when followers spotted the musician in photos on Von D's social media accounts. Since then, the former LA Ink star, 35, and Seyer, 42, have flooded Instagram with photos of each other.
Von D, whose birth name is Katherine von Drachenberg, was formerly married to Ink Master star and fellow tattoo artist Oliver Peck. Following their 2007 divorce, Von D was engaged to professional dirt biker Jesse James, in 2011, and DJ Deadmau5, in 2012.