Kate Hudson Says She Won't Impose Gender Roles on Her Child: 'We Still Don't Know What She's Going to Identify As'
The actor Kate Hudson has said she will raise her third child without imposing gender roles, saying in an interview that she does not know what the newborn will identify as.
Hudson, who is known for her roles in films such as How to Lose a Guy in 10 Days and Almost Famous, has described in an interview with AOL how she and her partner Danny Fujikawa will be raising their new daughter.
Rani Rose, born in October 2018, is Hudson's third child. She is also a mom to two sons Ryder, 15, and Bingham, 7, from previous relationships, ABC news reported.
Hudson has said she is not radically changing her approach in raising her first girl but explained there is "definitely a difference."
"I think you just raise your kids individually regardless—like a genderless [approach]. We still don't know what she's going to identify as," Hudson said.
The actor has said that currently Rani Rose appears to have some feminine traits. "I will say that, right now, she is incredibly feminine in her energy, her sounds and her way," Hudson said.
She has given clues as to how her own parenting style, when it comes to gender, was shaped by her upbringing. Hudson's mother, the Academy Award-winning actor Goldie Hawn, is credited with giving her what she refers to as the "joy gene."
The only girl in a family that included three boys, the 39-year-old said, "I was a tomboy in a spinning dress. My middle brother, [Boston,] who is closest to me in age, was basically my sister," Hudson said. "I put makeup on him all the time, and I'd dress him up and he loved it. But growing up as a girl with all boys, you end up with a thick skin."
Hudson has moved beyond the silver screen in recent years, becoming an author and fashion designer. The Hollywood actor has also styled herself as a lifestyle guru.
In her interview with AOL, Hudson expounded her love of yoga and emphasised the important role Weight Watchers, now rebranded WW, has played in her life. The actor has recently partnered with the weight-loss brand.
"This is something that I'm so passionate about and talk about all the time, they came to me for the right reason. It's a great fit," she said of WW. "It is something that I can use to have a barometer. It's so simple and far more simple than what I've been doing before."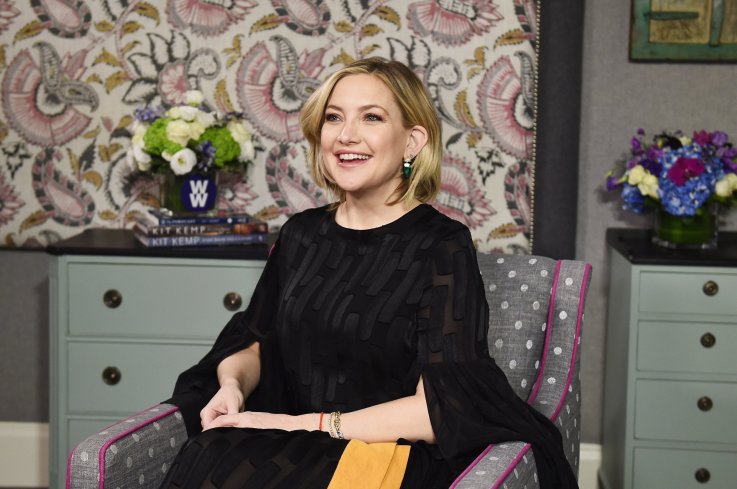 Kate Hudson Says She Won't Impose Gender Roles on Her Child: 'We Still Don't Know What She's Going to Identify As' | U.S.