Kate McKinnon's Anthony Fauci Hilariously Explains Pfizer Vaccine Rollout on SNL
After Pfizer's coronavirus vaccine received approval from the U.S. Food and Drug Administration, Saturday Night Live's cold open addressed questions about how the vaccine will be rolled out.
Kate McKinnon appeared as the nation's top infectious disease expert, Dr. Anthony Fauci, alongside Dr. Deborah Birx, portrayed by Heidi Gardner, in a spoof of CNN's The Situation Room with Wolf Blitzer, who was played by Beck Bennet.
"Today's top story is the Pfizer coronavirus vaccine, which the FDA just approved for emergency use," Bennet's Blitzer says. "It's just like the PS5—everybody wants it, nobody can get it and if you're rich, you already had it a month ago."
The anchor then introduced the public health experts as "the American Gothic of the whole coronavirus situation."
The two experts appear to raucous applause, with Gardner's Birx—seen in one of her signature silk scarfs—claiming that she was "also the reason for the cheers."
After Fauci notes that he would be joining the Biden administration to help continue the battle against COVID, Birx adds: "And I think I'll be joining as well, right? Remember when Trump said to inject bleach and I did a stanky little face and I almost whispered 'no.' Remember?"
McKinnon's Fauci then tells Beckett's Blitzer that the vaccine will be rolled out "World War Two-style."
"We made England go in first, see what's what and then we swoop in at the end and steal the spotlight," Fauci says. "Tom Hanks will make 10 movies about it and when it's over, you can kiss any nurse you want."
Beckett's Blitzer then throws a series of questions at the experts, first asking who will get the vaccine first in the United States.
"Here's how we're going to do it," McKinnon's Fauci responds. "First health care workers...your McSteamys, your McDreamys, what have you."
McKinnon's Fauci explains then the "super seniors" will be vaccinated—"anyone who pays for Red Lobster with a Diners Club card."
Gardner's Birx adds: "Then after the elderly, we'll move onto prisoners, then teachers, then sick people, then everyone else."
McKinnon's Fauci mumbles that it will take place in "July 20-bada bada bada."
Asked for an opinion on the overall federal vaccine plan, Fauci replied: "I try not to comment, but this president has done about as good a job with this rollout as I did throwing out that first pitch at the Nationals game."
Then asked how vaccine providers will ensure patients return for a second dose, Fauci says they'll use "a technique long-employed by one night stands who have caught feelings."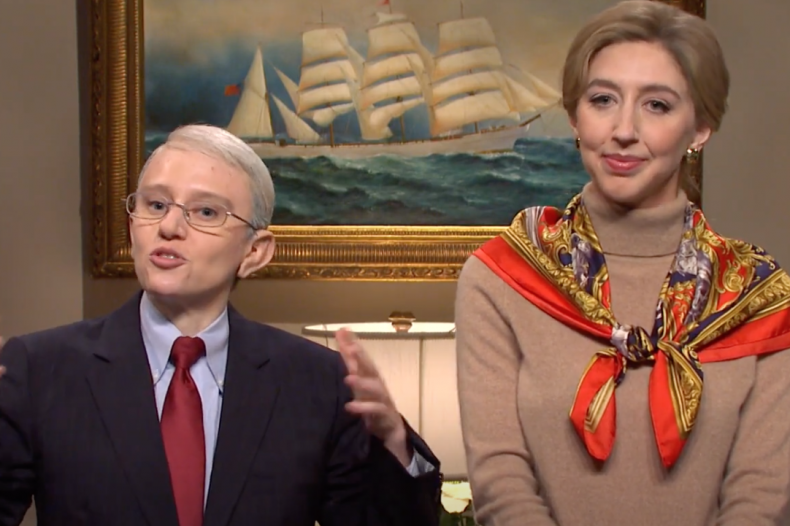 "We're gonna have them leave a necklace at the CVS, so they have an excuse to come back," McKinnon's Fauci says.
Later, Fauci says the vaccine will be distributed to states in alphabetical order, starting with "A-California" followed by "Ba-New York City."
The sketch was also peppered with references to Fauci's newfound status as a heartthrob, with his interview repeatedly interrupted by bras that were flung at him and a marriage proposal.
"Any other year, I'm a two... this year, I'm a 10," McKinnon's Fauci explains.
Later, he adds: "Hopefully, if enough Americans get this vaccine you'll all forget who I am. That's my goal, to have zero name recognition with Americans because that means I'll have done my job well. I wanna go back to being an anonymous hunk."