Kate McKinnon Returns as Farting Rudy Giuliani in SNL Cold Open
Saturday Night Live returned after a month-long hiatus with a cold open mocking Rudy Giuliani's latest efforts to undermine the results of the 2020 presidential election.
Kate McKinnon reprised her role as President Donald Trump's personal attorney for a sketch parodying Giuliani's recent appearance at an election fraud hearing.
As he spoke before the Michigan House Oversight Committee, Giuliani reportedly farted loudly enough for the sound to be picked up by microphones in the room.
In SNL's parody, McKinnon's Giuliani appeared alongside Lauren Holt, who portrayed co-counsel Jenna Ellis.
"As my associate Ms Ellis and I will prove today, this election was stolen from the American people with a level of trickery not seen since Houdini," McKinnon's Giuliani said. After a fart sound is heard, McKinnon exclaims: "That wasn't me. That was you guys!"
McKinnon's Giuliani continues that the results would be overturned first in Michigan, then in "Georgylvania," "Pennsachusetts" and "North DaCanada."
A state senator, played by Mikey Day, then notes that all of the Trump campaign's election lawsuits have been rejected because they're based on "zero evidence."
"You want evidence? Okay, well, today I have brought before you a dozen highly intelligent, barely intoxicated individuals, who are all eye witnesses," McKinnon's Giuliani responds.
"After hearing their testimony, you're going to say, 'Wow, Rudy was right and he's getting smarter and more respected every day," McKinnon adds before blaming more flatulence on Holt's Ellis.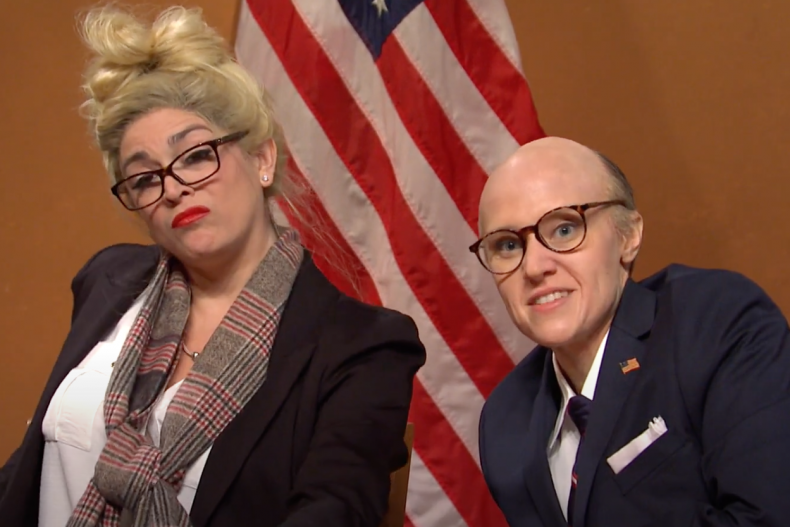 First up was Cecily Strong as Melissa Carone, a contractor for Dominion Voting Systems who went viral after her testimony at the Michigan hearing.
"I swear to tell my whole story, and nothing but my story so help me God," Strong's Carone said.
Strong's Carone then told the House panel: "Excuse me, maybe try losing the attitude first. Just like you lost all those Trump ballots." She then added that she personally witnessed hundreds, if not thousands, of dead people voting.
"Did you check every poll? Did you talk to all the dead people?" Strong's Carone asked the state senators. "Excuse me, I have been threatened...I'm not lying. I signed an After David."
Other witnesses paraded before the panel included Heidi Gardner as a woman who said she "ate" ballots from a food truck operated by Democrats, Alex Moffat as a man who claimed to have been abducted by aliens and Chloe Fineman playing Nicole Kidman's character from HBO's "The Undoing."
Strong then returned as Carone to float more conspiracy theories. "I voted for Trump, yet Biden won? Hmmmmm," she says.
She then claimed that Dominion cheated her out of her cheesy bread. "I think you're confusing Dominion with Dominos," one state senator told her.
"Either way, my vote took longer than 30 minutes so it's supposed to be free," Strong's Carone replied.
Asked by the panel to wrap up, McKinnon's Giuliani vows to not stop fighting to overturn the election results.
"In conclusion, I would say the defense rests, but we will never rest. Not until this election is overturned or I get a full pardon and $10 million in cash," McKinnon's Giuliani said.
"And if you liked what you saw here today, we're having a press conference right after this, at the Ritz-Carlton... Plumbing and Heating Supply Company, right off I-94 between a dirty movie theater and a crematorium."