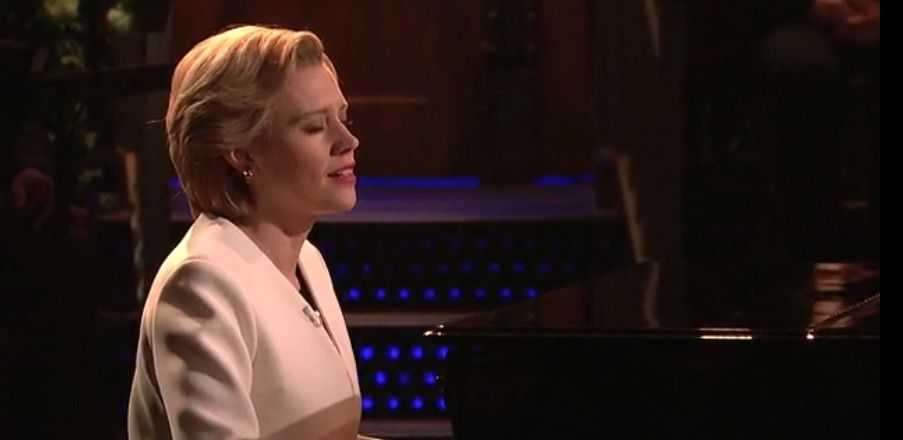 "Saturday Night Live" managed to mine pathos and humor from the election of Donald Trump as president in its first show since Tuesday's election.
Cast member Kate McKinnon provided the passion and poignancy, opening the show in her Hillary Clinton guise for a plaintive rendition of Leonard Cohen's "Hallelujah" that doubled as a tribute to the late songwriter, who died this week at age 82. Host Dave Chappelle, who's kept a low profile in recent years, delivered a monologue that was at turns hilarious and hopeful as he addressed the prospect of electing "an internet troll as our president."
McKinnon was unaccompanied by Alec Baldwin, who in recent weeks has played Donald Trump in "Saturday Night Live's" political sketches. McKinnon, a piano and a surprisingly sincere and emotional voice were all that was needed to thank Clinton, with several verses of the classic song rewritten for the occasion.
"I did my best, it wasn't much
I couldn't feel so I tried to touch
I told the truth, I didn't come to fool ya"
"And even though it all went wrong
I'll stand before the lord of song
with nothing on my tongue but hallelujah"
With tears in her eyes, McKinnon's Clinton promised the audience: "I"m not giving up, and neither should you."
Chappelle, who famously turned down a $50 million contract to continue his "Chappelle's Show" on Comedy Central, discussed the racial divide in the electorate, saying he "didn't know Donald Trump was going to win the election. I did suspect it. It seemed like Hillary was doing well in the polls and yet...I know the whites.
"I haven't seen white people this mad since the OJ (Simpson) verdict."
The comic also made light of the multiple sexual harassment allegations against Trump, as well as his open mic scandal where he was caught bragging about how stardom allows him to take liberties with women. Insisting he stayed at a Trump hotel, Chappelle says, "I don't know if he's going to make a good president but he makes a good hotel suite, I'll tell you that.
"Housekeeping comes in in the morning and cleans my room...grab a big handful of pussy and say, you know, boss said it was ok."
Chappelle turned serious in describing a recent party he was invited to at the White House, sponsored by BET, in which he reflected on the historical treatment of black Americans. It left him hopeful, and enabled him to wish Donald Trump luck.
"And I'm gonna give him a chance. And we, the historically disenfranchised, demand that he give us one too."